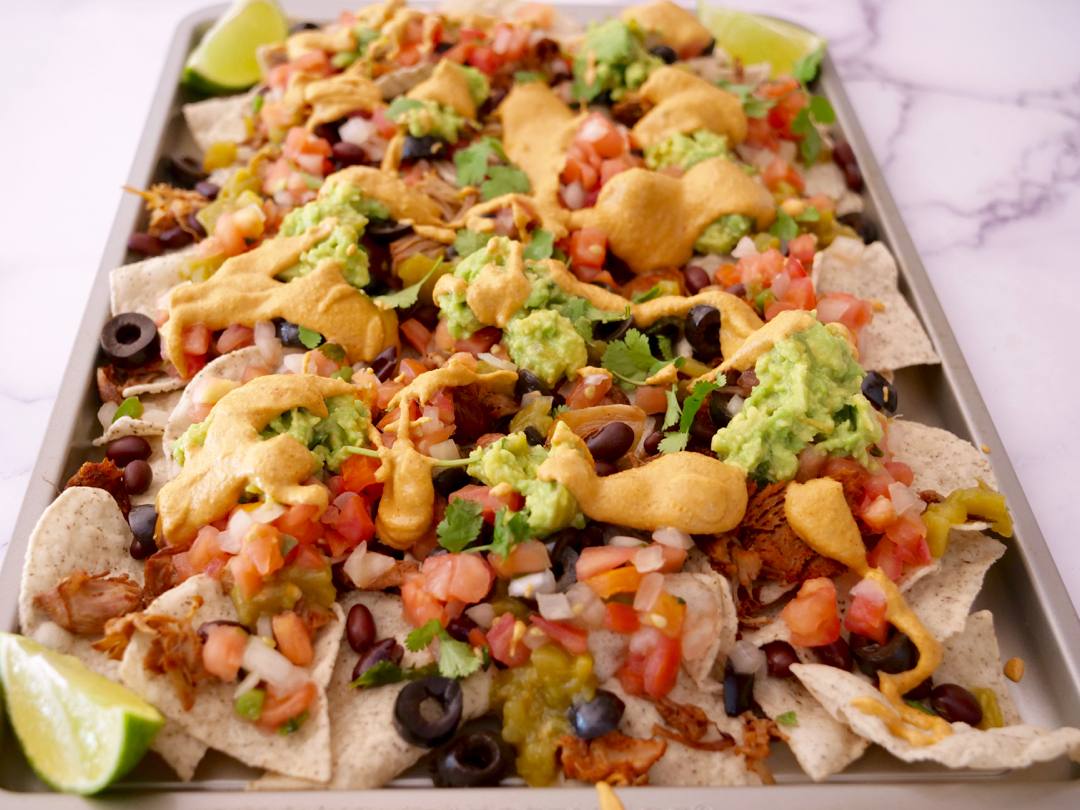 Vegan Chipotle Queso & Jackfruit Nachos (GF, V)
This is what vegan nacho dreams are made of! This super easy and creamy vegan chipotle queso takes just a few minutes to make and only uses 5 ingredients. Drizzle it over these insanely delicious jackfruit nachos or serve it straight up as a nacho sauce with chips.
More...
I've been wanting to try a vegan queso for some time now, and finally bit the bullet and gave it my best...and boy is it the best!! This mildly spicy chipotle vegan queso is made with soaked cashews, nutritional yeast, chipotle peppers in adobo, taco seasoning and garlic - that's it!
You can use this vegan chipotle queso over nachos, drizzled over enchiladas or tacos or just served with chips for an easy snack.
To build the perfect plate of nachos, I firmly believe that fresh pico de gallo and homemade quick guacamole are a must. The pico de gallo I use is from Trader Joe's, found in the produce section, and the homemade quick guacamole is made with just 4 ingredients: 2oz chopped green chiles, 1 ripe avocado mashed, 1 handful chopped cilantro, juice of 1/2 a lime and salt to taste. Combine those all up in a bowl and spoon it over the nachos right before serving!
For the chips and taco seasoning, I use the Siete brand. Their tortilla chips are grain free, corn free and made from cassava flour and avocado oil...so basically they're amazing. When I discovered that Siete now also makes taco seasonings, I knew I had to try it. The taco seasoning comes in mild and spicy, and I used the mild, since I knew I would have spicy chipotles in the cheese sauce and pickled jalapenos on the nachos. It worked perfectly!
You can always sub out the jackfruit for shredded chicken and add any other toppings your heart desires.
Click here to print the recipe, happy cooking!