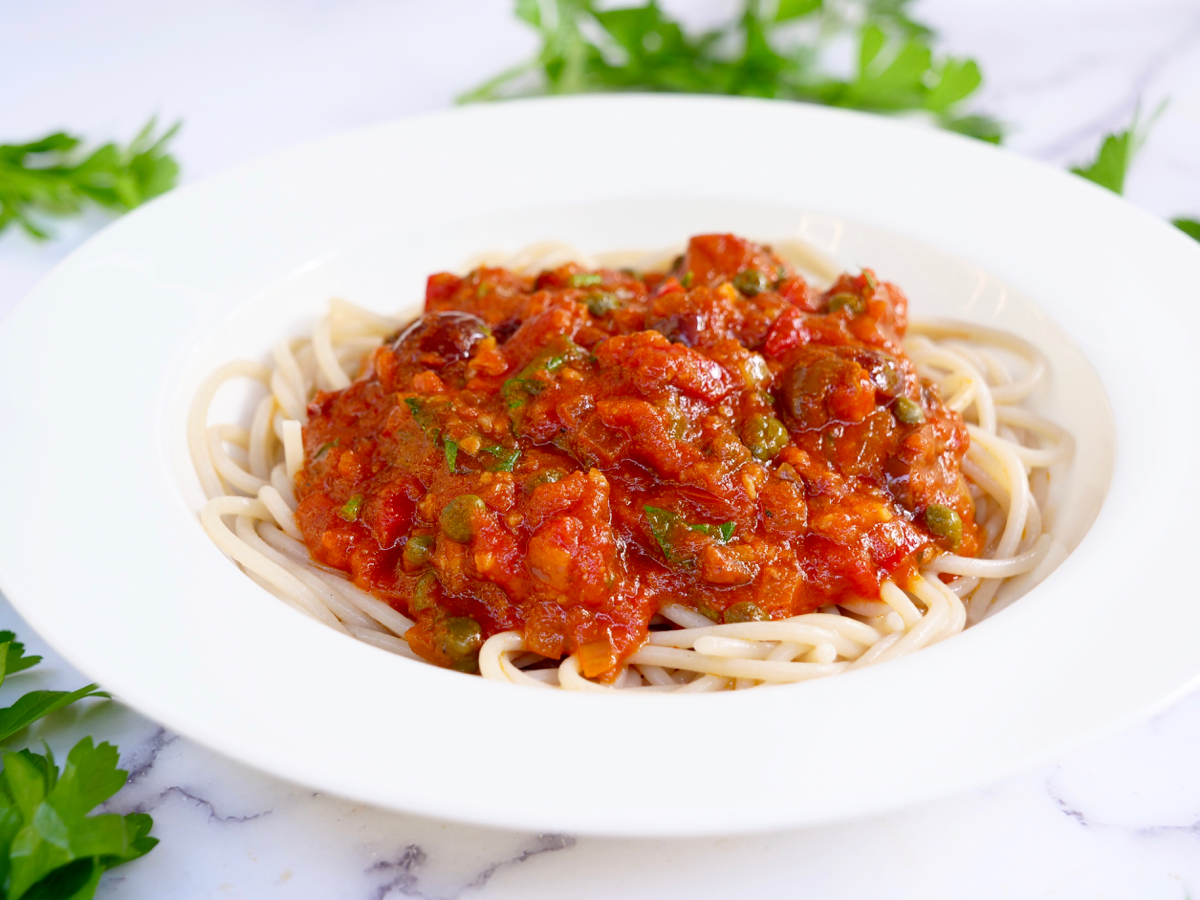 20 Minute Puttanesca Sauce (GF, V)
"This is the best sauce I've ever had!", said my husband Ryan upon trying this recipe! This quick 20 minute puttanesca sauce is so easy to make, with jarred marinara (or your own) and all the briney goodness of olives and capers.
More...
We all need a little fanciness in our lives once in a while, and there's no reason we should have to live with plain marinara all the time, or try to jazz it up with red pepper flakes. Nope, this sure does take it up a notch, and it only takes about 20 minutes.
My husband claimed its the best sauce he's ever tried, and this is coming from the guy who thinks pickles and olives being a good snack is a total abomination. Instead, he licked his plate clean and went back for more.
What is Puttanesca?
Puttanesca sauce comes from Naples, Italy, and consists of briney olives, capers and their brine, and garlic stirred in to a simple marinara, finished with fresh parsely. In this recipe, we take the quick approach, using jarred marinara. However, if you have time on your hands and you really want to wow everyone, you can check out my Easy & Authentic Marinara Sauce recipe.
How to Choose the Best Jarred Marinara
If you're taking the easy approach for this recipe, it's important to choose the best quality marinara. PLEASE PUT THAT JAR OF RAGU/PREGO/CLASSICO BACK ON THE SHELF! Please and thank you. Those sauces are full of sugar and additivites that just don't need to be in a sauce. Instead, go with any of the following brands:
These are all great sauces, but if you can't find any of these, make sure to check the labels for ingredients and sugar content. You should be able to buy every ingredient in the store with what's listed on the label.
The Recipe
I tossed this with gluten free spaghetti, but you can also use zucchini noodles or spaghetti squash as well. When I tell you this is so good, I mean it is SO GOOD!
CLICK HERE to print the recipe, enjoy!