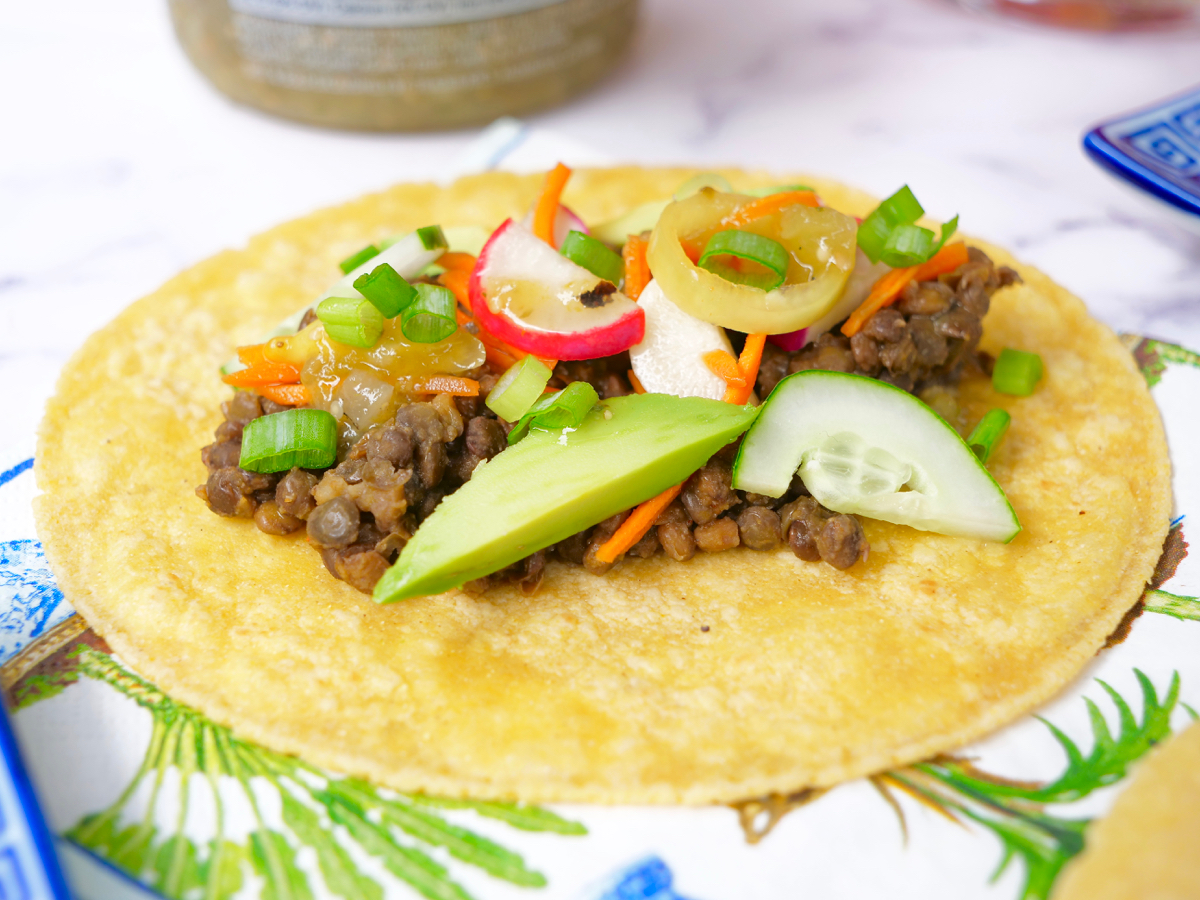 Banh Mi Lentil Tacos (V, GF)
Banh Mi tacos made vegan with spicy lentils, with quick pickled vegetables, creamy avocado, crunchy scallions and a total wild card, tomatillo salsa.
More...
I'm almost 100% positive you arrived on this recipe for one thing, the recipe, and you know what? That's amazing! I won't bore you with some long story about my day and the hummingbird I got on camera in slow motion video this morning...I've seen the silly memes 😉
But I will bore you with some delicious photos of this insane new creation of mine, and maybe explain how to quick pickle your veggies so you can also have this delicious meal asap.
And quickly tell you that this recipe is EFFORTLESS. Seriously, it will take you 20-30 minutes but everyone else will think you spent hours on it.
How To Quick Pickle Any Veggie
Quick pickling veggies adds a whole new dimension to a dish, and you'll see these veggies used in another new recipe of mine, Jackfruit Banh Mi Bowls! Here's all you do:
1. Slice your veggies (and cheat with the carrots and buy those pre-shredded). I used shredded carrots, thin sliced radishes and thin sliced banana peppers (from my garden!). I think those are the best for quick pickling, especially for this dish. I usually do 1 cup of each veggie.
2. Throw the veggies in a bowl, then add in 3 tablespoons rice vinegar, 3 tablespoons white vinegar, 1 teaspoon coconut sugar and the juice of 1 lime. Stir it all together and let it sit while you make the rest of this meal, and you're good to go. They last in the fridge for about a week!
What To Serve With Your Lentil Tacos
The lentils are simmered in sriracha, garlic powder, salt and pepper, giving them a delicious kick of flavor. To tone the spiciness down, I love to add cool cucumber slices, creamy avocado, crunchy scallions and a drizzle of tomatillo salsa (a total wild card, I know, but wait until you try it!). The best fresh tomatillo salsa in my opinion is from Trader Joe's. You could also add chopped cilantro to these too.
The Recipe
Make the lentils a day or two in advance and keep them in seperate conatiners in the fridge for up to 4 days, and I always recommend cutting corners, so look for pre-steamed lentils like the ones from Trader Joe's in the produce section (that's where these came from).
I should also mention it's always best to go with authentic corn tortillas for the best flavor, but you could also make this into a rice bowl or salad too...you do you boo.
You can CLICK HERE to print the recipe - enjoy!