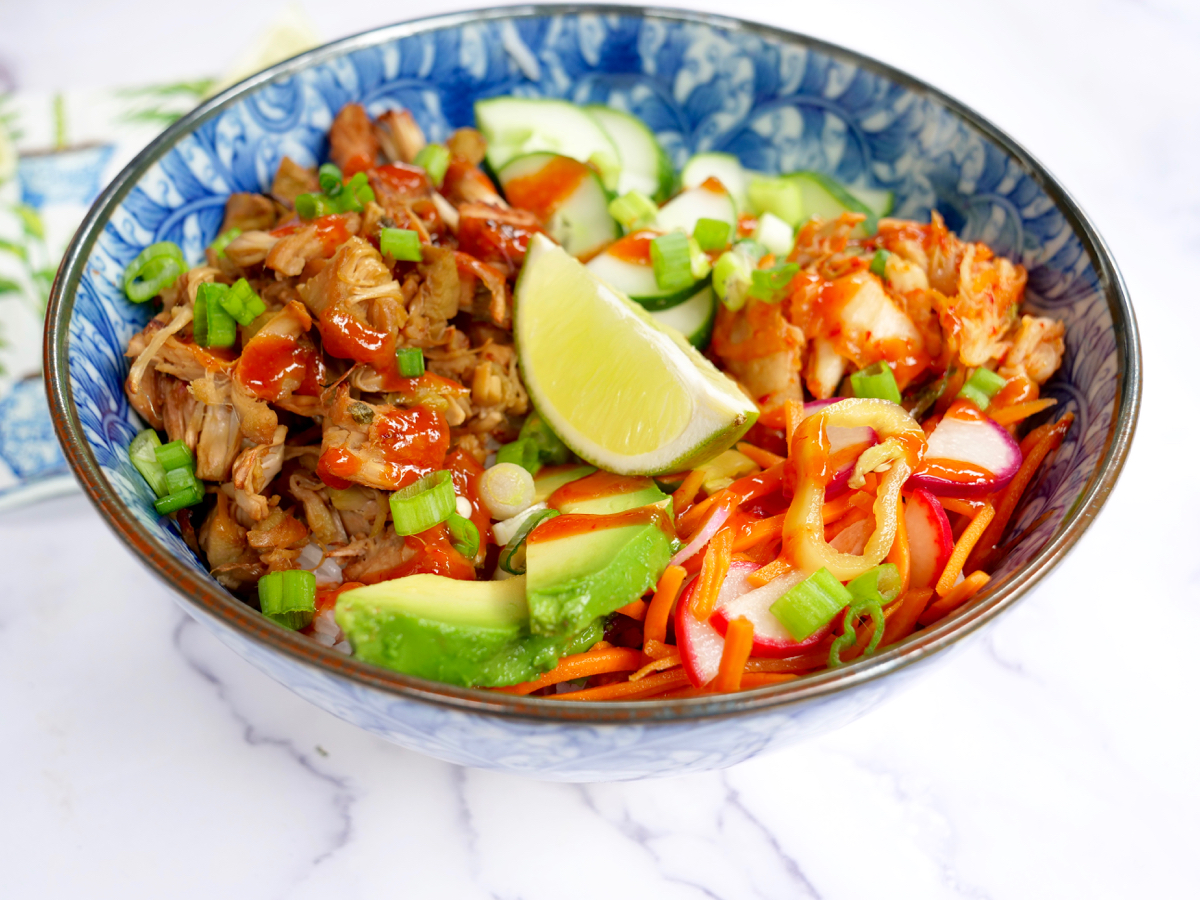 Jackfruit Banh Mi Bowls (V, GF)
A vegan twist on the classic banh mi made with jackfruit, gut healthy kimchi, quick pickled veggies, creamy avocado and a drizzle of sriracha. Make a big batch of everything to enjoy all week as part of your meal prep for an easy delicious anytime you need it.
More...
What is Jackfruit?
If you're new to jackfruit and want to learn more about it, you can read my Beginners Guide: Cooking with Jackfruit article.
Jackfruit is a great plant-based, vegan alternative to shredded meat, that is extremely low in fat, can help with blood sugar management and a good source of fiber. It has a very mild taste that can take on whatever you cook it with or marinate it in. In this case, we are marinating the shredded jackfruit in a marinade similar to one you'd see in a pork banh mi recipe.
What Else Goes in a Banh Mi Bowl?
For this recipe, we are focusing on foods that can help with gut health (to help with healthy digestion) along with plant-based fats and a variety of flavors - sweet, salty and spicy.
Banh Mi's are typically a sandwich of marinated pork, pickled veggies and a spicy ailoi sauce. In this case we swap out the not-so-great bun for easily digestible jasmine rice, which is also gluten free.
I love to serve these jackfruit banh mi bowls with quick pickled vegetables (sliced radish, shredded carrot and sliced banana peppers), chopped scallions, sliced avocado, sliced cucumber, a spicy kimchi (fermented cabbage) and a drizzle of Sriracha.
What is kimchi?
You can find kimchi at most grocery stores in the refrigerated section. Kimchi is also great stir fried with veggies and rice into a fried rice dish or served alone as a gut healthy snack. It is a traditional Korean side dish that is soy free. You'll usually find kimchi made from napa cabbage and radish with seasonings from garlic, ginger, green onions and sometimes fish sauce (which makes this not vegan). You can ferment your own if you have the patience and resources, or try out a few from the store you like best, checking for whether it has fish sauce or not depending on your dietary wants and needs. I personally love the one from Trader Joe's.
How To Quick Pickle Your Veggies
Quick pickling veggies adds a whole new dimension to a dish, and you'll see these veggies used in another new recipe of mine, Jackfruit Banh Mi Bowls! Here's all you do:
1. Slice your veggies (and cheat with the carrots and buy those pre-shredded). I used shredded carrots, thin sliced radishes and thin sliced banana peppers (from my garden!). I think those are the best for quick pickling, especially for this dish. I usually do 1 cup of each veggie.
2. Throw the veggies in a bowl, then add in 3 tablespoons rice vinegar, 3 tablespoons white vinegar, 1 teaspoon coconut sugar and the juice of 1 lime. Stir it all together and let it sit while you make the rest of this meal, and you're good to go. They last in the fridge for about a week!
The Recipe
You can make the jackfruit and pickled veggies ahead of time and store them for up to 4 days, to have this meal throughout the week.
CLICK HERE to print the recipe. Enjoy!