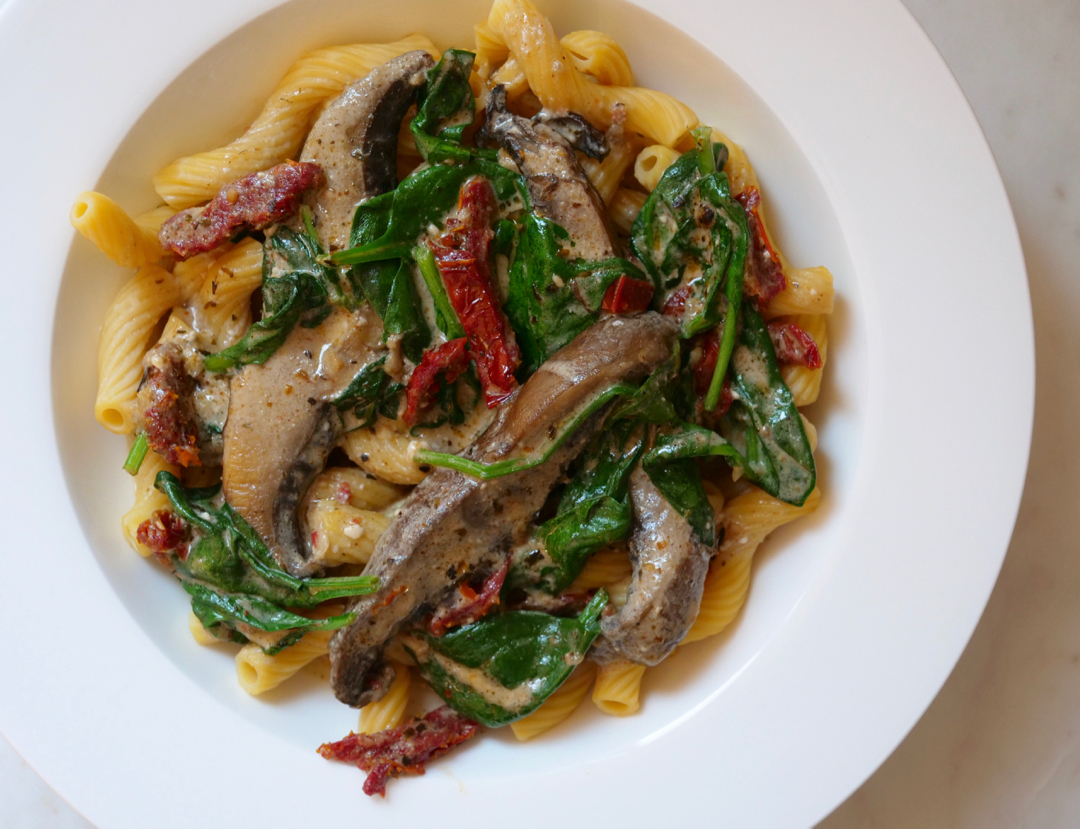 Creamy Tuscan Portobellos (V, GF)
Creamy Vegan Tuscan Portobellos are simmered in a mouthwatering coconut milk based sauce that tastes just like the original, but without all the heaviness. And even better? This can all be made in about 20 minutes!
More...
A while back I had made a crockpot creamy Tuscan chicken recipe that was so insanely good yet so insanely fattening that my body (literally) couldn't handle it. That goes for just about any creamy full-fat dish I've ever tried, and of course now I've learned that going dairy free was one of the best things I could've done for myself.
There are a lot of fads out there about going gluten or dairy free, and honestly some are just doing it to try and lose weight and not for health reasons. If you experience bloating, a constant runny nose, if your digestion is all wacky or you just feel weighed down after eating dairy, then maybe it's time to try cutting it out.
Making the leap towards an elimination diet to try and figure out what is making your body tick can be difficult, but that's what I do!
I coach clients through a 30-day elimination diet centered around plant-based meals. The program is geared towards people suffering with auto-immune diseases, weight gain or loss, digestive issues, skin irritations and more. With weekly meal plans, snack ideas and personal one-on-one accountability, together we will explore what foods are making your body tick, and how to solve the problem.
Learn more by clicking here.
Anyways, back to this amazing recipe...
This dish is serious comfort-level crave-worthy, and the sauce is so good mopped up with crusty bread and tastes even better as leftovers (ahem, meal prep!!).
I wanted to create a creamy, cheesy sauce that didn't contain nuts, and I have only ever used cashews for cream-based vegan sauces so far. I love to use coconut milk though because it doesn't have a strong coconut flavor and doesn't mask the true flavors of the dish. I opted for reduced fat coconut milk, but you could make an even creamier sauce with full-fat coconut milk if you'd like.
WTF is nutritional yeast?!
You might notice in a lot of vegan cheese sauces that there is nutritional yeast. I myself was very skeptical of it at first, but very quickly realized that it is a seriously nutritious ingredient that has a delicious cheesy flavor.
Nutritional yeast is a deactivated yeast that is sold flaked or as a powder. It has a small amount of protein, along with vitamins, minerals and antioxidants that has a naturally cheesy flavor to it. It is completely safe to use in any form of cooking - in sauces, baked or crumbled with cashews or pine nuts or hemp seeds as a vegan parmesan for example.
The Recipe
You can click here to print the recipe. I hope you enjoy this as much as we do!