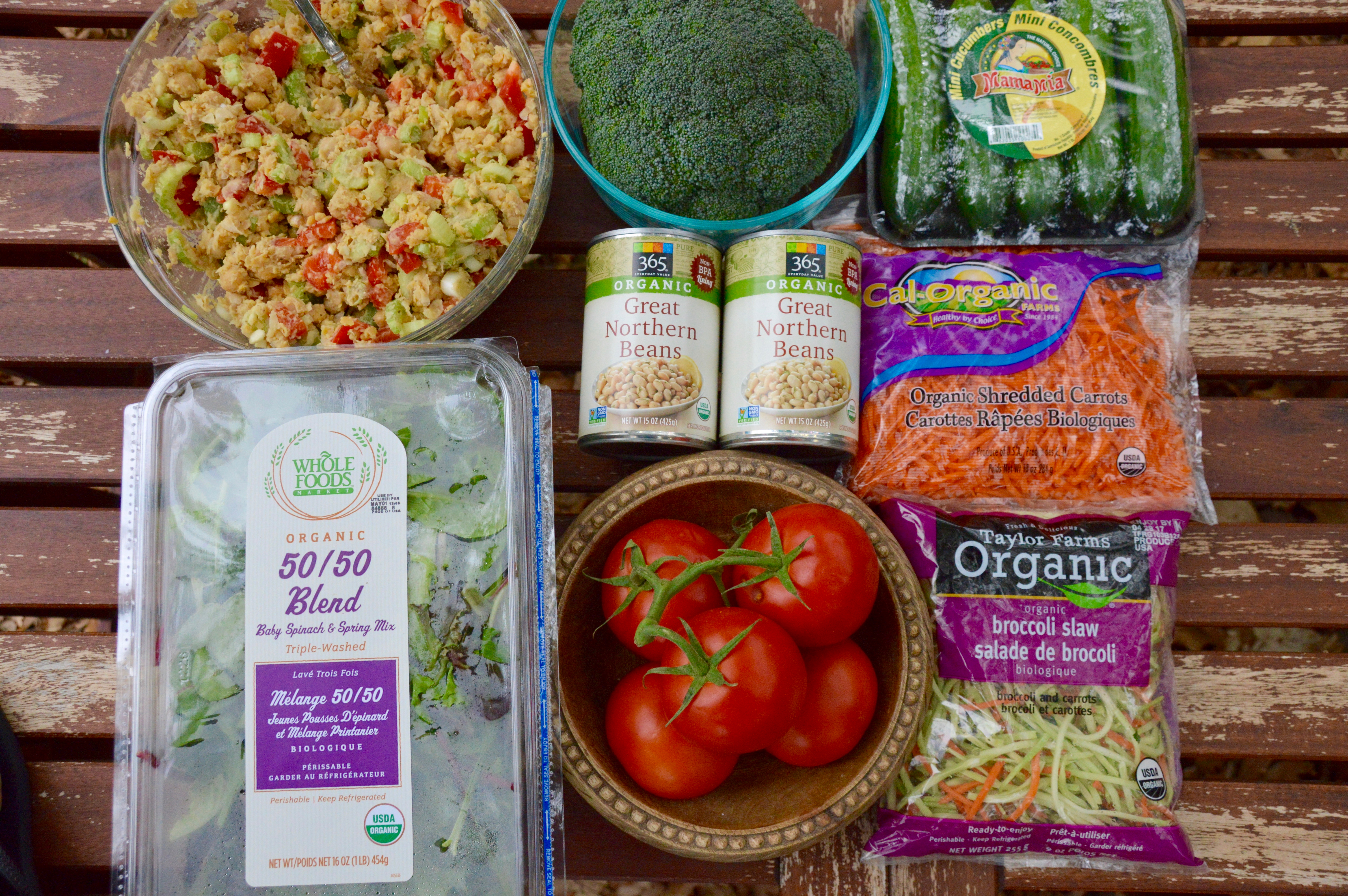 Eat Well All Week: Chickpea Salad + Meal Prep Tips
A few years ago, I would order out for lunch every day, leading to a terrible looking bank account and a terrible feeling all over my body.
I quickly realized that something had to change, so I overhauled my whole routine and started devoting time each weekend to preparing for the week ahead. I taught myself how to cook again, prep grocery lists and make lunches for the whole week in one day.
More...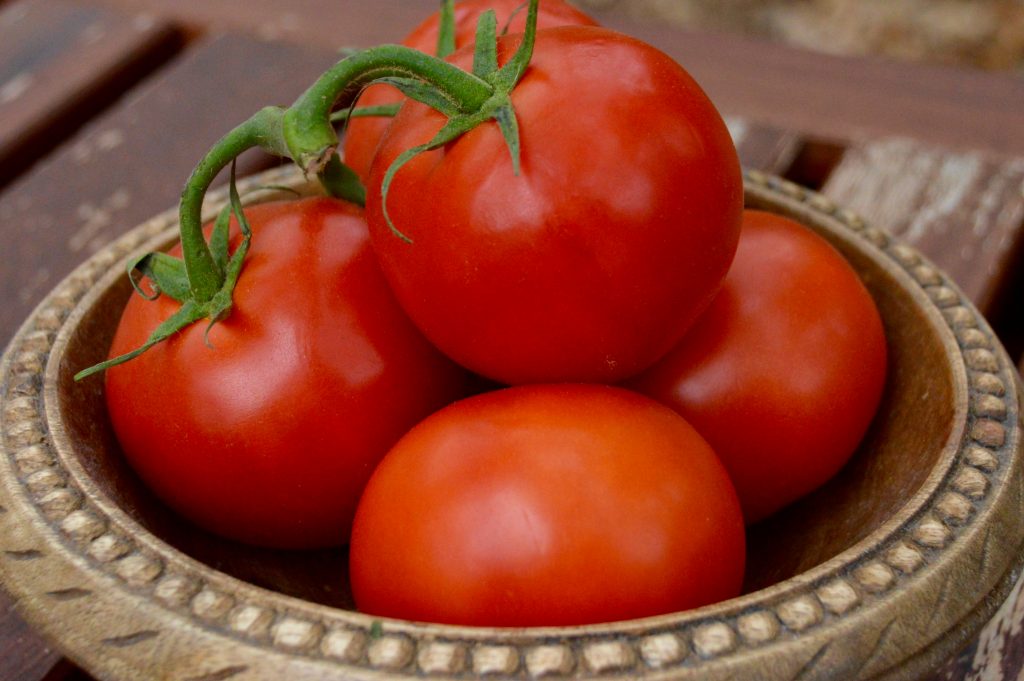 It was a slow process coming up with the right way to do it all, but after a few years of practice, I think I've got it, and I want to share it with you too.
Why is Meal Prep So Important?
When meals are already laid out for you, you are more likely to chose the food that's already prepared than the ones that you need to cook at that moment. When you're in a rush and need food quickly, it's so much better when you already have something made and ready to go!
I prefer to use glass containers for my meals because then I can easily see what is in each container. Plastic containers are fine too but are harder to keep clean and don't last as long as glass. You can get a cheap set of Pyrex containers, which come in different sizes for different types of food.
Heading to the Grocery Store
Before I get to the store, I sit down each weekend and map out what I would like to eat for the week ahead. If you're a creature of habit like me, then this should be easy for you, because you will start to familiarize yourself with what you typically like to each each week, and your list will get easier to make. ​If you're not, this can still be painless, but you'll need to get creative.
I know that for lunches I love to have a big salad every day, with some sort of snack in the afternoon, as well as a smoothie or oatmeal for breakfast. I then learned what foods are found together in each section of the store, so I then list the foods as I would walk through the store.
You can see below an example of one of my lists I made: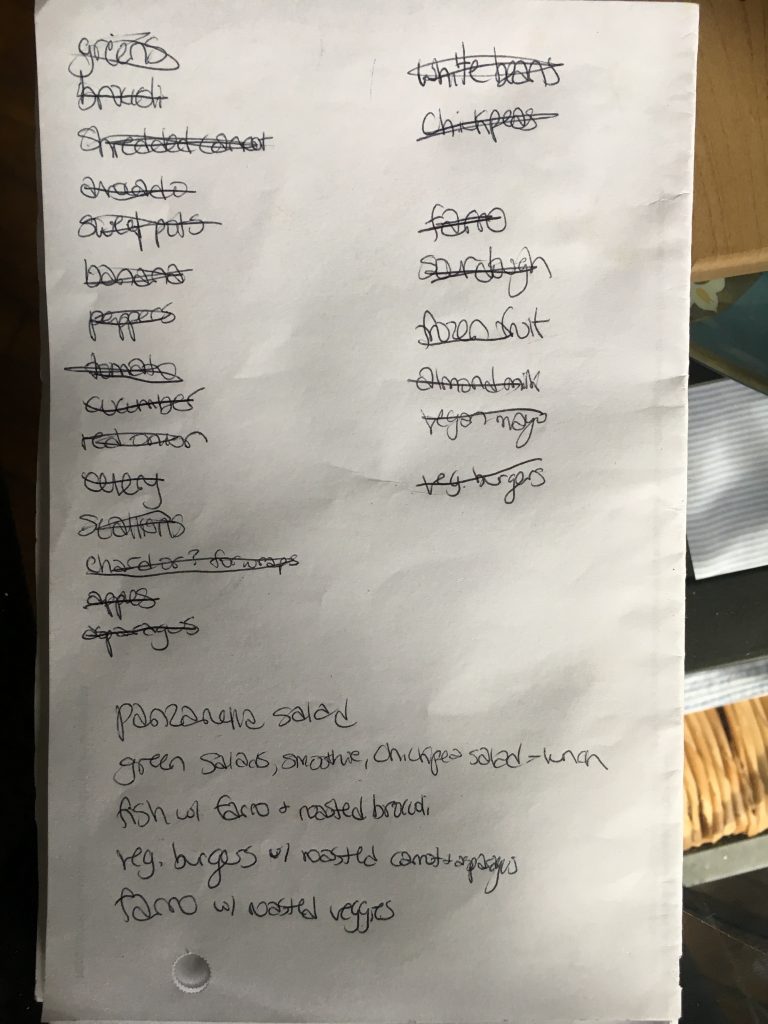 Below is what I have bought for my lunches this week. What is not pictured are five apples, whole grain crackers for my Chickpea Salad, my favorite vinaigrette and ingredients for my smoothies.​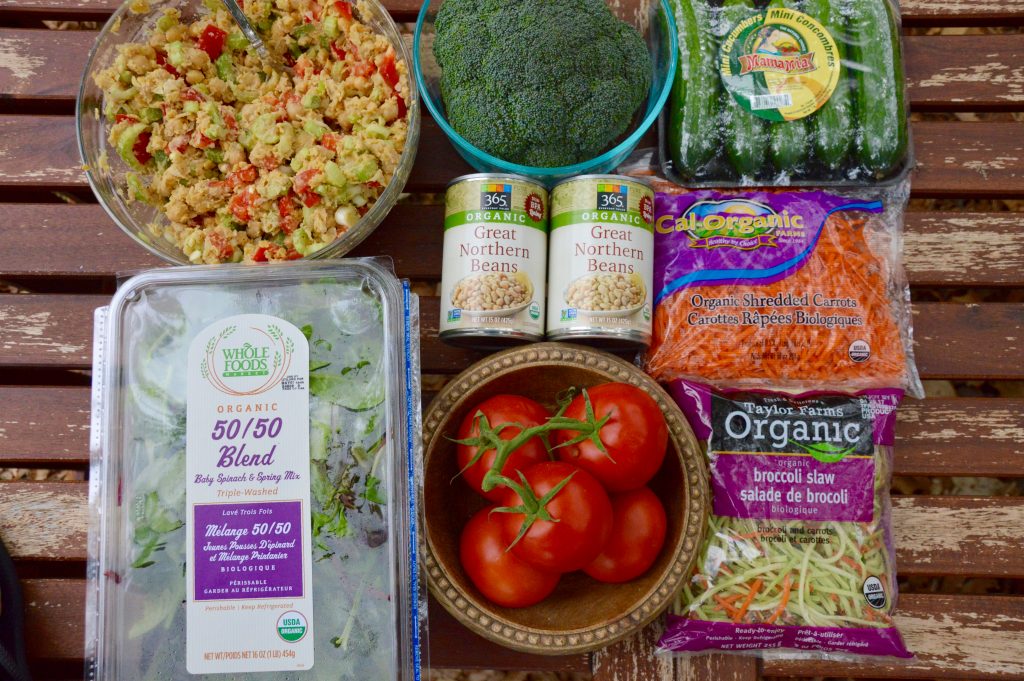 Prepping all the food
Once I get home, I lay out five large glass containers and five small glass containers. The large ones will be for my salads and the small ones for the Chickpea Salads.
Start building your salad with the vinaigrette first, followed by all of your cut up veggies, beans, chicken, cheese or whatever you are putting into your salad.​ Top it with the lettuce then put the lid on. When I comes time to eat the salad, shake it up then rather than mix it all up now, so you don't have any soggy lettuce. If you're adding croutons, put them in a baggie and add them last.
ChickPea Salad​
​I love whipping up a big batch of Chickpea Salad because it's a healthy, full-of-fiber snack that will keep me full until dinner. I love to put these on whole grain crackers or in a sandwich for a whole meal. If you like the earthiness of swiss chard, you can also wrap these for a gluten free meal.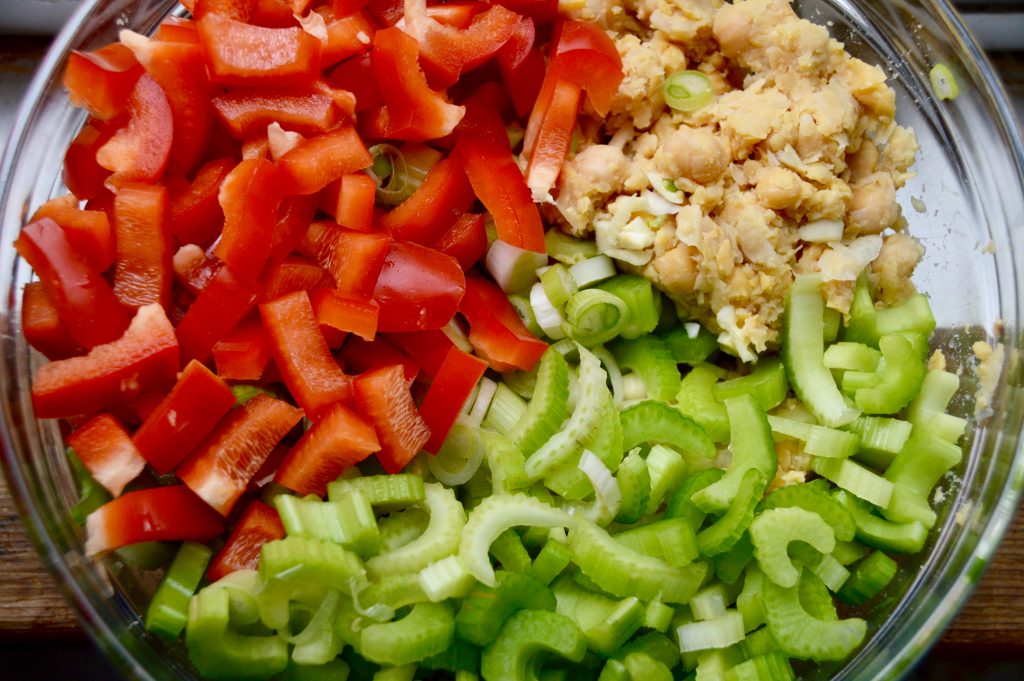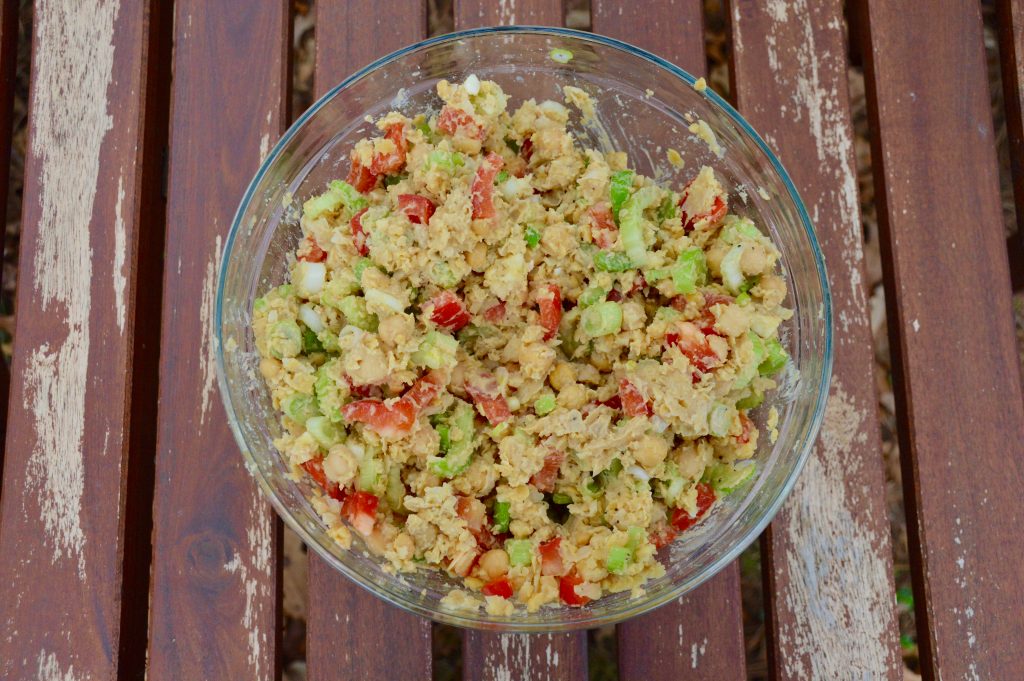 Chickpea Salad
Prep time:
Total time:
This is enough for five snacks plus more snacks for anyone else in the house
Ingredients
3 cans chickpeas, drained and rinsed
1 head celery, sliced thin
6 scallions, white parts sliced thin
2 cloves garlic minced
1 red bell pepper diced
juice of 1/2 lemon
1/4 C olive oil
2-4 TBS dijon mustard (to taste – start with 2 TBS and add more if desired)
salt and pepper
Instructions
In a bowl, mash the beans with your hands or a potato masher.
Add in celery, scallions, garlic and red bell pepper, then stir to combine.
Add in lemon juice, olive oil, dijon and s+p, add more to taste.
Serve with whole grain crackers, in a sandwich, rolled with swiss chard or on its own.