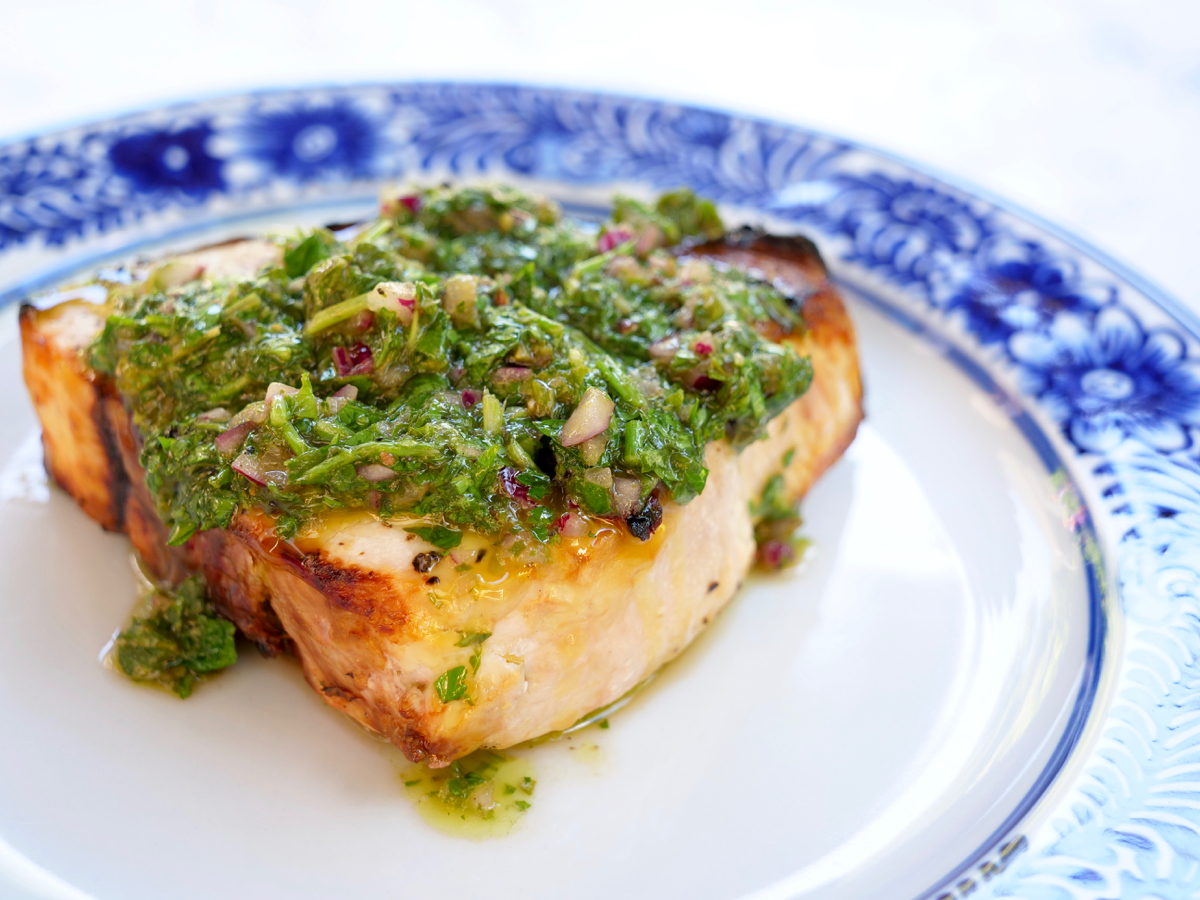 Grilled Swordfish with Chimichurri (GF)
Learn how to grill a perfectly cooked swordfish steak and top it off with a fresh, vibrant chimichurri sauce. All you need is a food processor or blender and some simple seasonings for the sword. This is next level swordfish.
More...
Here on Cape Cod and all over New England, we are incredibly fortunate to have access to the freshest fish, sushi and shellfish. It's amazing to think that these giant swordfish swim just off the coast of Cape Cod, a mile or more below the surface of the ocean, and we are able to have boat to table swordfish within 24 hours of being caught. The fresh meaty flavors of swordfish should never be hidden, only enhanced, and that's exactly what this recipe does. I think I slapped the table several times in delight when taste testing this, and I'm pretty sure you will too.
How to Perfectly Grill a Swordfish Steak
You might be wondering how long should you grill each side for, at what temperature and what seasonings are best for swordfish. Maybe you also want to wow your friends with perfect char marks with a juicy, never dry middle?
For reference, most swordfish steaks will be 2-3 inches thick, and the one pictured above is about 2 inches. Let the grill preheat to between 475-500. While it preheats, prepare the steaks. Most likely you'll get a pound of swordfish that you'll want to cut in half to make two steaks, which is what I did above.
Once cut, season with a small amount of salt and pepper on both sides. Before placing the steaks on the grill, it's important to spray down the grill grates with a non-stick spray first.
Grill each side for 6-7 minutes. You'll know the swordfish is cooked through when there are char marks on each side.
What is a Chimichurri Sauce?
Making a chimichurri sauce is very easy, all you need is a food processor or a blender. Chimichurri sauce is a blend of herbs, red onion, red wine vinegar and olive oil that can be used to dip with bread, toss with pasta or veggies or, as you see here, drizzled over grilled swordfish (or shrimp, cod or whatever other fish you love). You can also use this with chicken or beef.
It's a great way to use up the massive amount of herbs that might be growing in your garden as well (like me). It stores well in the fridge for 2-3 days, and leftovers of this chimichurri sauce can be found spooned on fresh baked bread slices for a snack at my house 😉
It has an insanely fresh flavor that goes so perfectly with the grilled swordfish. I can't get enough of it! Best of all, it's a deliciously healthy, low carb, low fat, high protein meal that is so easy and quick to throw together. Serve it with grilled corn on the cob, sliced tomatoes and basil, rice and/or a salad.
The Recipe
You can CLICK HERE to print the recipe. I hope you enjoy this as much as we do - happy cooking!