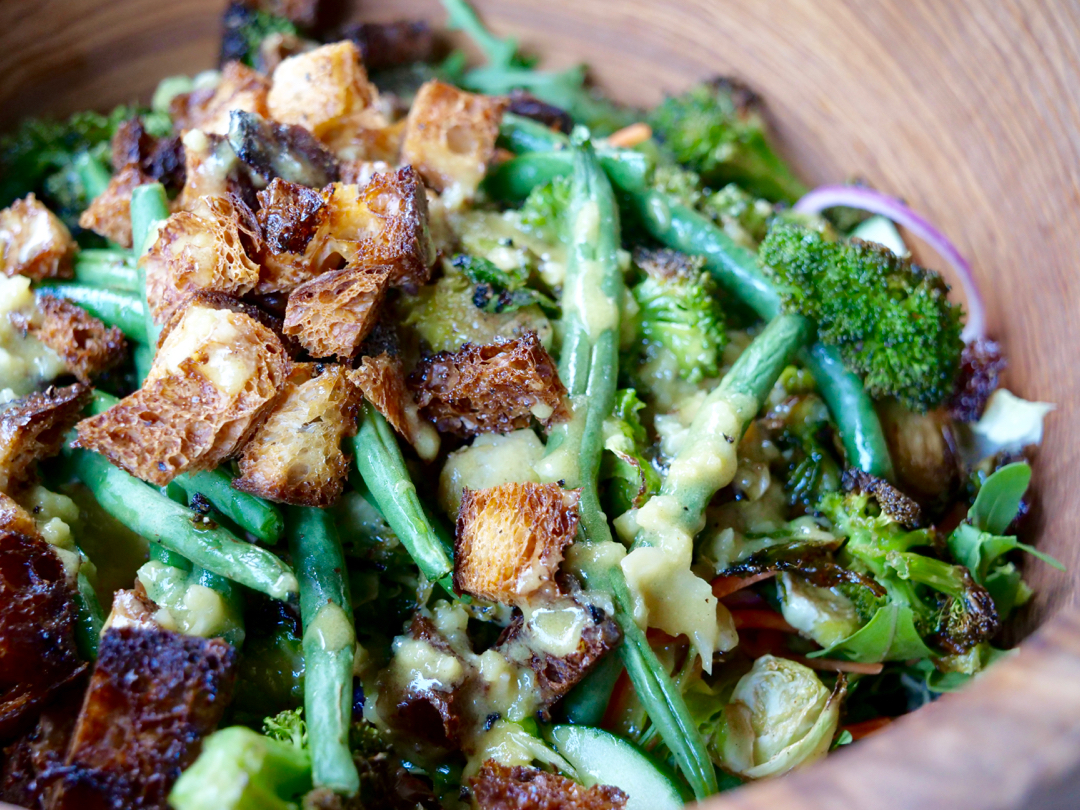 Roasted Vegetable Salad with Spicy Dijon Dressing (Dairy Free)
'Tis the season for dinner salads! You choose which vegetables you love the most, then roast them up and toss them in with peppery arugula, heart-healthy olives, crunchy cucumbers and of course, homemade croutons. The spicy dairy free dijon dressing kicks it all up a notch and brings this from a boring, plain salad to something spectacular.
More...
This salad is on a regular rotating schedule in our house. I usually end up making this when we have extra vegetables in the fridge that need to be used up, and the dressing is just so good and so perfect to stand up to the hearty vegetables.
You can use whatever vegetables you prefer. In this particular recipe I stuck with green veggies like shredded brussels, broccoli and green beans. Roasted baby potatoes, cauliflower and carrots are great choices too!
Spicy Dijon Dressing
The spicy dijon dressing is dairy free and can be made oil free too if you prefer. The spice comes from raw garlic and the dijon mustard. You can tone the spice down by using less garlic and not omitting the olive oil. I love to use the orange champagne vinegar from Trader Joe's in this dressing, just to give it a little citrus boost, but a regular white wine vinegar would be great too, or another brand of orange/citrus champagne vinegar. The citrus flavor in the dressing is so light that using a different kind of white wine vinegar won't affect the taste.
How to Make Your Own Croutons
As for the croutons, you can use whatever bread you love - whether it is a gluten free bread, sourdough, French baguette, seeded rye or anything in between. You can click here to get an easy recipe for making garlic croutons at home, and even though it is a recipe for sourdough, it goes hand in hand with any bread.
You can CLICK HERE to print the recipe - enjoy!