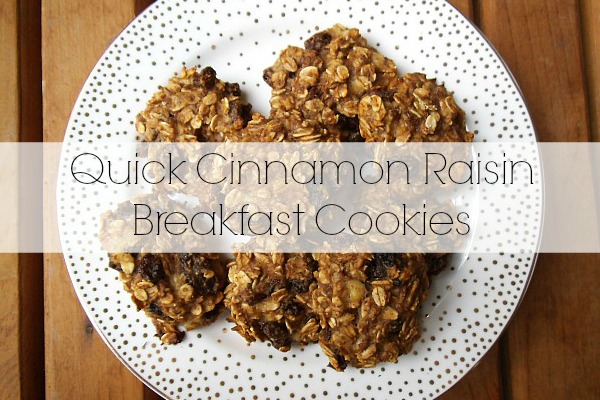 Quick Cinnamon Raisin Breakfast Cookies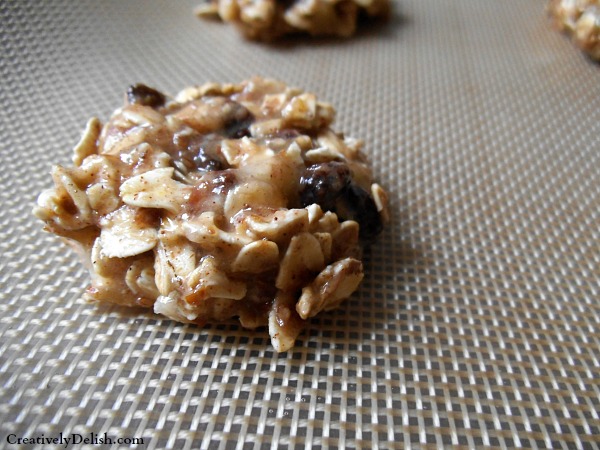 With only 46 calories per cookie and only a few ingredients, these are a perfectly quick breakfast with tons of nutritional benefits. It all began with one lone banana just sitting on the counter, forgotten.  Throw in some old fashioned oats, a little vanilla, some ground flax seed, a dash of cinnamon and a handful of raisins and out comes a delicious little cookie.
You could go about a hundred different ways with it too - throw in chocolate chips for a healthy dessert (still for only around 60 calories), or add in some slivered almonds for more texture. When the cookies are done they stay moist and soft for days (just make sure you refrigerate them).
What's even better about these cookies are the fact that you're getting 10g carbs, 1g fat, 1g sodium and only 4g sugar!  If you need more protein in your diet, add some almonds or protein powder.  I added ground flax seed for extra fiber but you can omit that if you want - there will be no taste difference.
They are a perfect addition to your cup of coffee and filled to the brim with goodness!  I hope you enjoy!
Quick Cinnamon Raisin Breakfast Cookies
Prep time:
Cook time:
Total time:
Makes 8 small cookies
Ingredients
1 medium banana, mashed
1/2 C old fashioned oats, uncooked
1 tsp vanilla
1 tsp ground cinnamon
1 TBS ground flax seed (optional)
1/8 - 1/4 C raisins (optional)
Instructions
Preheat the oven to 400.
In a bowl, mix all ingredients together until it forms into a ball.
On a lined, greased baking sheet (or use a silpat), spoon out mixture to make eight small cookies or four larger ones.
Bake for 12-15 minutes or until the tops are slightly brown.
Let the cookies cool on a rack before handling.
Refrigerate for up to three days