Healthy Summer Vegetable Frittata with Hash Brown Crust
In my opinion, Sunday mornings should always start with a cup of coffee, a comfy chair and something delicious to indulge in.  So since it's summer and we all are (hopefully) craving those gorgeous fresh vegetables the season has to offer, why not use them in a yummy frittata?!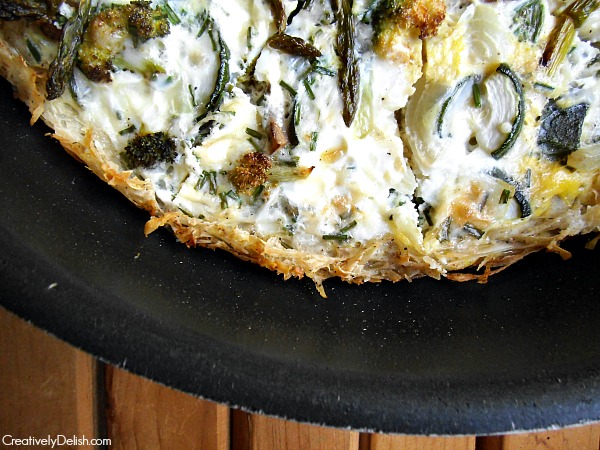 Fresh summer vegetables straight from the garden are mixed in to a frittata with shredded cheddar-gruyere, locally grown chives and a just-picked-out-of-the-dirt (and cleaned, not to worry) hash brown crust.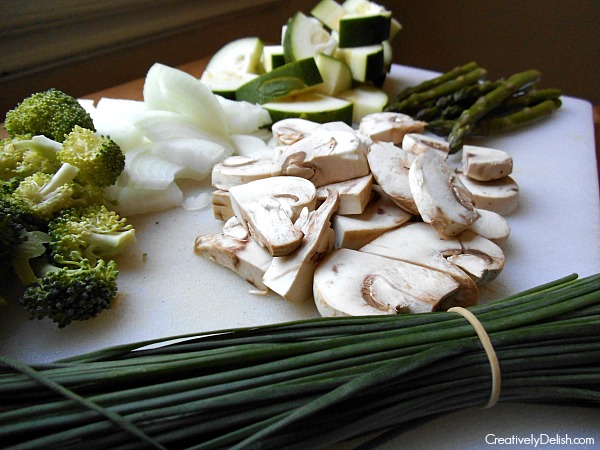 Scrumptious is really the only word to describe this masterpiece. What I didn't realize is how much muscle goes in to making real hash browns!  The cleaning, the peeling, the shredding, the squeezing...my goodness it's work.  But it's totally worth it!  I threw a little chili powder in the potato mix to give it a little kick too.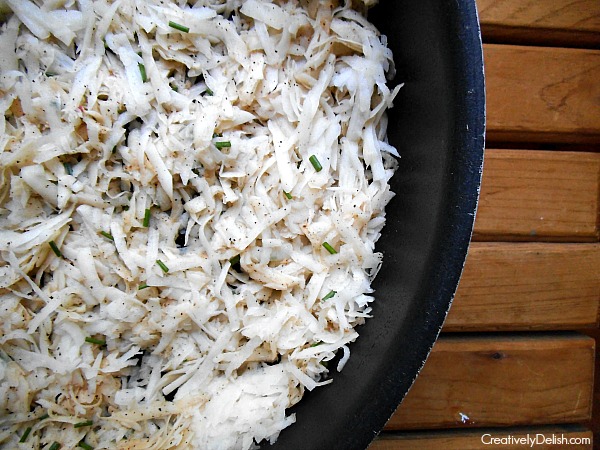 4 eggs and 6 egg whites give the dish loads of protein and healthy fats while the vegetables up the ante on nutrition and freshness.
The cheddar-gruyere cheese I found at Trader Joe's was a perfect complement, giving it a little sharpness with a slightly creamy texture.
The fresh chives I picked up at the farmers market were added in, because really, why not?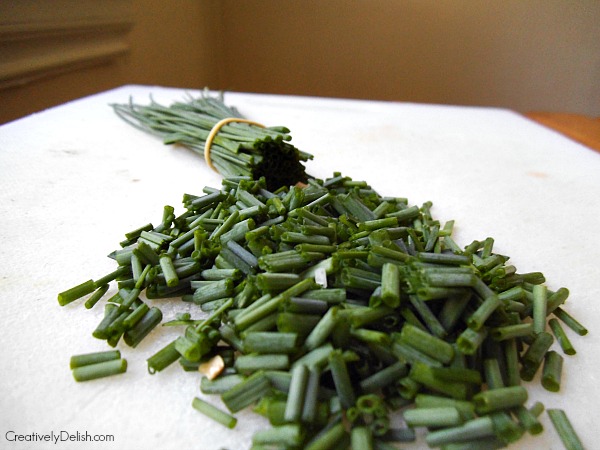 It was the perfect way to use up all the veggies in my fridge and great for a whole week of breakfast!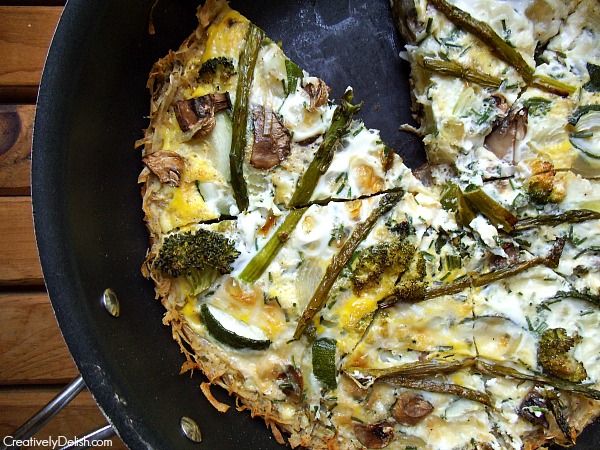 Healthy Summer Vegetable Frittata with Hash Brown Crust
Prep time:
Cook time:
Total time:
Ingredients
4 eggs
6 egg whites
1/2 cup shredded cheddar - I used a mix of cheddar and gruyere
2 TBS fresh chopped chives
1/4 C skim milk
2 tsp ground black pepper
1 tsp salt
1 tsp chili powder
olive oil
4-5 medium red potatoes, peeled
vegetables of your choice - I used 1 cup sliced and quartered zucchini, 8 asparagus spears, 1/2 sweet onion sliced and halved, 4 mushrooms sliced and 1 cup small broccoli florets
Instructions
Preheat oven to 400 and grease a round deep baking dish with some olive oil.
Using a box grater, grate the potatoes. Place the potatoes in a paper towel or dish towel and squeeze the excess water from the potatoes until they are dry.
Transfer the potatoes to a bowl and mix in 1 tsp black pepper, 1 tsp salt and 1 tsp chili powder.
Pour the potatoes in to the baking dish and pat it down in to a thin crust.
Bake the potato crust for 25-30 minutes, or until golden brown.
While the crust cooks, take a baking sheet and place all the vegetables on, drizzle with olive oil then bake for 15 minutes.
Take both the veggies and the potato pan out. Pour the vegetables on top of the potato crust.
In a bowl, mix together eggs, milk, cheese, 1 tsp pepper and the chives, then pour over the veggies and potato crust.
Place it back in the oven for 30 minutes or until the top is a little browned and bubbling.
Let it cool, then cut into slices and enjoy!