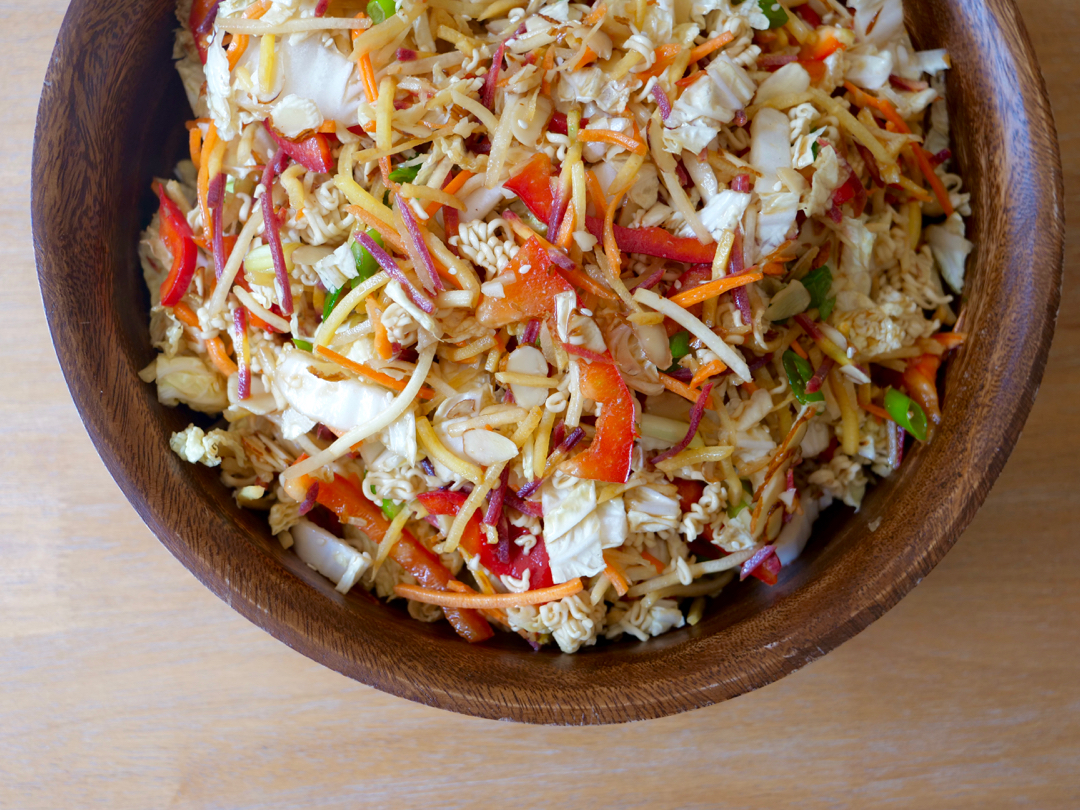 Ramen Noodle Cabbage Salad
If you've never experienced ramen noodle cabbage salad...it's about time you do. Guaranteed this will become a new regular at summer BBQ's and potlucks! It's a great make-ahead meal prep salad that only gets better with time.
More...
This salad is a great alternative to traditional pasta salad, loaded with veggies, crunchy almonds and drizzled with a sweet and tangy dressing. The noodles give it an extra crunch and after sitting for a while, turn into perfectly "cooked" noodles, making this a great salad to serve right after making or a day ahead.
How to Make Ramen Noodle Cabbage Salad
You can save yourself time by grabbing a bag of cole slaw mix, or go the more traditional route and thinly slice napa and red cabbage. I also save time by using a bag of pre-shredded carrots. For the red pepper, you can purchase them pre-sliced, but I recommend just doing it yourself.
To thinly slice a red pepper, start by slicing the top of the pepper off and removing the stem and seeds inside the fruit.
Next, slice the pepper into thin strips like shown in the photo below. From there, cut each slice into thirds and you're done!
As for the ramen noodles, there's no need to cook them, they're meant to add crunch to the salad. Just crush them with your hands into the bowl or use a mallet to crush them up.
The Recipe
You can CLICK HERE to print the recipe - enjoy!