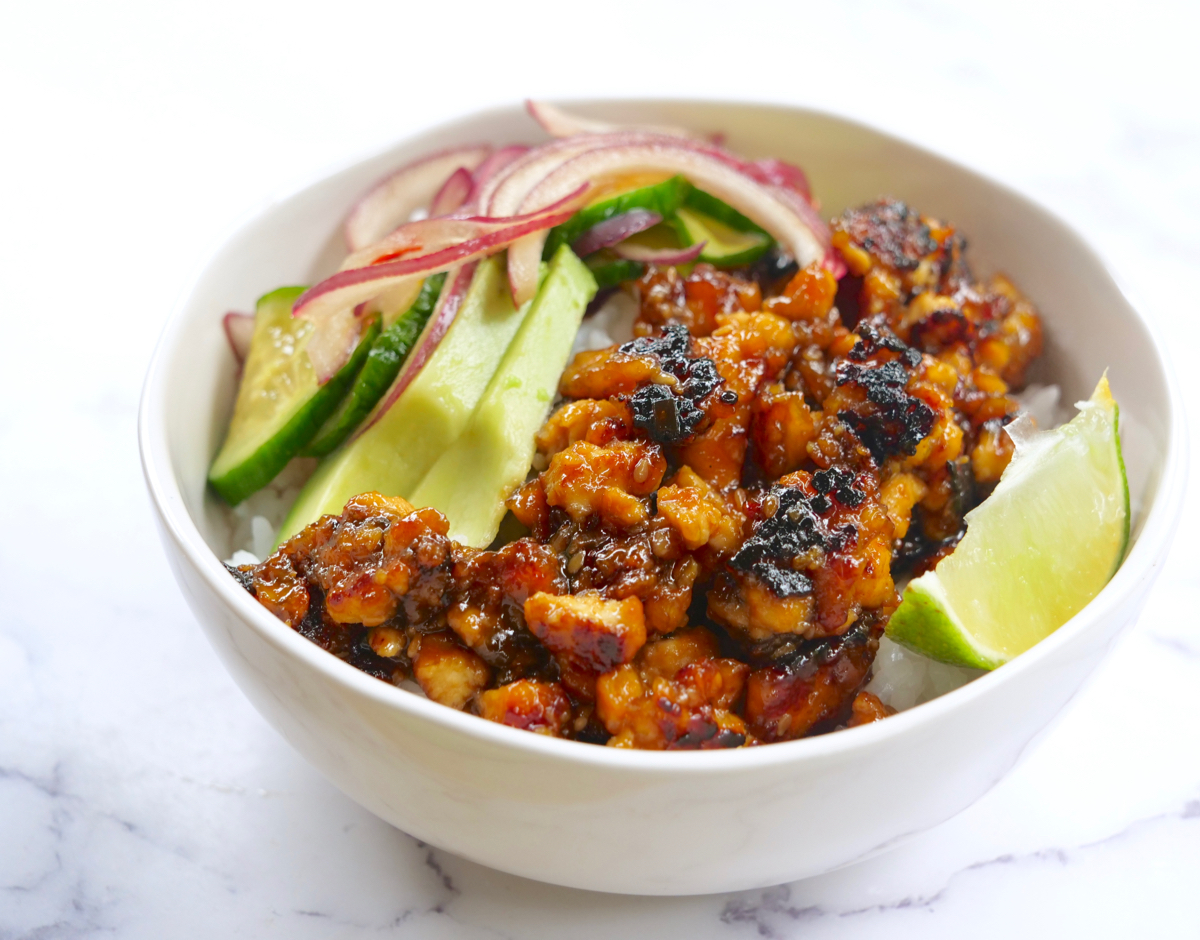 Crispy Teriyaki Tofu with Quick Pickled Veggies
A quick and easy crispy teriyaki tofu recipe that's perfect in a bowl or stuffed into tacos, with quick pickled cucumber and red onion.
More...
How To Make Quick Pickled Veggies
Quick pickled veggies are super easy to do, and don't require any canning or confusing directions. For this recipe I am using cucumbers and red onion, however adding or subbing in shredded carrots or peppers are also great options.
Quick pickles are made with a simple mix of vinegar, sugar and salt, and then depending on the flavor you're going for, you can add in things like soy sauce. For this recipe we used rice wine vinegar, but for other recipes you can use apple cider vinegar or white vinegar for a more neutral flavor.
What's The Deal With Tofu?
Tofu was never something I was willing to try until very recently, mostly because I grew up in the time of tofurkey and only heard the negatives of it. Then it was on to the fact that soy can be soy bad for us, but that's up for debate, similar to the gluten debate. It's bad for some, and fine for others. It messes with our hormones, or can be an inflammatory for some, but for many people, tofu is a staple in their plant based diets.
It can be baked in the oven, fried, grilled, smoked and crumbled up and sauteed like in this recipe. The key is to press as much liquid from the tofu as possible. This will ensure that you get a nice crispy sear to the outside. I usually just wrap it in towels and press down gently a few times, then let it sit for 20 minutes in the towel to soak up any excess moisture.
Tofu has a very mild flavor and can take on a number of different flavors, making it very versatile. For this recipe, I tossed the tofu crumbled up in cornstarch before sauteeing it, so that it would allow for an extra crispy outside.
Tacos or Bowls? You Decide!
Both options are delicious, it all just depends on what you like. I personally love anything that comes in a bowl, whereas Ryan will always take a taco over anything.
Healthy Swaps for Tacos and Bowls
If you're looking for low-carb options, try coconut or jicima wraps in place of tortillas. You can find coconut wraps from Thrive Market and jicima wraps from Trader Joe's. If you're looking to make a taco bowl, try swapping out the jasmine rice for cauliflower rice.
Can I Make This Ahead Of Time For Meal Prep?
Absolutely! Both the quick pickled veggies and the cooked tofu will keep fresh in the fridge for up to 3 days. To reheat the tofu, re-fry it in a small amount of olive oil in a saute pan, stirring occasionally until heated through and you've gotten the crispiness back.
To make life easy if you're having this in a bowl, have a few microwavable bags of jasmine rice or cauliflower rice on hand, so meals are quick to put together. If you're using tortillas, coconut or jicima wraps, warm them up right before serving.
Add sliced avocado, scallions, shredded cabbage and/or lime juice to these for extra bits of flavor.
I hope you enjoy this recipe as much as we do!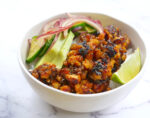 Print Recipe
Crispy Teriyaki Tofu with Quick Pickled Veggies
A quick and easy crispy teriyaki tofu recipe that's perfect in a bowl or stuffed into tacos, with quick pickled cucumber and red onion.
Ingredients
For the quick pickled veggies
2

mini English cucumbers, thinly sliced on a diagonal

1/4

red onion, thinly sliced

3/4

C

rice wine vinegar

1

tsp

soy sauce, tamari or coconut aminos

2

tsp

coconut or regular sugar

1/2

tsp

salt

1/2

tsp

red pepper flakes
For the crispy teriyaki tofu
16

oz

block extra firm tofu, pressed

4

TBS

cornstarch

3

TBS

olive or vegetable oil or other neutral oil of your choice

1/2

C

teriyaki sauce
Optional ingredients for serving
sliced avocado

jasmine rice or cauliflower rice if having a taco bowl

corn tortillas, coconut or jicima wraps for tacos

sliced scallions

lime wedges
Instructions
Press the tofu by wrapping it in paper or tea towels and gently pressing down, then let it sit to absorb any extra moisture while you quick pickle the veggies.

To make the quick pickled veggies, combine all ingredients in a medium bowl and let it sit in the fridge for at least 20 minutes while you make the rest of the meal. This can be made up to a day in advance.

For the tofu once pressed, crumble it into smaller pieces in a bowl with your hands and toss with the cornstarch. Heat the oil in a large pan over medium high, then add the tofu. Fry for 8-10 minutes, turning and flipping occasionally to ensure all sides start to brown and crisp up. Once crispy, add in the teriyaki sauce and continue cooking, allowing the sauce to caramelize on the tofu, stirring occasionally, for another 8-10 minutes.

Assemble bowls or tacos with the tofu and quick pickles, along with whatever other toppings you like.