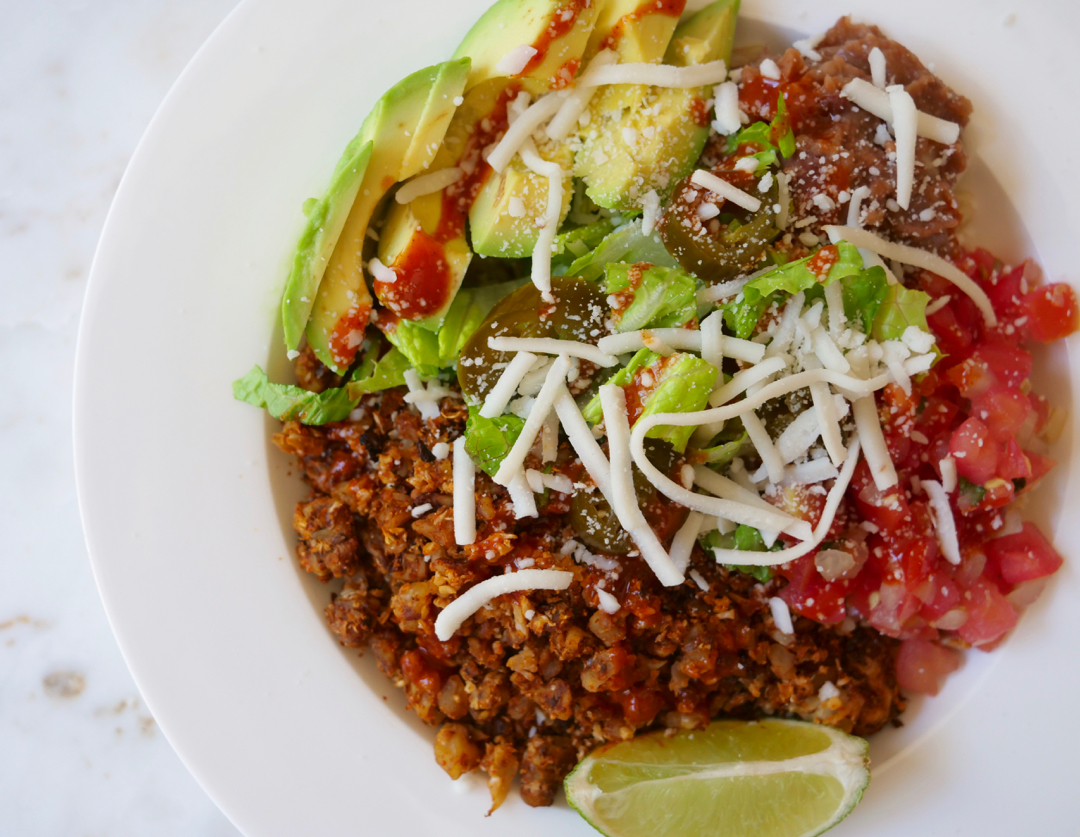 Burrito Bowls with Cauliflower & Walnut Taco Meat (V, GF)
A hearty mix of cauliflower, walnuts, chiles in adobo and taco seasoning that tastes and satisfies just like the real deal, all loaded into a burrito bowl for a delicious and quick meal.
More...
There is something just so satisfying about any sort of meal packed into a bowl. It's my favorite kind of meal. Burrito bowls, taco bowls, Buddha bowls, stir fry bowls, smoothie bowls, loaded salad bowls, grain bowls...you name it, I LOVE it.
One of the quickest dinners you can make is a burrito bowl - you can use frozen pre-made rice to save time and load it up with whatever you have on hand or prefer. They're customizable and perfect for meal prepping your week ahead.
To be fair, there are a lot of cauliflower-walnut vegan variations out there on plenty of vegan blogs, so I can't really take any credit for the idea. What I can take credit for though are the flavors and seasonings I used to create this delicious dish - chiles in adobo sauce and taco seasonings.
It gives the same satisfying flavor and look of ground beef, minus the beef.
If you're nut free...
If you are completely nut free, you can sub the walnuts for pepita seeds instead. It won't have the exact same texture or "meatiness" to it, but it's certainly the most cost-effective and easiest way to sub out the walnuts.
This is my favorite way to sub out ground beef for a plant based alternative, and the possibilities are endless when it comes to what to use it for!
Stuff into tacos or burritos, add into enchiladas or Mexican "lasagna", make a taco salad with it or do as I did and make your own burrito bowl.
I build my burrito bowl with:
You can build yours however you like, whether you add in Vegan Chipotle Queso, sliced black olives, diced green chiles, fresh guacamole, shredded cilantro, or whatever else you love.
You can click here to print the recipe for the Cauliflower Walnut Taco "Meat".