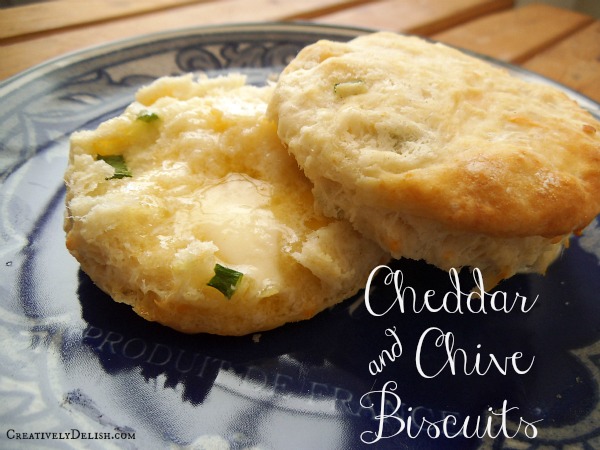 Cheddar & Chive Biscuits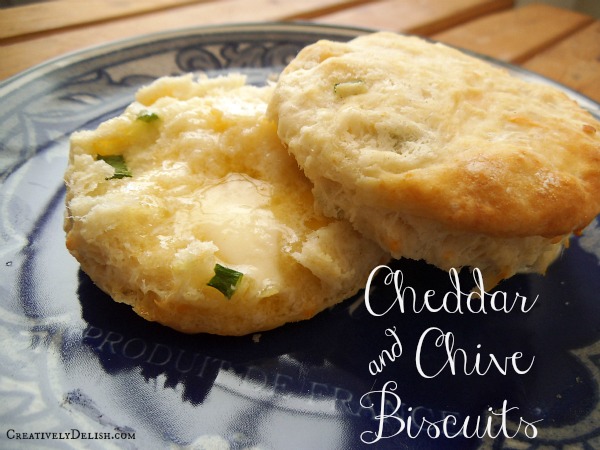 Fresh chives...shredded cheddar cheese....all wrapped up in a flakey biscuit.  What more do you need!
When I was growing up in Connecticut, we always had fresh chives from our garden to mix with cream cheese to throw on bagels or rye bread.  If you haven't ever had chives, grab a fresh bunch from the store next time.  Slice them very thinly and use in baked goods, mixed into rice or topped with cream cheese.  They can store in an container in the freezer for quite a while, but they won't last too long once you try them...they'll be gone pretty quickly.

When you are mixing the dough, it's important that the butter and milk are very cold.  While I was mixing my dry ingredients, I put the milk and butter in the freezer.
Another thing I have learned is that when cutting the butter into the dough, use two knives or a food processor.  I had used my hands before which made the butter too warm and won't give that great flakey look to them.
Oh and one more thing!  Don't overmix the dough after you pour the milk in, you want it to be a little lumpy.
I had so much fun kneading the dough and rolling it out (see first left picture above).  Be sure to flour your hands, the counter and the rolling pin so nothing sticks (it's not fun trying to wash all that off).  If you don't have a rolling pin, do what I did and use a bottle of wine or vodka, same thing really.
I don't have a proper cutter either, so I used a small juice glass to cut my circles...works just as well!  And before I had my own rolling pin, I actually used to use a wine or vodka bottle - get creative people!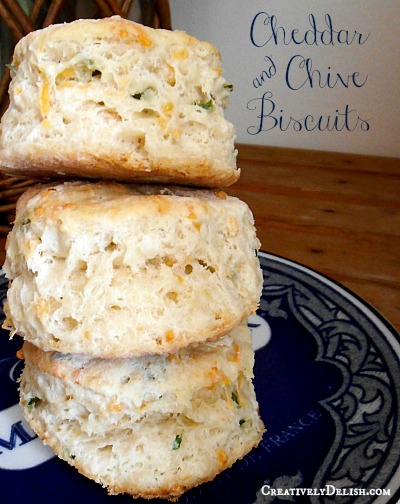 Enjoy these, they are lovely!
Cheddar & Chive Biscuits
Prep time:
Cook time:
Total time:
Ingredients
2 1/4 C all-purpose flour
3/4 tsp salt
1 tsp sugar
4 tsp baking powder
1/3 C butter, very cold
1 C milk, very cold
1/4 C freshly thin sliced chives
1/4 C shredded cheddar cheese
Instructions
Preheat oven to 450.
In a food processor, pulse flour, salt, sugar and baking powder a few times.
Add butter, cut up into small pieces, and pulse several times until flour mixture becomes slightly chunky.
Transfer mixture to a bowl and add milk, stirring just enough to combine everything together.
Add chives and cheese and stir once or twice to combine again.
On a floured surface, knead dough about 8 times, then roll out into a flat surface about 1/2 inch thick.
Using a small glass or a cutter, cut dough into small circles and place on a baking sheet lined with parchment paper.
Bake 15-20 minutes or until tops have browned slightly.
Remove and let cool before serving.
Makes about 10 biscuits.