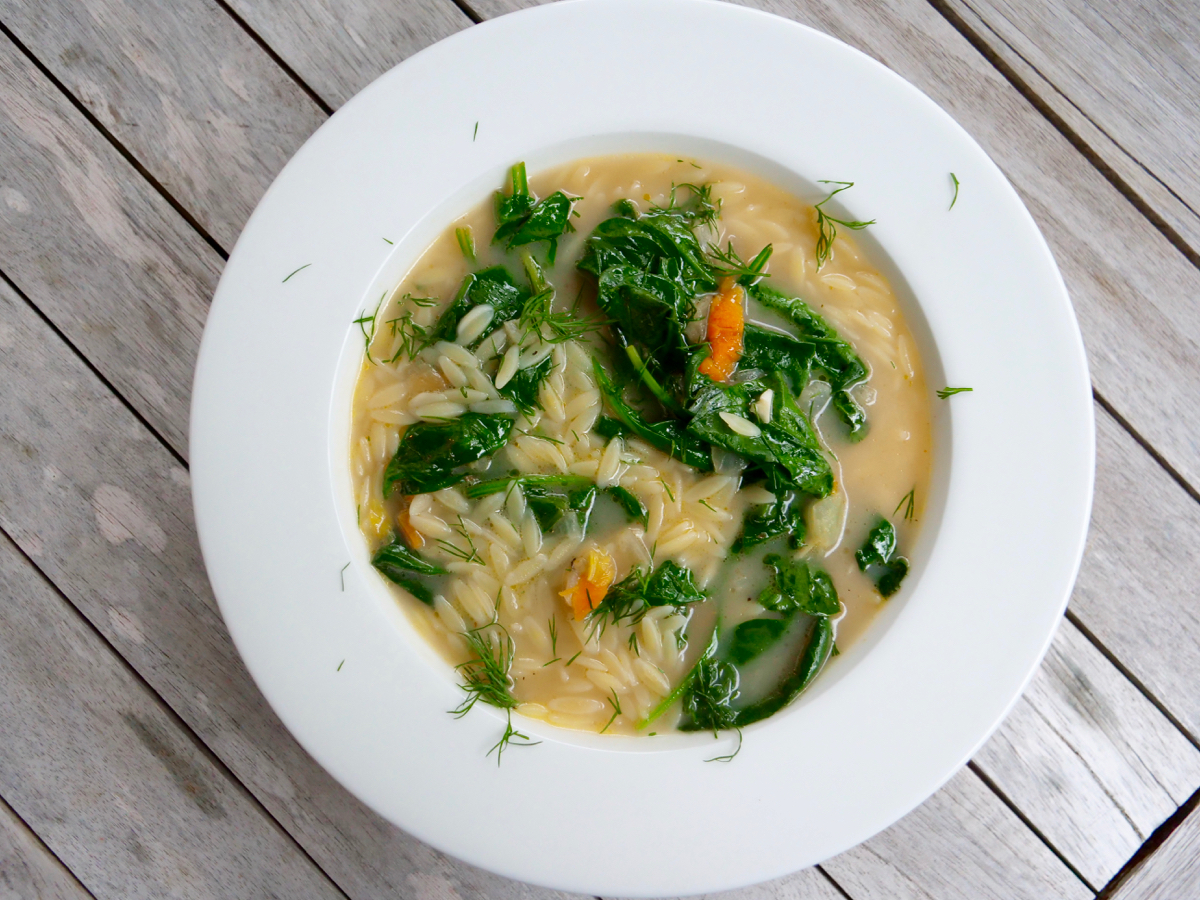 Lemon Orzo Soup
This Lemon Orzo Soup is a healthy, easy to make recipe that's been a favorite of mine for years. Make it your own by adding in either chickpeas or shredded chicken.
More...
Growing up, lemon chicken was on the menu at least every other week, and I was A-OK with that. The flavors of herbs, fresh lemon juice and a buttery caper sauce smothered over roasted chicken is a meal memory I'll never forget.
These days I'm not drawn to eating as much chicken or beef and instead leaning more towards plant-heavy meals. When I wrote this recipe a few years ago, it was originally as a lemon chicken soup, but I wanted to be sure to update it so that everyone can make this and enjoy it's rich flavors.
MAKING THIS SOUP VERSATILE

This soup uses very simple ingredients like carrots, onion, celery, garlic, fresh dill, lemon juice, broth and coconut milk to make it a little creamy (other lemon orzo soups call for an egg slurry for creaminess, but for easiness and the vegan option, I went with light coconut milk).
Make it your own by choosing either chicken or chickpeas, or if you don't like either of those options, try using white beans and/or sliced white mushrooms.
To make life easier, look for a mirepoix mix at the grocery store to save time chopping. A mirepoix is a mix of chopped celery, carrots and onion, which is the basic base for most broth-based soups.
The most important part of this soup is to use real ingredients. Make sure to buy fresh dill and use fresh lemon juice (never the bottled kind!). You'll get seriously fresh and full flavors from the real stuff.
THE HEALTH BENEFITS OF LEMON ORZO SOUP
Soup is always an excellent option to help boost immunity, hydrate your body and pack tons of nutrients from veggies into a small bowl. I love this soup because it's low in calories, high in protein and with a healthy amount of carbs. For about 2 cups of soup, you're getting 20 grams of protein, only 252 calories and a measly 2 grams of fat. This will change of course if you sub out the chicken for chickpeas, white beans or mushrooms.
THE RECIPE

When you make this soup and you plan to have leftovers, be sure to keep the cooked orzo and the soup separate and add it right before serving. This way you don't end up with leftover soup that's thick and mushy.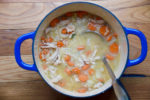 Print Recipe
Lemon Orzo Soup
Make this soup your own by adding chickpeas or shredded chicken.
Ingredients
Choose your protein
2

skinless chicken breasts

2

15oz

cans chickpeas, drained and rinsed
Lemon Orzo Soup
2

TBS

olive oil

15

oz

mirepoix mix, or 1/2 C each diced onion, carrot and celery

4

cloves

garlic, minced

4

C

low sodium broth

15

oz

light coconut milk

3/4

C

orzo pasta

2

large handfuls

baby spinach or baby kale

2

large

lemons, juiced into a bowl

1/4

C

fresh chopped dill

salt and pepper to taste
Instructions
If using chicken, preheat the oven to 450 and line a baking sheet with foil. Sprinkle salt and pepper over chicken breasts and bake in the oven for 30 minutes, or until cooked through. Shred with a fork and set aside.

To make the soup, heat the olive oil in a large soup pot then add mirepoix mix and a pinch of salt and pepper. Saute the veggies for about 5-6 minutes, then add the garlic, cooking another 2 minutes.

Pour in the broth and coconut milk, along with the chickpeas or chicken, bring to a boil and then to a low simmer. While that simmers, cook your orzo in salted water and drain. Keep the orzo separate from the soup unless you plan to not have leftovers.

Stir in lemon juice, dill and spinach, then season with salt and pepper to taste.
Notes
*Cook and keep the orzo separately if you plan to have leftovers, and spoon the pasta and soup together right before serving.  This will make sure you don't end up with thick, gloopy soup the next day 🙂