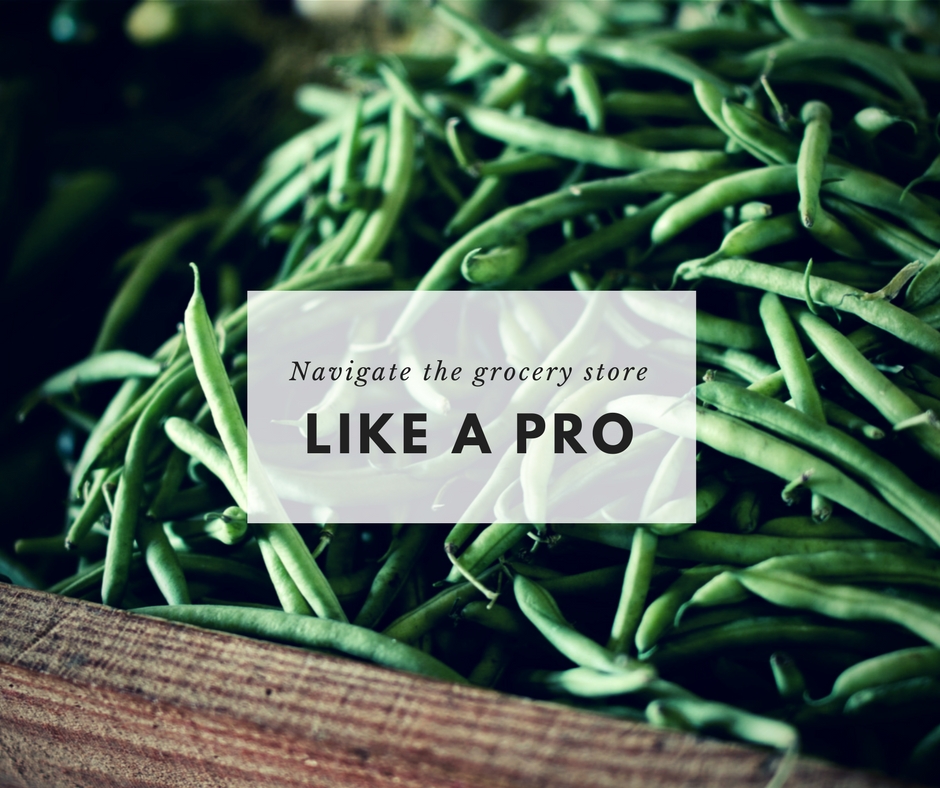 Navigate the Grocery Store Like a Pro
I've had a lot of conversations recently with people who are struggling with the weekly chore of grocery shopping.
Considering you're walking into a store with thousands of products and so much advertising it could make your head spin, how do you know what the good versus the bad foods are?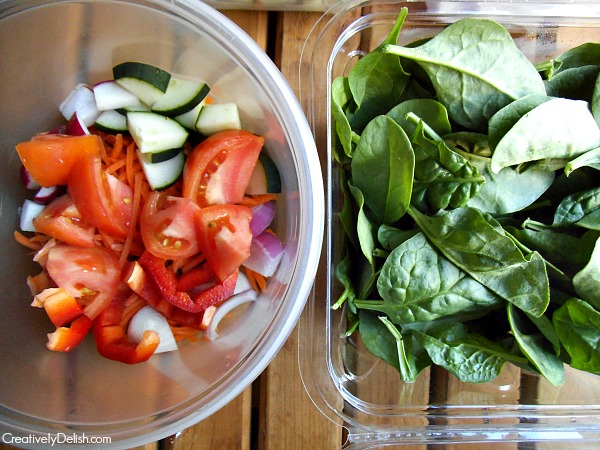 Aside from the actual task of getting to the store, you're expected to make a list, which feels impossible because list-making just isn't for you or you have no idea how to begin.  Many people just throw things in their cart with the idea that it's healthy and they'll eat it but soon that piece of food gets forgotten in the back of the fridge and then it's wasted.
So rest assured, I'm here to help!
I have spent years perfecting my own list-making skills, and it has helped Ryan and I to produce less food waste in our house and less trips to the store every week.  So how do I do it?  Read below to see just how easy it can be to navigate the grocery store like a total pro.
Make a list.
Every single week, I sit down at the kitchen table and I write out all the meals I want to have that week.  I ask Ryan what he is in the mood for too.  Sometimes if I'm stuck I'll refer to my own recipes here on the site or from one of my many cookbooks I keep in the kitchen.  We are mostly vegetarian with the exception of eggs and fish, so we make sure to incorporate grains, beans, eggs or fish into every meal.  I try to think of the foods we love to eat the most, and knowing what's in season, I then try to create recipes in my head that work together,
Once I have my list, I then make a separate list of ingredients.  I make sure to check what I already have on hand, and I organize everything into categories based on where things are in the store.
Have you every noticed that most grocery stores have their front door leading right to the produce department?  Start your list with produce at the top.  Visualize how you walk through the store once you're through produce and what departments and aisles come next.  Create your list that way so you can be in and out in no time.
If you don't like making a list…
If you don't like making a list, that's OK!  Instead, try to take mental notes about what foods you like to eat, or certain meals you tend to go to during the week, and then you'll have an idea of what foods to buy.
One way to make sure you don't waste food is to prep it as soon as you get home.
If you're not keen on making a list and you didn't plan ahead, then those mushrooms you just threw in your cart might end up in your garbage can next week.  The key to using everything you have is to prep it and display it in glass or clear containers in your fridge.  You're more likely to use that red pepper in your meal if you can visually see that it's already sliced and ready to cook, rather than looking at a whole pepper that's not even washed.  When you've had a long day, that's probably the last thing you want to do, and this is why so much food goes to waste.
Bottom line – pick up some cheap glass or clear storage containers and allow some time when you get home to slice those babies up!
What to look for when purchasing food.
Produce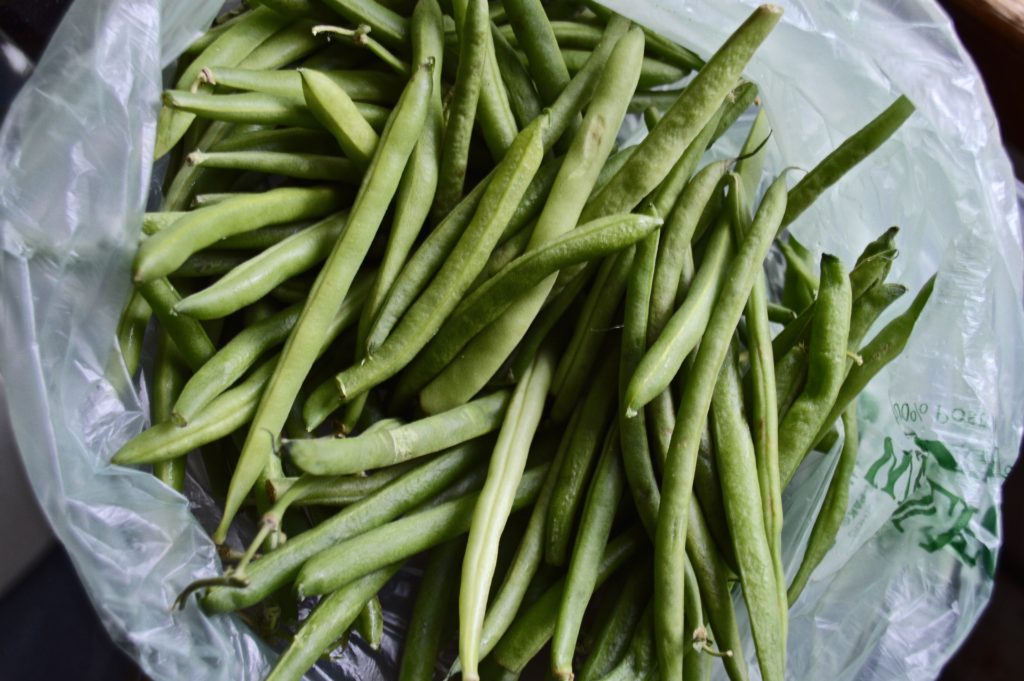 Fruits and vegetables are a no-brainer when it comes to eating well.  The more, the better!  It's important to chose local, seasonal, organic produce as often as possible, and to eat a rainbow variety of fruits and vegetables to ensure you're getting the full spectrum of vitamins and minerals.
Want more inspiration?  You'll be amazed at the benefits they can bring you.
Deep greens help to purify the blood, strengthen your immune system and even help to ward of depression and anxiety – throw some spinach or kale in your smoothie!
Red fruits and veggies help support heart and brain function – berries, apples, beets and apples are perfect.
Orange fruits and veggies are full of beta-carotenes and vitamin C, which support eye health and immunity – clementines, carrots, papaya, etc.
Yellow fruits and veggies can improve circulation – bananas and yellow peppers.
White fruits and veggies reduce blood pressure and LDL cholesterol – turnips, cauliflower and coconut meat!
Blue and purple fruits and veggies are rich in antioxidants, which help prevent early signs of aging and heart disease – try adding purple cabbage into your salad for lunch.
Garlic, ginger and onions are known for their anti-bacterial and anti-viral benefits.
Load up on sweet veggies like squash, carrots, yams, sweet potatoes and onions – they can help ward off sweet cravings.
Protein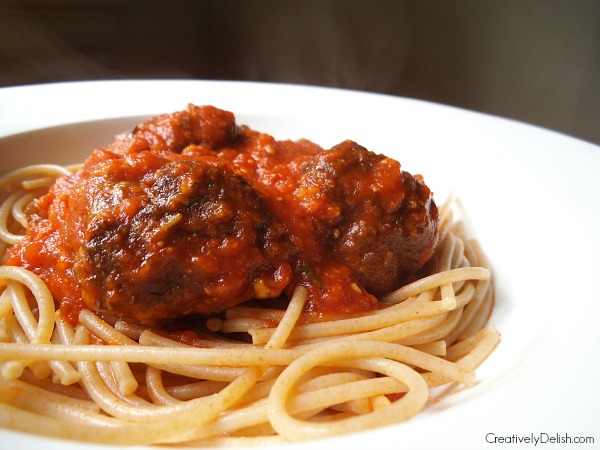 There is a big variety of proteins out there, and everyone is different in what they prefer.  If you're buying meat, make sure to look for labels such as organic, free-range, cage free and certified humane.  If you're looking for plant-based protein, you can look for beans, soy-products like tofu or, if you're allergic to soy (but not wheat) you can try seitan.
Seafood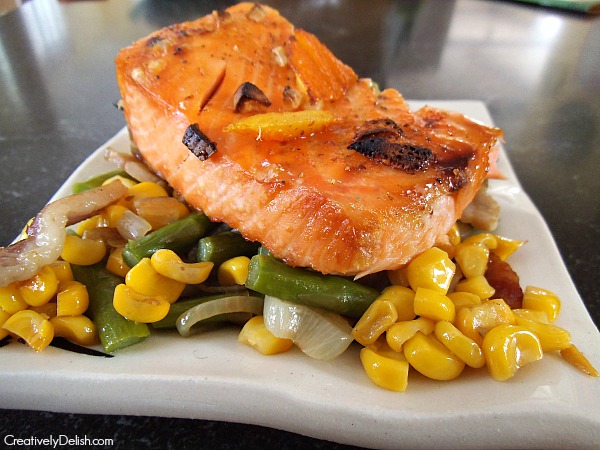 There is always a lot of concern around seafood, mainly because of it's mercury content and high fat (even though it's considered good fat).  Choosing smaller fish is a good option because they typically carry less mercury.  Be careful with tilapia – that is a fish that is mostly farm-raised, and some frown upon tilapia.  Instead, look for in-season fish.  If you live in New England like me, cod and haddock are almost always in season!  I love to purchase my seafood from Whole Foods because I know it's fresh and they always disclose where the fish came from, but if your market does't, be sure to ask how long the fish has been on display and whether it was wild-caught or farm raised.
Eggs
Eggs are a great balance of protein and fat and are considered a complete protein, meaning they provide all essential amino acids your body needs.  They also contain a good source of vitamin D.  Look for labels such as certified organic, grade A, free-range or certified humane.  Also, spoiler alert – there is absolutely no nutritional difference between white and brown eggs.
Dairy
Some people don't live well off of dairy, and there are some great options out there.  I have an obsession with Califia Farms Almond coffee creamer.  It's just so good!  Whatever you chose though, make sure you're checking labels, especially if it's a non-dairy item.  There is so much added sugar even in regular milk, so know what's in that carton before you buy it.
Whole Grains
A "whole and wheat grain" is literally a whole grain.  "Whole wheat" is different that "whole grain".  "Wheat" is different than "whole wheat".  Look for labels such as "whole grain" and you'll get the entire nutritional write-up of the actual grain, without any refinement or processing.  Bulgur, cracked wheat, spelt and wheat berries are great sources of wheat grains.  Gluten free and wheat free sources can come from amaranth, buckwheat, corn, millet, rice and quinoa.  To get the most nutrition, chose a whole grain.
Oils
As much as the word "fat" gets a bad rap, oils are essential for brain function and vitamin absorption.  You can get oils from sources such as nuts, seeds, coconut and avocado, or from oils like olive and sesame.  Avoid products labeled hydrogenated or refined, or anything bleached (light olive oil for example).  Buy oils marked cold pressed and unrefined for the best quality.
Condiments
These are a great way to flavor your meals, but be careful what you're buying.  Ketchup for instance contains so much sugar and so little actual tomato, and the same goes for things like mustard and BBQ sauce…sugar, sugar, sugar.
Instead, try these:
Tamari – a gluten-free soy sauce used to flavor rice, vegetables, proteins and more.  It is salty and can be a good alternative to salt.
Apple cider vinegar – use for tangy, sour flavors
Balsamic vinegar or glaze – gives dishes a bit of sweetness
Spicy – try hot pepper sesame oil, cayenne or hot sauce
Nutty flavors – tahini, nut butters or sesame salt
Herbs and Spices – just look for organic products, and try to buy as much fresh herbs as possible.
Sweeteners
Instead of refined sweeteners, try more natural varieties such as honey or maple syrup.
 Need more inspiration?  Check out my Meal Planning 101 page for weekly meal plans, grocery tips and more!