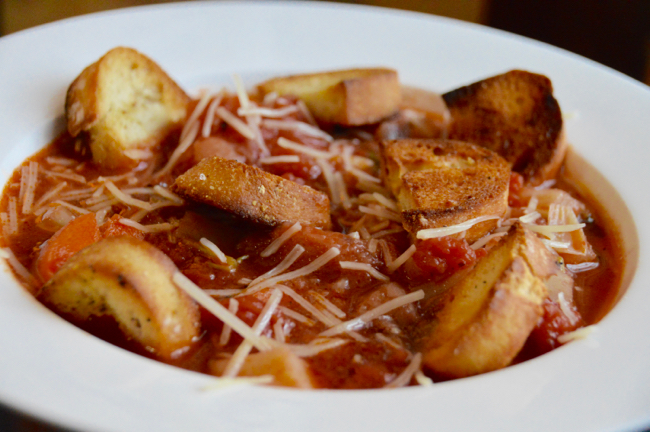 Papa Pomodoro Soup (Hearty Tomato Soup)
A classic, hearty tomato soup with lots of garlic and basil, served with homemade quick croutons.
Winter in New England is very nostalgic for many people, myself included.  While I long for the days of gazing out toward the Pacific while basking in the glow of the sun in Costa Rica, I still walk around in awe of my surroundings in New England.  Whether its the blooming hydrangeas on Cape Cod in the summer, the vibrant colors of fall everywhere you look or the snow-coated pine trees and gorgeous winding roads of the town I live in, you just can't beat it.
Now that it's winter, there's only one thing on my mind...soups and stews.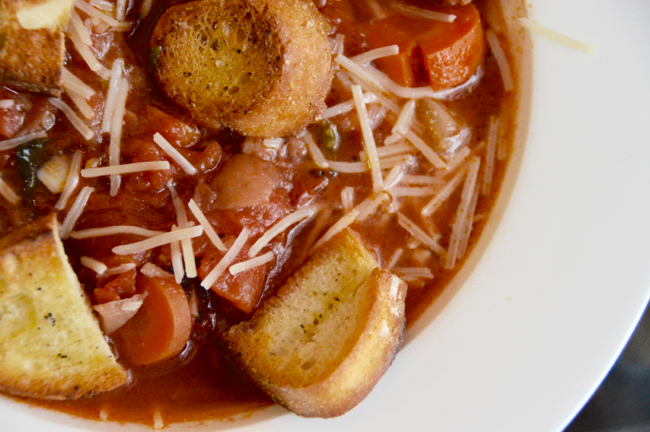 Since I work outside most of the day, there is nothing better than coming home and settling in to a big bowl of piping hot soup.  Especially one that takes zero effort and couldn't be healthier, like my Papa Pomodoro Soup with Homemade Croutons.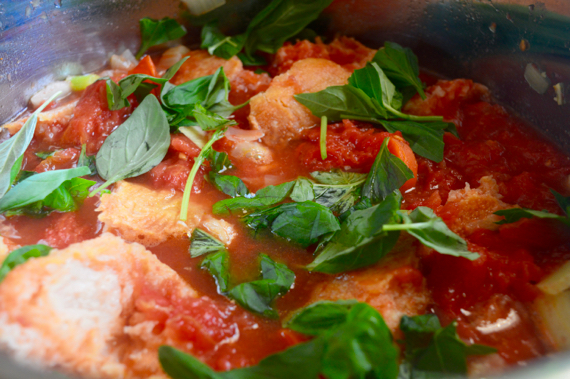 I first made a recipe similar to this from Ina Garten, one of my favorite chefs of all time.  I have since adapted it into my own recipe and love it more every time  I make it.  But to be clear, this is not your typical Campbells tomato soup.  Papa Pomodoro is an Italian-style tomato soup that's thicker and made with crushed tomatoes, not pureed tomatoes.  It's made with lots of garlic, onion, fennel, carrot and basil.
Sometimes I throw in some crispy pancetta, other times I keep it vegetarian, but always, always with wine.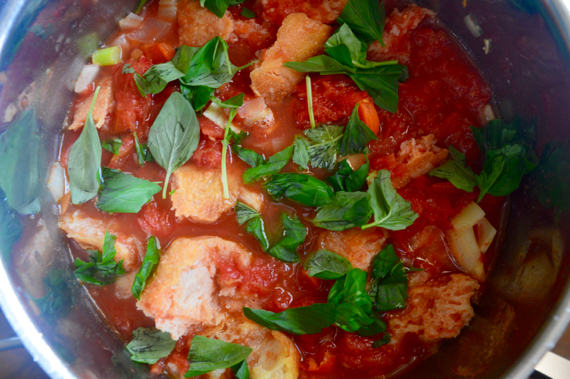 The croutons are Ryan's favorite and always the first to go, so I have to hide them so Ryan can't always find them!  Just a quick 20 minutes (10 on each side) in the oven and voila!  Delicious, crunchy croutons that are perfect for tomato soup.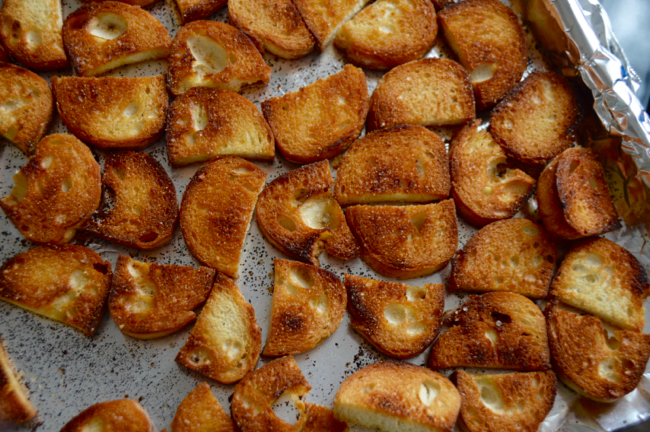 If you haven't tried making your own croutons before, try my simple way!  Pick up a baguette from your bakery and ask them to slice is for you.  When you get home, slice each piece in half and arrange on a baking sheet.  Set the oven to 400.  Brush each side of bread with some olive oil then sprinkle with salt, pepper and garlic powder.  Bake each side for 5-8 minutes each, or until browned, on the middle rack of the oven.  Let them cool before devouring!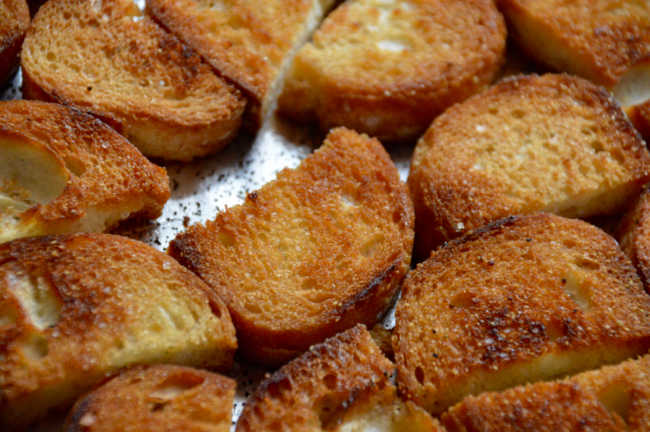 The croutons are the perfect addition to this rich soup.  We love it so much that practically every week you'll find a new batch in the fridge, ready to for the taking.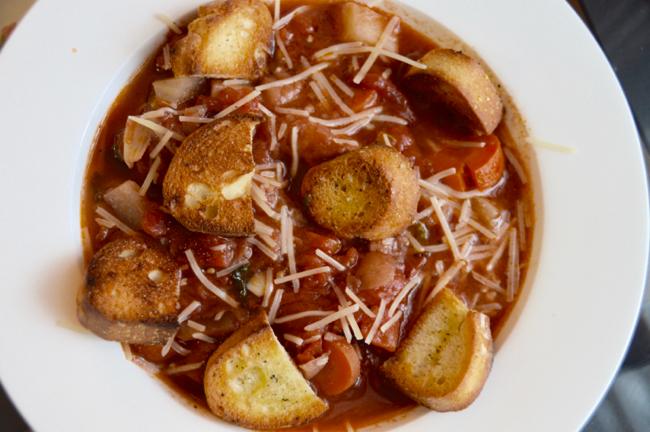 I also love to take little bowls of this to work with me for a warm homemade lunch.  I hope you enjoy!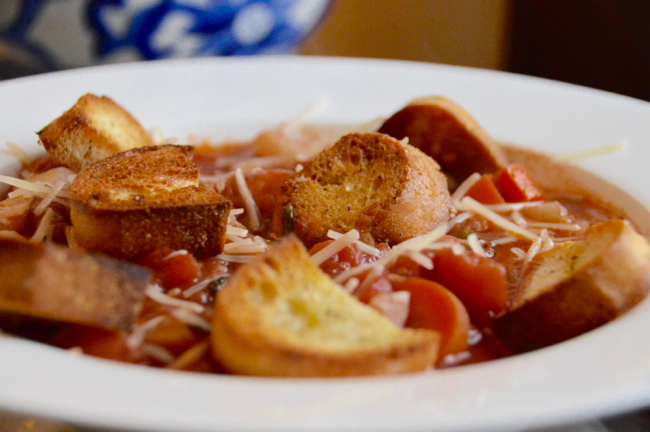 Papa Pomodoro Soup with Homemade Croutons
Prep time:
Cook time:
Total time:
To make the croutons, simply follow the easy steps located in the post. You'll need one baguette, olive oil, salt, pepper and garlic powder.
Ingredients
1/2 C good olive oil
1 head of garlic, peeled and coarsely chopped
1 onion, chopped
4 carrots, cleaned, end removed and sliced
1 large fennel, end and greens cut off then chopped
3 celery sticks, sliced
1 C torn baguette bread (use the same kind you use for the croutons)
1 28-oz can plum tomatoes
1 28-oz can fire roasted diced tomatoes
1 large bunch basil, sliced into thin strips
2 C red wine (I use a merlot)
salt and pepper
parmesan cheese to garnish
Instructions
In a large stockpot, heat the olive oil over medium heat and cook onion and garlic until fragrant, about 2 minutes. Add the fennel, carrots, celery and bread. Stir to combine and let it cook for another 5-8 minutes.
Pour the juice of the plum tomatoes in the pot, then by hand, crush the tomatoes into the pot, tearing them into pieces. Pour the diced tomatoes in as well, along with the red wine and basil. Stir to combine, then add equal parts salt and pepper (about 1/2 TBS each)
Let the stew come to a low boil, then cover and bring it to a simmer. Allow the soup to simmer for another 45 minutes to an hour. The longer this stew cooks, the better it tastes.
Garnish stew with cheese and croutons and add salt if needed.