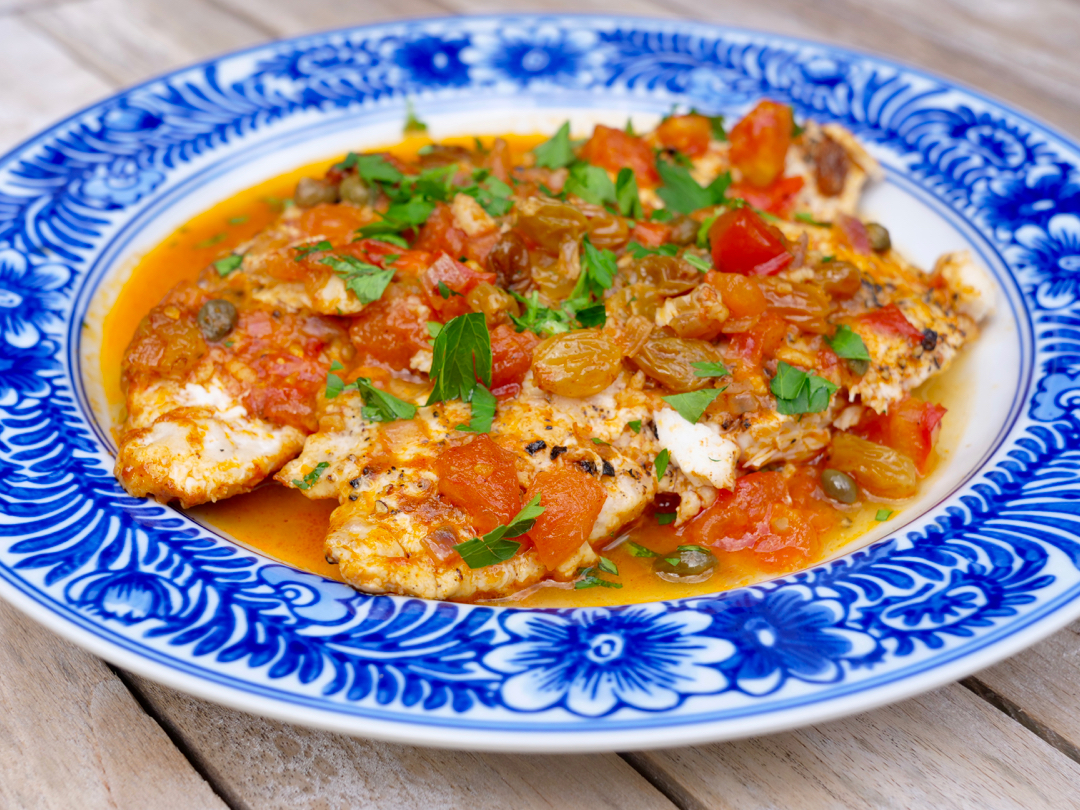 Roasted Mediterranean-Style Tautog
White flakey fish filets are simmered then roasted in a Mediterranean style sauce of freshly chopped tomatoes, spices, herbs, capers and golden raisins. It is heavenly, and what's better than enjoying a meal from something caught locally to my home on Cape Cod!
More...
If you've never heard of tautog, it is a white flakey fish with a firmer texture than a cod or haddock. It is in season on Cape Cod from spring through the fall, however the best time to catch them is in the spring and fall - summer is meant for other fish like sea bass, striped bass, bluefish and tuna!
If you aren't from Cape Cod and can't find tautog in stores, you can also use this sauce for halibut, swordfish, striped bass, bluefish, shrimp or chicken.
Serve this with rice or crusty bread to sop up all that delicious sauce!
This recipe was created for an episode of My Fishing Cape Cod TV, which will air in January 2021 on NBC SportsBOSTON. My husband Ryan (owner and founder of My Fishing Cape Cod), caught this tautog from shore near our home, and then handed it off to me to prepare a new recipe to share with fellow fishermen and anyone who enjoys fish. Cooking your catch is a rewarding way to enjoy a meal, as is growing your own vegetables and fruit! I hope you enjoy this recipe as much as we do - we practically lick our plates when we have this meal! Enjoy!
You can CLICK HERE to head over to the My Fishing Cape Cod website to view and print this delicious recipe! Enjoy!