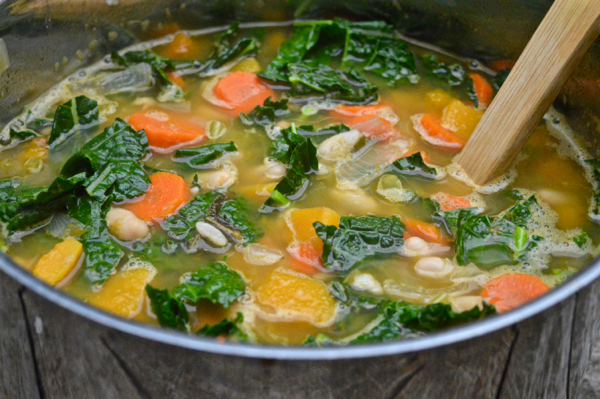 Hearty Vegetable Stew with White Beans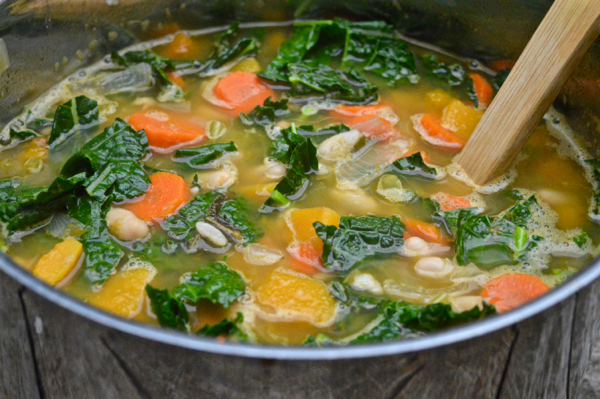 All of the flavors of fall that you need in a hearty, flavorful vegetarian stew.
On days when the air is crisp and you need some good comfort food, stew is the first thing that comes to mind (sometimes pasta but today, stew).  Fall is a great time to use more dark leafy greens such as kale or any kind of squash - particularly butternut squash in my kitchen.  These are in season for most of the fall season and even into early winter.  Butternut squash is great for not only a stew like this, but also for roasting, mashing, creating sauces and so much more.  I once made a lasagna with a butternut squash cheese sauce that was to die for.  Perhaps I'll make that again to share with you!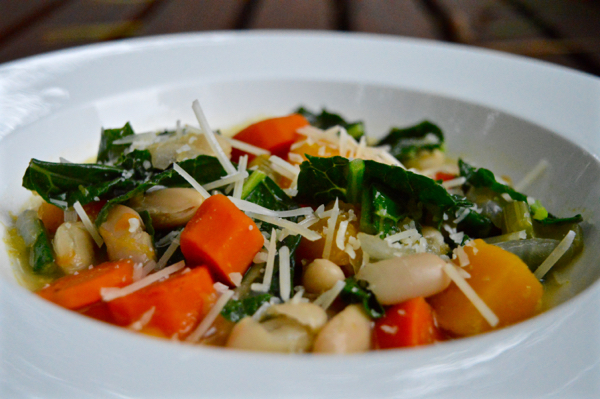 But getting back to the stew, even though the ingredients look easy and simple, the flavor is wonderful.  Instead of throwing in spices or whatever else, you instead get to taste the true sweetness of a carrot and the buttery softness of a squash.  The white beans add a creamy touch to it and with a sprinkle of parmesan cheese, even a meat-lover would love this stew.  I made enough for dinner tonight, plus a dinner later in the week and even more to fill the freezer for a later day.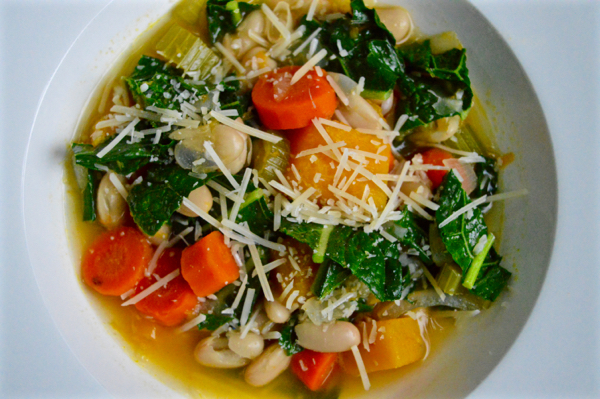 Soups are wonderful to make because you can easily make a big batch, they freeze well and reheat sometimes even better than when they were first made!  I do this all the time in the colder months - it makes dinnertime so much easier!
I hope you enjoy this delicious stew!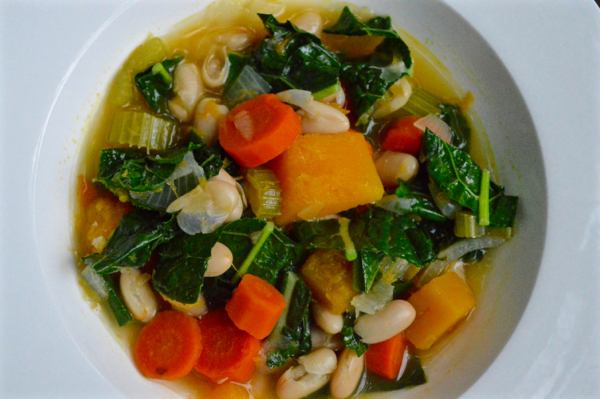 Hearty Vegetable Stew with White Beans
The longer you let this cook, the better. Once you add in the beans, letting it cook longer creates a creamier broth from the soft beans. Leftovers should be put in airtight containers in either the fridge for up to 4 days or put in the freezer.
Ingredients
1 TBS olive oil
4 cloves garlic, chopped
2 onion, chopped
5 large carrots, peeled and sliced thin
1 head of celery, sliced thin
4 leaves of sage, sliced
1 butternut squash, peeled, seeds removed and chopped
6-8 cups vegetable broth
salt and pepper
1 head lacinato (dinosaur) kale
4 cans white beans, drained and rinsed
parmesan cheese
Instructions
In a large pot, heat the olive oil and stir in the onions and garlic. Saute until fragrant, then add the celery and carrots, stirring occasionally. Let that cook for 8-10 minutes over medium-high heat.
Add in the sage, broth and squash and stir to combine. Add salt and pepper - a few dashes of each to start with, and let that simmer on low heat for 20-30 minutes, covered.
Add in the beans and kale, stir to combine, and cook for another 10-15 minutes on low heat.
Serve with parmesan cheese and bread for dipping!