Rich & Smokey Vegetarian Chili
With temperatures reaching to 0 degrees combined with a wind chill of -31, it was time I made some chili.
I thought I would take a little time within this post to give you some advice on how to be the laziest cook while still enjoying award-worthy meals every night.  I know this, because I do this, and I won't try to toot my own horn or anything, but I am quite the lazy chef and I do bang out quite a delicious meal every night.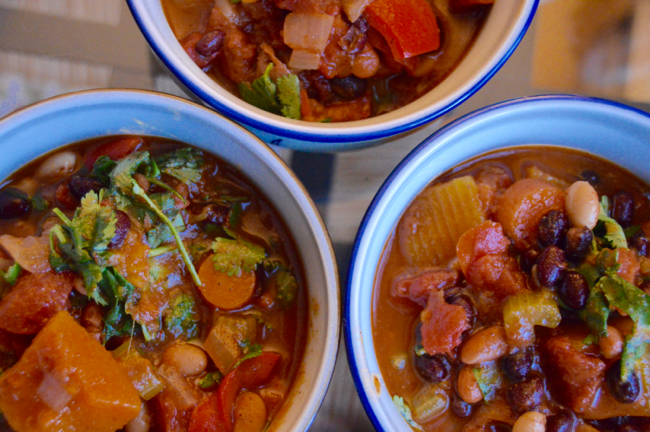 For starters, it's all about planning in advance as to what you want to eat all week.  Now that it's winter and I'm practically freezing every day, it's a great time for me to be a lazy cook.  Every Sunday, I always make one or two big pots of soup or stew that can sit in the fridge for days and ready to enjoy throughout the week.  My soups and stews such as this chili, or my lentil stew, papa pomodoro or hearty white bean and vegetable soup are always hits, and the best part is – soups always taste better after a day or two in the fridge.
This chili in particular gives off a richer and smokier taste day after day, because the jalapeños, chili powder and smoked paprika have some extra time to work their flavors together.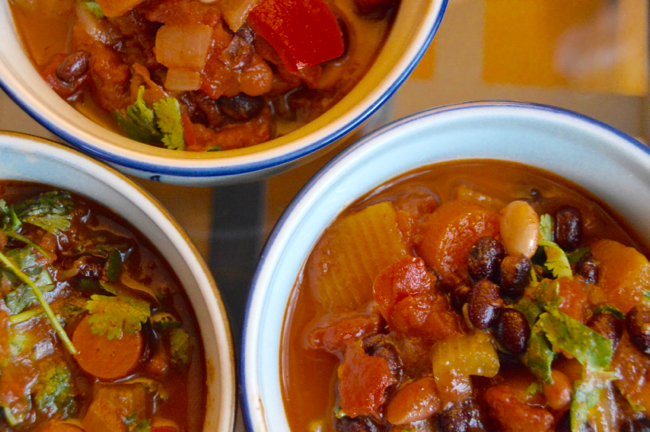 Today I made a big pot of this and put them into smaller bowls to store in the fridge for an easy meal.
Ryan works from home, and when I'm gone all day, it's much easier for him to just take a bowl and heat it up then to sit in front of the open fridge, wasting electricity, trying to figure out what to eat.
The result is bowl after bowl of delicious, satisfying meals that are good for lunch or dinner.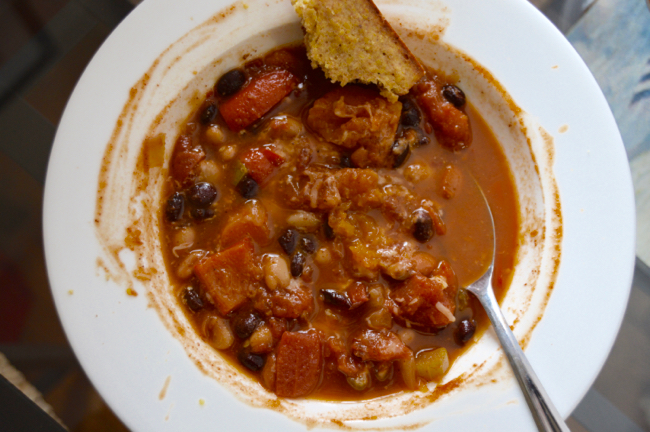 When you see the ingredients, you may think it's too much and want to cut it in half, but I beg you not to.  It's so easy to make a huge batch, freeze half of it and enjoy the rest!  This chili freezes beautifully and is perfect for a night when you're stuck and don't know what to make (yet again, a genius lazy cook mentality).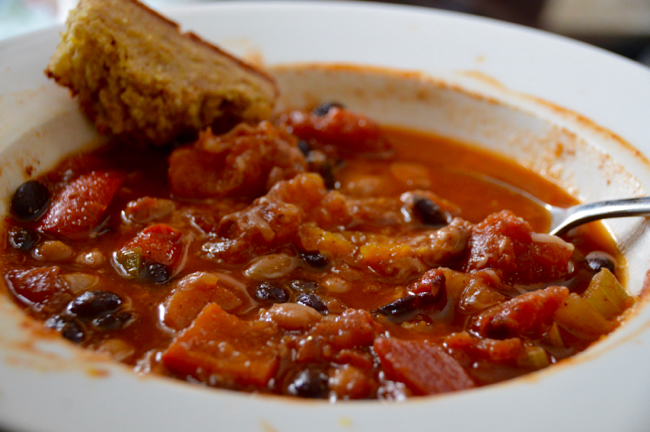 As the snow falls outside my window, I can enjoy a warm and comforting bowl of guilt-free, delicious, healthy vegetarian chili, and all is right in the world.
Happy cooking!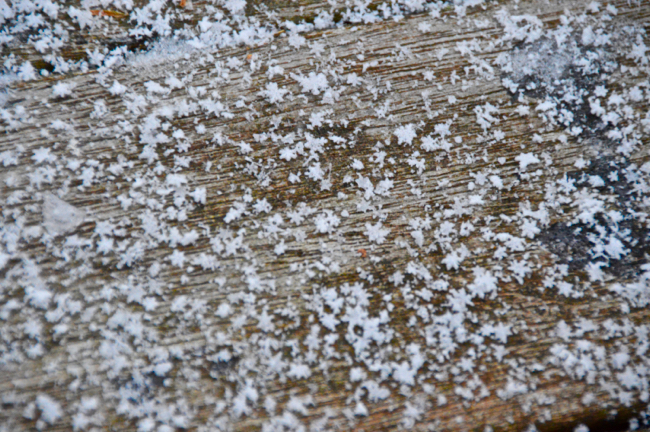 Rich & Smokey Vegetarian Chili + The Lazy Persons Guide to Cooking
Ingredients
4 cloves garlic, minced
2 TBS olive oil
1 red onion, chopped
2 red bell peppers, chopped
4 ribs of celery, sliced thin
4 carrots, sliced thin
1 jalapeno, chopped finely with the seeds
1lb cubed butternut squash
1 28-oz can black beans, drained and rinsed
1 14-oz can pinto beans, drained and rinsed
1 14-oz can great northern beans, drained and rinsed
2 28-oz cans fire roasted diced tomatoes
1 qt low sodium vegetable broth
6 TBS chili powder
2 TBS ground cumin
2 TBS smoked paprika
1 bunch of cilantro
cheese to sprinkle on afterwards
Instructions
In a large stockpot, heat olive oil and cook garlic, onion, peppers, jalapeño, carrots, celery and squash. Stir frequently and let it cook about 10 minutes.
Add all remaining ingredients except cilantro and cheese, stir very well to combine all ingredients. Bring to a low boil and cover with a small space for steam to escape. Cook for at least 2 hours. After 2 hours, remove from heat, stir, add in salt and pepper to taste, then cover completely and let it sit until you are ready to eat. Store in the fridge or freezer.