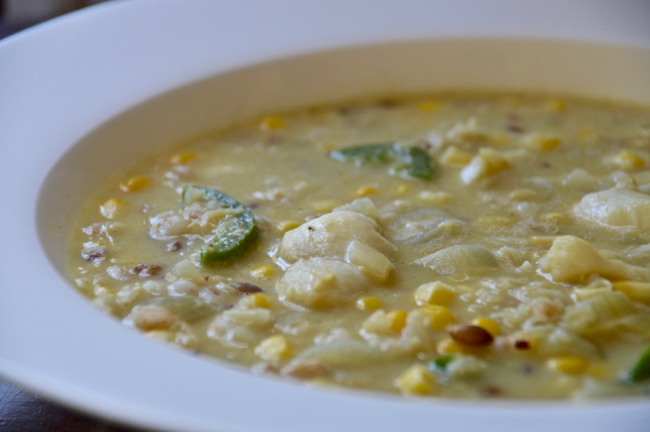 Coconut Green Curry Halibut Stew
There are always a few recipes you keep on hand that you know are easy and quick to make on a weeknight and guaranteed to be delicious, and this my friends, is one of those recipes.  It's one of my go-to meals that is delicious any time of year, and perfectly filling and healthy.  
The recipe originated from a magazine, cooking it so many times and adding my own personal touches that now I love to call it my own.  It's a simple combination of green curry paste, coconut milk, a little chicken stock and some lime juice to create a rich broth perfectly paired with hearty wild rice, corn and halibut.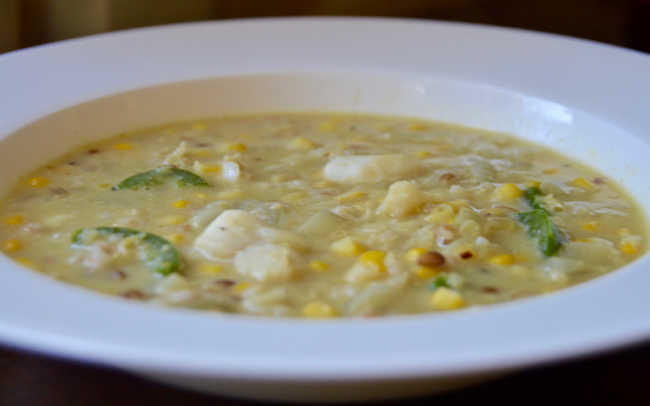 Halibut is a great fish to use in this dish because although it is a flakey white fish, the flakes won't fall apart into tiny crumbles of fish – this is a "heartier" flake if you will.  
The final dish is warm, rich and delicious.  The jalapeño slices give it just a little kick, but if you don't like spice it really isn't necessary to use.
In the summer months, I take fresh corn on the cob and remove the kernels, giving the flavor a slightly sweeter taste, but in the winter, frozen corn will work just a well.
I chose to use a wild rice blend from a company called "Engine 5" because it has a great blend of different rice in it, some with a little bit of chew in them which I like.  You could also use a plain white or brown rice as well.
The green curry paste is something you will find in a small jar in the asian food section of your grocery store.  It will last you a while in the fridge, but keep in mind one jar should get you through two times of making this recipe.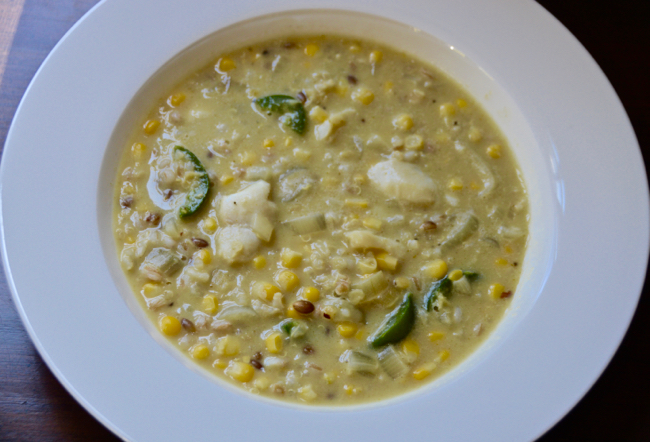 I hope you enjoy this as much as we do!
Coconut Green Curry Halibut Stew
I like to use frozen rice, pre-cooked, for meals like this, to save time.
Ingredients
1 lb halibut, skin removed
2 shallots, sliced
2 TBS olive oil
3 TBS green curry paste
¾ C chicken stock
1 15-ounce can light coconut milk (shake well before opening)
2 C corn (frozen or fresh)
1 C wild rice (I used a frozen rice blend from Engine 9, found at Whole Foods, but any rice will do). If you don't choose frozen rice, then it should already be cooked.
juice of 1 lime
1 jalapeno, seeded and diced
Instructions
Heat a large pan over medium-high and heat the olive oil. Add in shallots and curry paste, stirring frequently, for about 8 minutes, or until the shallots soften.
Add in broth and coconut milk, stirring and bringing to a low simmer. Once simmering, add in the corn, stirring to combine. If you are using frozen rice, add this in now, otherwise wait until the end.
Place the raw halibut on top of the corn mixture, spooning some of the broth over the fish. Cover the pan and let that simmer for another 8-10 minutes, or until the fish turns white and is cooked through.
Once the fish is done, gently break the fish apart into smaller pieces, and if you are using non-frozen rice, add the rice in now.
Stir in the lime juice. It should be a thick stew at this point, but add more chicken stock if you prefer a lighter stew.
Season with salt and pepper to taste, and serve with diced jalapeño as a garnish.