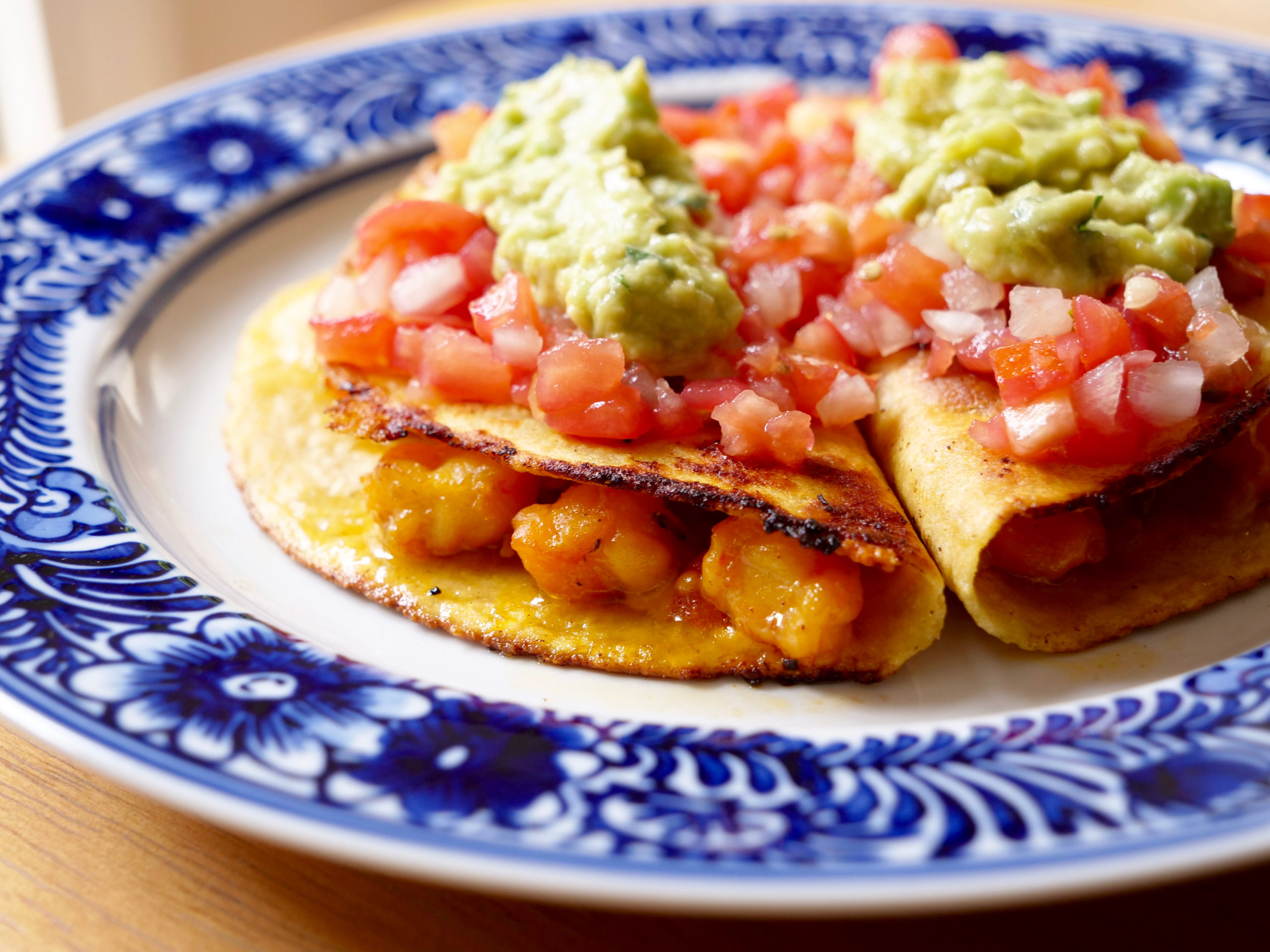 Crispy Crunchy Shrimp Quesadillas
Two of the most satisfying words I could ever use to describe food are crispy and crunchy, which is exactly what a quesadilla should be. Quesadillas can easily be a boring meal, but with a few extra tweaks, this dish goes from plain to super jazzed up. Get the recipe and learn how to make super crunchy, perfectly crisp quesadillas by reading on.
More...
The Secret of a Crispy Crunchy Quesadilla
It's not really a secret at all, really, but here are a few tips I picked up from my Mom, the quesadilla queen.
Sazon Seasoned Shrimp Quesadillas
Sazon is a Spanish spice blend used in dishes like arroz con pollo, stews, adding flavor to pots of beans, and now used in this very easy yet very delicious shrimp quesadilla recipe.
Sazon can also be made at home, and contains a mix of cumin, black pepper, ground annatto seeds (or tumeric), onion powder and few other goodies. For this recipe, I seasoned chopped shrimp in sazon, cumin powder and salt, along with some chopped green chiles and sautéed red pepper and onions.
For the cheese, I used shredded cheddar. A big trick about shredded cheese is to always shred it yourself. It will melt a whole lot better when you shred it yourself and you won't have all the extra additives that come with pre-shredded cheese.
Easy Guacamole Recipe + Tips To Store It Properly
Making guacamole at home is so easy and so much tastier than when it's store-bought. Here's the simple recipe:
Smash two small ripe avocados in a bowl. Add in the juice of half of a lime (about 1 TBS), 1/4 cup chopped cilantro, 1/2 of a small can of chopped green chiles, and add salt to taste.
If you have leftover guacamole, here's a great trick to storing it without everything turning brown: Put the guac in a container with an airtight lid. Before putting the lid on, take a piece of saran wrap or even a plastic baggie and press it down onto the guac, so that no air can touch the guac, then put the cover on and refrigerate. The guac should be fresh the next day to enjoy once more.
The Recipe
You can click here for the recipe or just take a look below! Happy cooking!