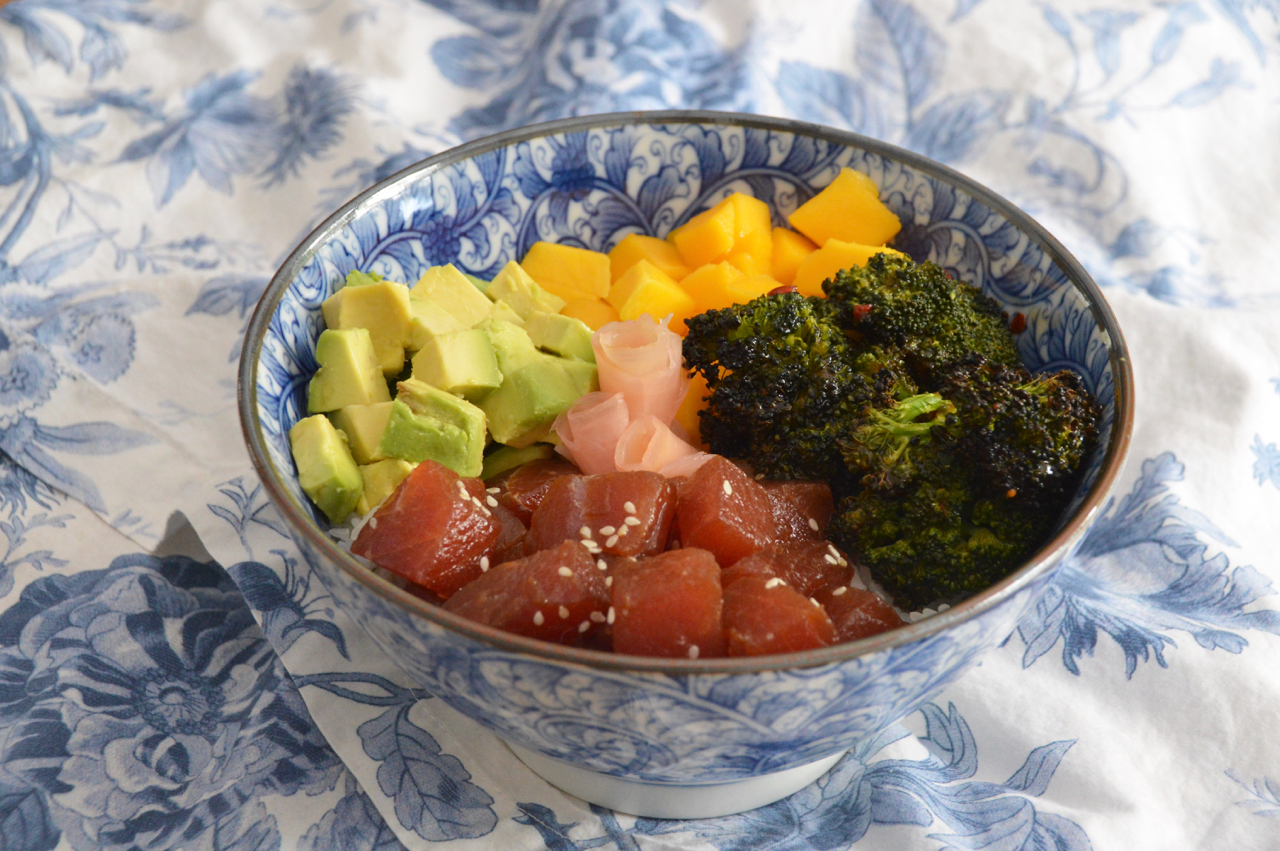 Ahi Tuna Poke Bowls
Think of a tuna poke bowl as like a deconstructed sushi roll. There is the rice, the marinated fish, creamy avocado, crisp cucumber, sesame seeds, sweet mango and pickled ginger. You could also add in sliced jalapeños, scallions, shiitake mushrooms, or any other number of vegetables and flavors.
For this recipe, I want to share with you a simple way to create this very popular dish. You can also use fresh salmon, or, if you don't like raw fish, you could do this with cooked shrimp.
More...
Building Your Poke Bowl
To start building your own poke bowl, here are the steps you'll want to follow.
1. Choose Your Grain
This could be jasmine rice (which is what will be used in this recipe), which is great for its fragrant flavor and versatility, or you could use brown rice or even quinoa if you'd prefer. I'm not a big fan of quinoa, but I have seen poke bowls done with quinoa, so give it a try if you're a quinoa lover!
2. Choose Your Protein
If you have access to sushi-grade tuna or fresh salmon, those are great options.
In tuna season here on Cape Cod, I have the lucky opportunity to have fresh tuna caught by my husband, or bought from the local fish market. The summer will always be easier to find sushi-grade tuna, but you can also find frozen sushi-grade tuna at most fish markets, and places like Fisherman's View in Sandwich, MA, have fresh sushi-grade tuna year-round.
If you aren't a fan of raw fish, then another option is to use cooked shrimp. If you don't like any of those options, you can also try this by marinating avocado chunks in place of the fish.
3. Marinating the Fish
The next decision to make is how spicy do you want your bowl to be? For me, I tend to go on the spicier side, so I like to marinate my tuna in soy sauce, sesame oil and a tiny bit of Yuzu Hot Sauce, which I get at Trader Joes and is SUPER spicy.
If you don't like spice, then just omit the hot sauce. If you do like spice but can't find this kind of hot sauce, you can also try a hot chili sauce found in the Asian section of your supermarket or even just some chopped jalapeño to go into the marinade.
4. Adding to Your Bowl
After deciding on your grain, type of fish and heat level, next is to add in whatever you think sounds good to you.
This could be cubed mango, sliced cucumber, sliced radishes, sliced jalapeño, cubed avocado, pickled ginger, sesame seeds for a garnish for added flavor, scallions, sliced red pepper, edamame...you name it, anything goes in a poke bowl!
My favorites are chopped avocado and mango, and my own little addition, Kung Pao Broccoli.
The Kung Pao Broccoli is a recipe I found in Chrissy Tiegan's new cookbook, Cravings, and I am totally and completely obsessed with it. I added the recipe for the broccoli into the recipe below, but this is an optional topping of course.
Building a poke bowl is like building a salad or smoothie - add whatever you like to make it your own. The key is to marinate your sushi-grade fish in a little sesame and soy, and serve it with a grain, then add whatever else.
I hope you enjoy this recipe! If you want to print this recipe, just click here!