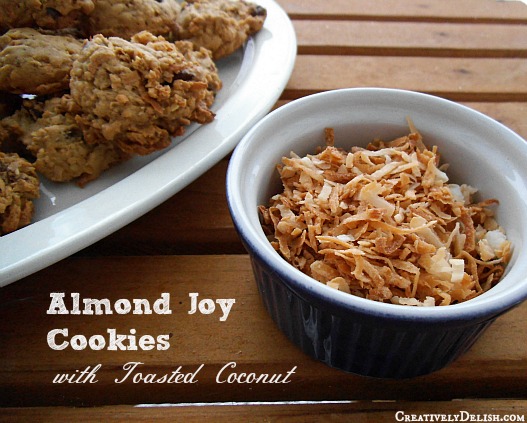 Almond Joy Cookies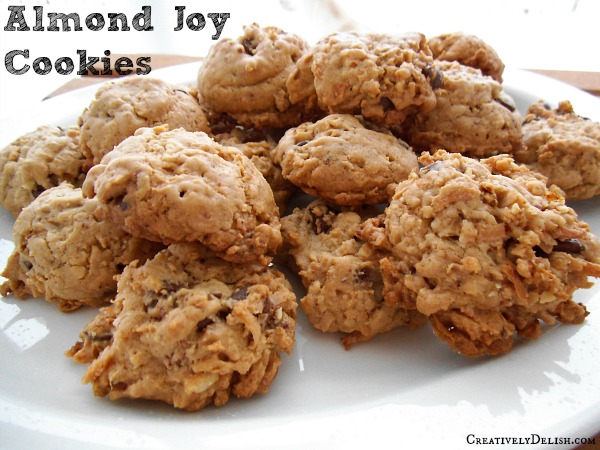 A delicious alternative to the classic candy that's quick to whip up and can easily be changed for a clean eating diet.
It may be a blizzard outside, but it's warm, sunny and cozy in this kitchen! Thunder snow?  Hurricane force winds?  25-30 inches?  Yeah, no.  I'm making Almond Joy Cookies and pretending like I'm stuck on some island somewhere. Not to mention the aroma of coconut toasting in the oven - heavenly! I need an umbrella drink and a beach chair....stat.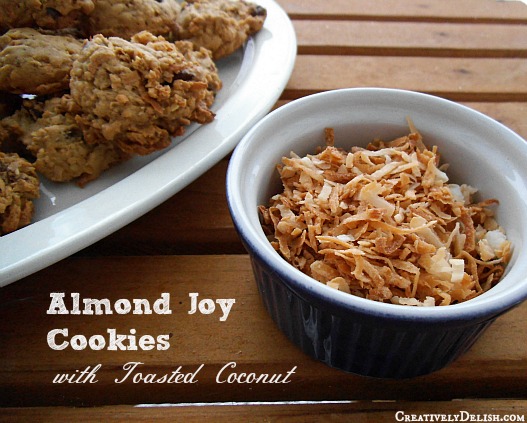 I've had such a hankering for candy lately, and with my vacation coming up soon, I needed a fix now so I can just move on with life and kill it at the gym Monday.  My secret love is coconut, and who doesn't love chocolate?  And almonds?
YUM!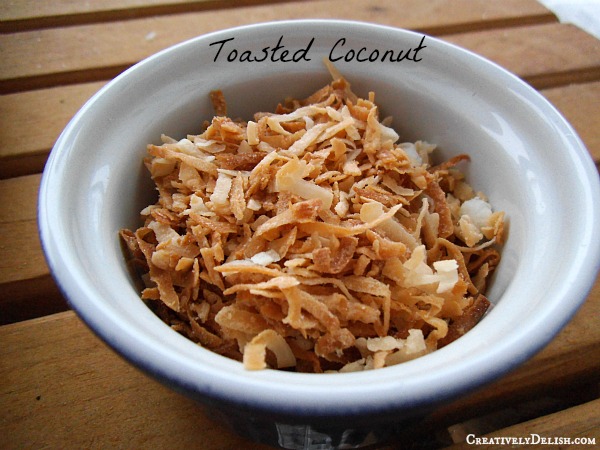 I toasted one cup of sweetened coconut flakes in the oven for 10 minutes at 350.
When I started mixing them in with the batter though, it was appearing to be wayyyyyy too much coconut (hard to imagine, I know).  So I ended up having about 1/4 cup left, and you know where I threw that?  Right into my Cranberry-Almond-Cashew-every other nut and seed under the sun-trail mix.  Genius!
Are you impatient like me and you don't wait for them to cool out of the oven??  No worries, these babies come out slightly chewy with a soft and puffy texture.
Are you not immune to extreme heat therefore you wait as long as possible to have your first cookie?  No worries!  After sitting out for about 30 minutes, the cookies became sweet little crispy goodies, swimming with coconut flavor and soft chocolate chips.
No matter what, you're going to like...no, LOVE, these cookies.  With little bits of almonds spread throughout, it gives a wonderful crunch mixed with a perfectly soft inside.
Enjoy!  (and be safe in the storm out there!)
Almond Joy Cookies
Prep time:
Cook time:
Total time:
Ingredients
1 C sweetened coconut flakes
1 C all-purpous flour
1/2 tsp baking powder
1/4 tsp baking soda
1/8 tsp salt
3/4 C packed brown sugar
1/4 C unsalted butter, softened
1 tsp vanilla extract
1 egg
1/2 C semisweet chocolate chips
1/3 C almonds, (I had whole ones and chopped them up in the food processor, but slivered could be used as well)
Instructions
Preheat oven to 350.
To toast the coconut flakes, spread them out in a thin layer on a baking sheet and bake for 10 minutes or until slightly browned, stirring once.
In a medium bowl, combine flour, baking powder, baking soda and salt.
In a large bowl, combine sugar and butter with a mixer until smooth. Then add vanilla and egg and continue mixing until smooth again.
Add flour mixture to wet bowl and combine until smooth. Then gradually mix in coconut, chocolate and almonds.
On a greased baking sheet, drop 1 TBS each of batter leaving 1-2 inches in between.
Bake for 15 minutes or until bottoms are browned.
Makes 25-30 cookies