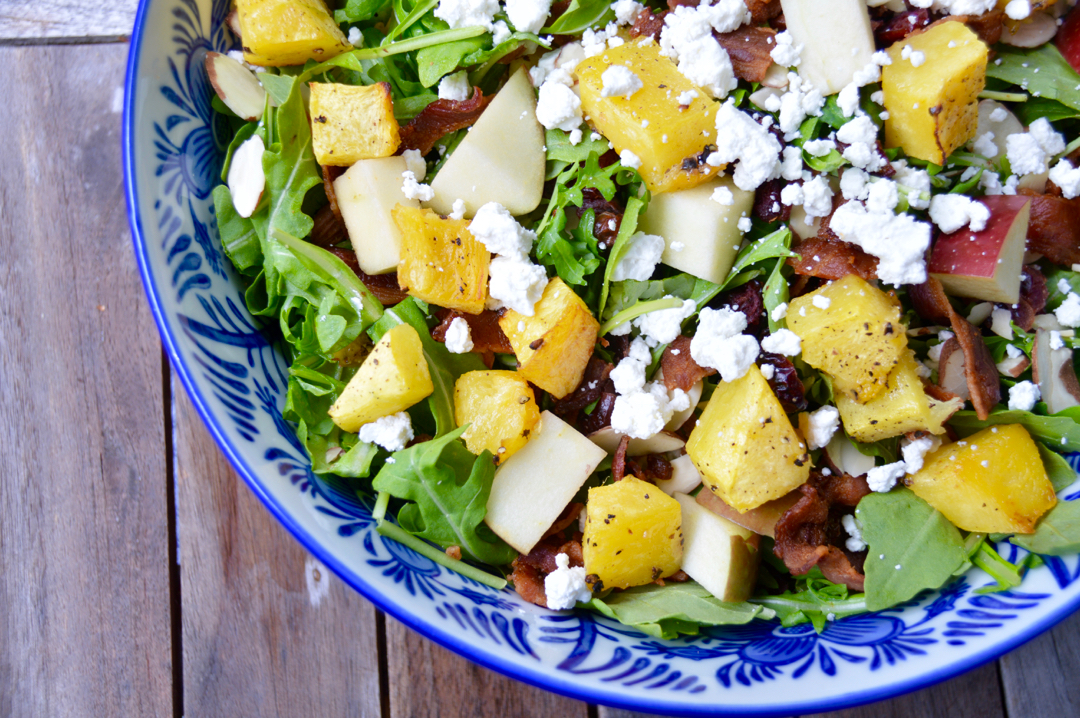 Autumn Salad with Honey Thyme Vinaigrette
This right here is the salad dreams were made of. All the fall flavors we all know and love thrown together in a bowl and we call this "healthy" because it's salad, but in reality it's not just apples and acorn squash and arugula, but also crumbled bacon and goat cheese...because obviously. Then top that off with a quick homemade Honey Thyme Vinaigrette, and you're good to go!
More...
I will have you know right now that there is very little to discuss in a blog post about salad, but this one, is really delicious. What's best about it is that if you're a vegetarian, take the bacon out! Vegan? Substitute the goat cheese for a crumbled soft vegan cheese (not my area of expertise but I'm sure you know what I'm talking about). But regardless, this is delicious to serve as a side dish or make it it's own star of the show and have it for a whole meal!
If you aren't familiar with acorn squash, then you should definitely try it. Most only know about butternut squash, mainly because it's sold pre-chopped, therefore less effort. BUT. While butternut squash may be deliciously sweet, so is acorn squash, and it roasts a whole lot faster in the oven than butternut squash. Butternut can take up to an hour depending on how big the pieces are, but acorn squash takes half that or less, and still has a mildly sweet flavor. You may have to cut it yourself, but it will definitely save you oven time.
Honey Thyme Vinaigrette
As for the dressing, this ones an easy one. If you don't have fresh thyme, you can sub in fresh parsley or rosemary. It's just a few simple ingredients that you probably already have, and stores in the fridge for up to one week!
I beg you to try this recipe because it is so so worth it! You'll impress everyone with this one, even though it's a salad.
Check out the recipe below or click here to print it! Happy cooking!!