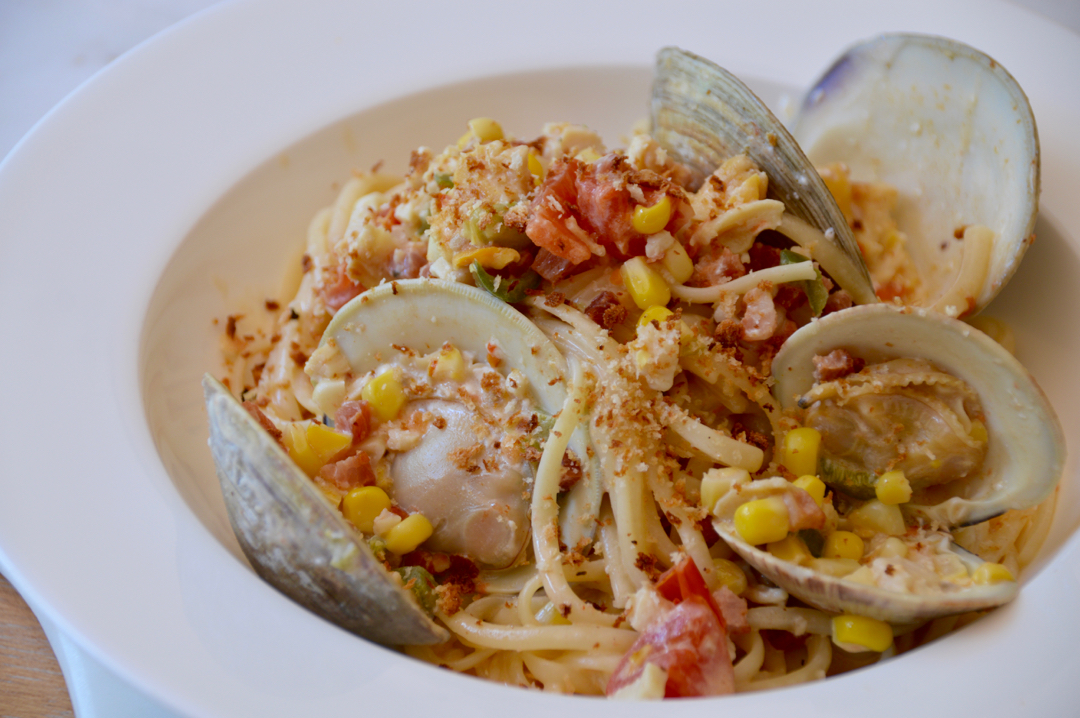 Cajun Clam Pasta
A twist on the classic vongole dish! Creamy, packed with flavor, a little spicy and so, so delicious. Toasted breadcrumbs on top don't hurt either!
It's secretly light, but has the richness and flavor of the utmost in comfort food. I think you'll be happy you made this one.
More...
A few years ago I read "Eat Pray Love", and her true and serious love of pasta reminded me alarmingly of myself- I too, have a real true love for pasta. Especially when it's got pancetta and a creamy sauce.
This recipe was inspired by a meal I had in a restaurant that I'll never forget. It was a weekend, and spring was sprunging...slowly. It felt cold and rainy out, so we thought, let's go get dinner and catch a movie! I of course ordered the pasta dish with clams in it because why wouldn't I, and very quickly the clouds parted, the sun came out, and it got hot. As a New Englander, once the temps hit 55 at the end of a long winter, that's basically beach weather. So we enjoyed our delicious clam and bacon pasta and then hightailed it out of there to enjoy a fire on our patio instead! But I'll never forget that meal! So I had to recreate it for myself.
The sauce doesn't use any heavy cream, just some whipped cream cheese, milk, a little butter and flour to make a roux, chicken broth and lots and lots of cajun seasoning.
The pancetta (shown above), is cooked in a pan for 8-10 minutes over medium heat, so it can get nice and crispy.
I used linguine for this dish, but you could also use a wider noodle as well. I just wouldn't recommend anything like angel hair, because you want a noodle that can stand up to the thicker sauce.
The sweetness of fresh ears of corn balance out some of the spicier flavors from the cajun seasoning and the jalapeño. Fresh ears of corn are best, but if you're trying to save time, canned or frozen corn will work too. If you're using canned corn, make sure to drain and rinse it before adding it to the recipe.
For the tomatoes, I chose to use plum tomatoes, however halved cherry tomatoes could also work for this.
Make sure to take all the seeds out of your jalapeño (unless you want the spiciest dish known to man), or just leave the jalapeño out altogether.
I like to use a mix of canned chopped clams and fresh littlenecks for this dish. It makes prep work much easier and you get way more clam meat in the dish.
I hope you enjoy this deliciously creamy, comforting yet healthier Cajun Clam Pasta!! You can click here to print the recipe or check it out below!