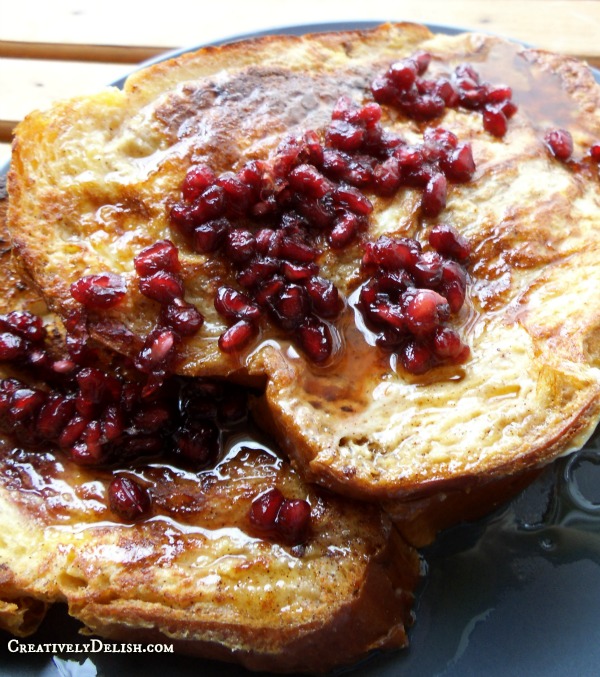 Challah French Toast with Pomegranate Compote
Big, thick, fluffy pieces of Challah French Toast drizzled with Grade A Dark Amber Maple Syrup and pomegranate compote....oh and add a side of bacon just to up the ante.  It's a new Sunday morning ritual.
Yesterday Ryan and I dined at Zaftigs Delicatessen - a well know eatery known for their fresh corned beef hash and located in Coolidge Corner...a pretty cool part of Brookline, MA. It was our first time there and definitely not the last!  Anyone that know's anything about traditional Jewish food knows that besides corned beef hash; challah bread and Kugel are staples.  So of course when I ordered my omelette I had to get the challah as my bread choice.  I haven't had challah bread in I can't even remember how long, but it brought back memories and naturally I picked up a loaf at the store later.  And obviously the best thing to do with challah bread is make Challah French Toast, so I did, with a homemade pomegranate compote just to make you even more jealous that you're not eating this right now.
What makes these extra special is the egg mixture - eggs, milk, vanilla extract and a dash or two of cinnamon.  It's clear to see that this is one heck of a breakfast!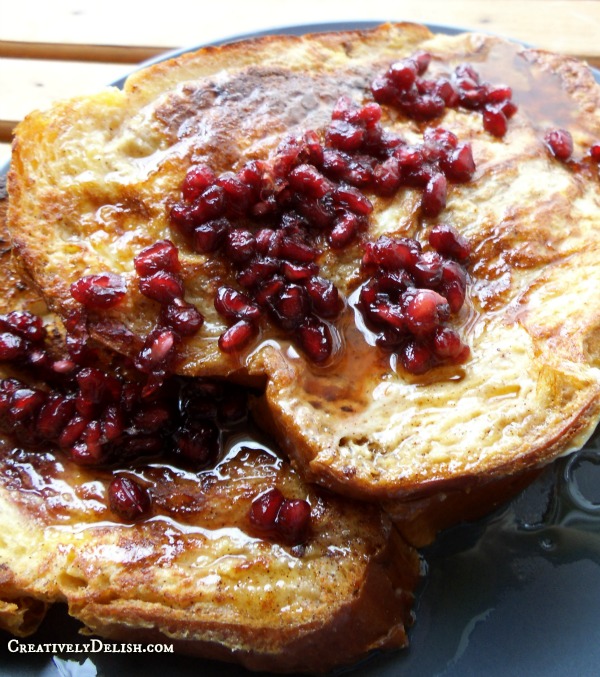 Challah French Toast with Pomegranate Compote
Prep time:
Cook time:
Total time:
Ingredients
4 thick slices of Challah Bread
4 eggs
1 tsp vanilla extract
2 large dashes of cinnamon
2 TBS butter
1 TBS skim milk
3/4 C pomegranate seeds
3 TBS sugar
3/4 C water
zest of one half of a lemon
maple syrup
Instructions
For the Fench Toast: mix together the egg, milk, vanilla and cinnamon. Heat a pan over medium and melt butter to grease the pan. Dip both sides of the bread into the egg mixture then place onto the pan. Let each side cook for 2-4 minutes, or until it is nicely browned on both sides.
For the Pomegranate Compote: Using your hands, crush some of the pomegranate seeds to get some juice out. In a saucepan, add the pomegranate seeds and juice, water, sugar and lemon zest. Bring to a low boil, then let it simmer for 15-20 minutes, stirring occasionally. Once the sugar has boiled down and the mixture gets a little sticky, let it cool, then serve over french toast.