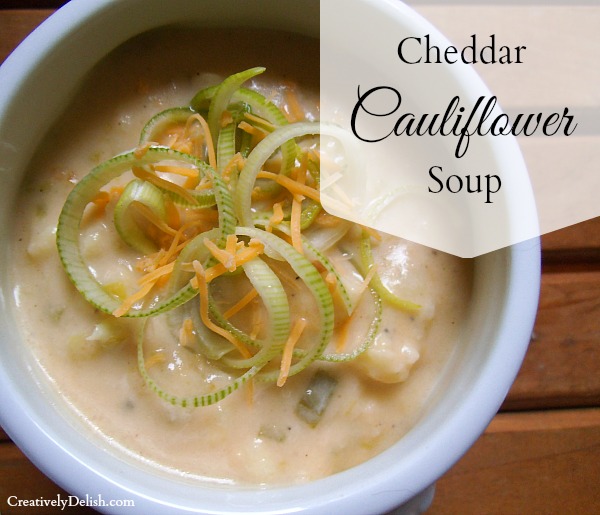 Cheddar Cauliflower Soup
Similar to the Panera Bread Broccoli Cheddar Soup, this lightened up version has cauliflower for added creaminess, sharp cheddar cheese and paprika for a kick of flavor and leeks for a slight crunch without the fat, calories and sodium you would find in a restaurants version.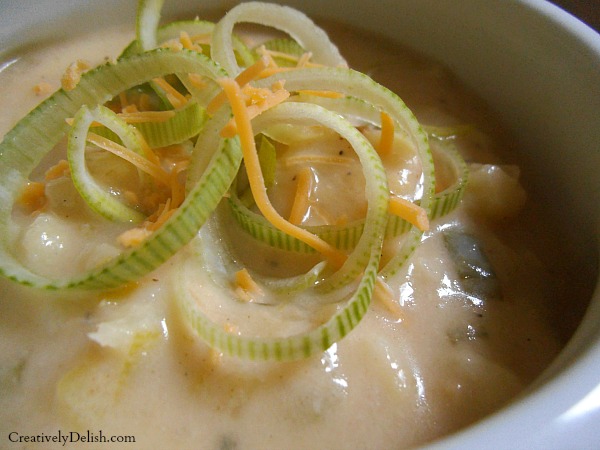 I had never used a leak before and when Ryan and I picked one up in the grocery store he asked if we needed soil and planter for it.  We were both pretty amused by this tree called a leek, but after using them I realized just how versatile (and beautiful) they can be.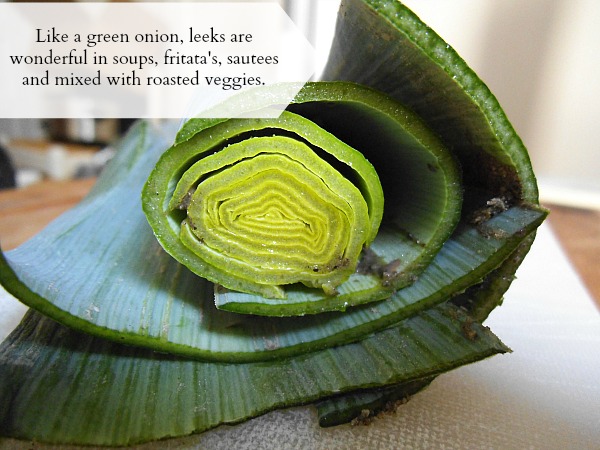 This Cheddar Cauliflower Soup is a perfect meal that keeps you full and happy - and really that's all we ask for right?  Enjoy!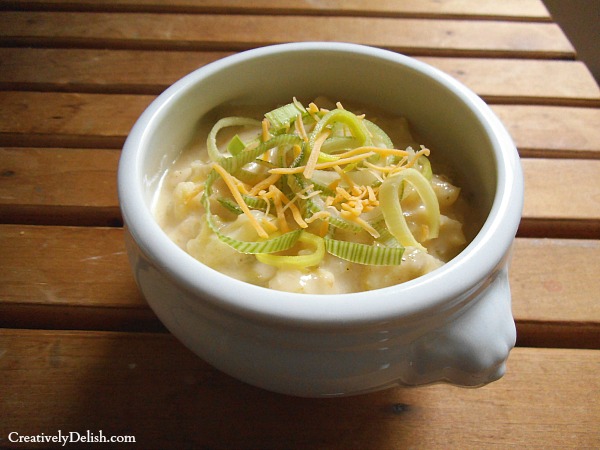 Cheddar Cauliflower Soup
Prep time:
Cook time:
Total time:
Ingredients
1 large head cauliflower, cut into florets
2 large leeks, stem and dark green leaves removed, slicing only the white and light green parts thinly and rinsing thoroughly. See How To:Leeks for directions.
2 1/2 C low fat or fat free milk
2 C sharp cheddar cheese shredded
2 C water
3 TBS all purpose flour
1 TBS paprika
1/2 TBS black pepper
1 bay leaf
1 tsp salt
2 TBS olive oil
Instructions
Heat a large saucepan with oil and cook leeks until soft, about 5 minutes
Add 2 cups of the milk, water, cauliflower, bay leaf, paprika, salt and pepper and stir, bringing to a boil. Once boiling, reduce to simmer and stir occasionally until cauliflower is soft.
In a bowl, mix 1/2 C milk and flour into a roux.
Once cauliflower is soft, remove bay leaf, add milk mixture and cheese and stir. Break up the florets and mush some of them up a little.
Serve with extra cheese and leek sprinkled on top