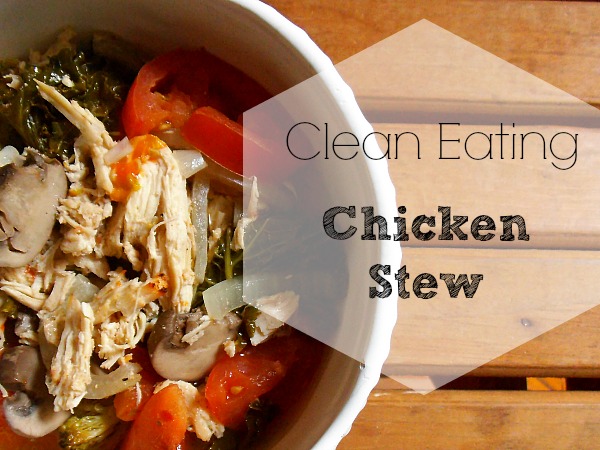 Clean Eating Chicken Stew
Grain free and gluten free, this is perfect for just about anyone.  Are you a vegetarian?  Just take out the chicken and try it with tofu!  Do you like noodles in your soup?  Add some egg noodles in for the last 20 minutes!  This is a great recipe to add to your clean eating diet, with enough protein and vegetable servings to satisfy anyone using nothing processed or artifical.  What is so wonderful about this recipe is that you just throw everything in a dish, cover it with tin foil and let it be.  After an hour, shred the chicken, add it back in and cook for another 30 minutes for the most flavorful dinner with minimal effort.  I use whatever veggies I have lying around so it's one of those "everything but the kitchen sink" kind of dishes.
Here are the simple steps:
After you've trimmed the fat from your chicken, place it in a deep baking dish, coated with olive oil and seasoned with garlic salt and pepper, and if you like spice, then some red pepper flakes or another seasoning to your liking.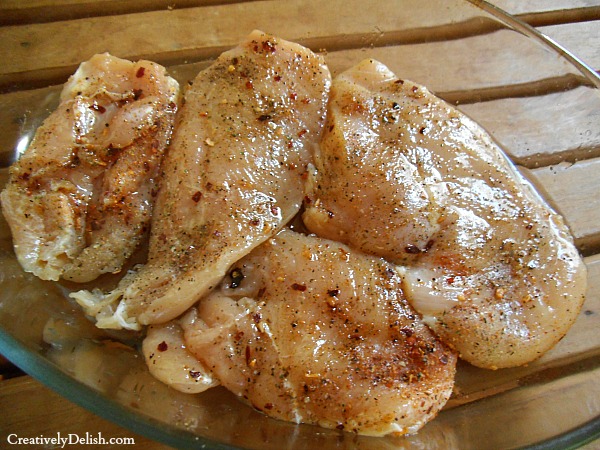 Once that's finished, select your veggies.
I always start with a base of sliced onions and tomatoes to give more juiciness and flavor to the stew.  Then I added sliced mushrooms, kale, sweet red pepper slices, carrot and broccoli florets.  If you're also using kale, layer that first and then top the other veggies over it.  Kale will crisp in the oven if it is exposed, so when going in this stew, make sure it is saturated in the broth and other veggies.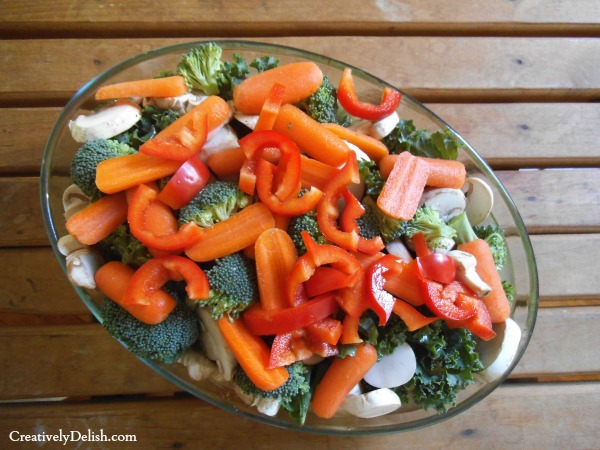 Once you put the veggies in, pour enough low sodium chicken broth (I use Pacific Organic Broth) in to cover the chicken and most of the veggies.  Cover the dish with tin foil and bake at 400 for one hour.
When the timer goes, remove the dish from the oven and fish out the chicken.  Shred the chicken with two forks and add it back in, mixing everything together and put it back in the oven uncovered for 30 minutes until the broth is bubbling.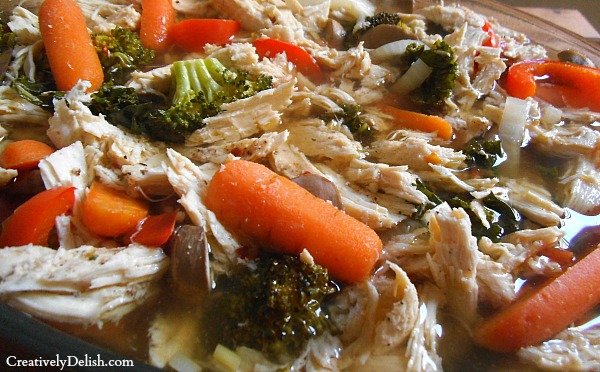 I love to top this stew with parmesan cheese and take it as leftovers for lunch the next day.  It makes a generous portion by upping the veggie content so it will last for several meals.
I hope you enjoy this as much as we do!

The Easiest Chicken Stew You'll Every Make
Ingredients
2 boneless skinless chicken breasts
1 small onion, sliced thinly
2-4 plum tomatoes, diced
garlic salt (like Lowreys)
ground black pepper
red pepper flakes, cajun seasoning, italian seasoning or any other seasoning you like
any veggies your heart desires such as: broccoli, cauliflower, artichokes, asparagus, spinach, kale, carrots, peppers, mushrooms...whatever you want
about 6 cups of low sodium chicken broth
Instructions
preheat the oven to 400
trim the fat from the chicken and place in a deep baking dish. Coat in olive oil and season with salt, pepper and any other seasonings you want
Layer the dish starting with onions and tomatoes, then the kale, followed by the rest.
Pour enough chicken broth in the dish to cover the chicken and most of the veggies
Cover the dish with tin foil and bake for one hour (the tin foil will keep the steam in so your veggies on top won't dry out)
Remove from the oven and shred the chicken. Place it back in a mix everything together
Continue cooking for another 30 minutes or until broth is bubbling.
Serve with parmesan cheese for added flavor