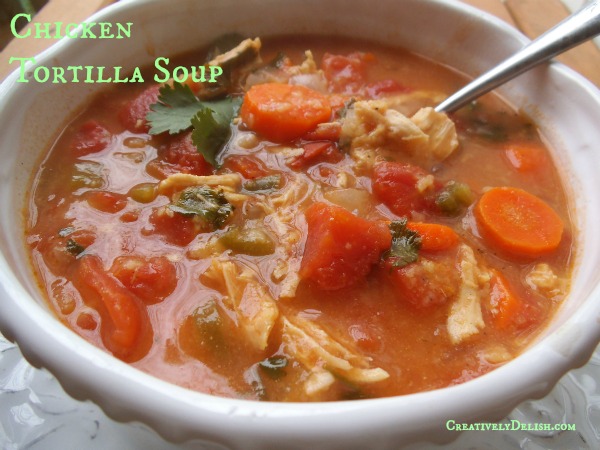 Chicken Tortilla Soup
Shredded chicken, jalepenos and fresh vegetables in a spicy tomato and chicken broth, thickened up with corn tortillas.
I was given this recipe by my boss and can't think of a thing that I would change about it!  She had made a big batch a few years back and brought it to the barn to share during a big snowstorm at the barn.  It was irresistibly delicious and is now a very important recipe I have to make every winter.
Instead of thickening this with cornmeal or flour, this calls for strips of corn tortillas mixed into the broth as its boiling.  The tortillas disappear and thickens the broth up to give it a bit more of that authentic Mexican flavor that you know I adore.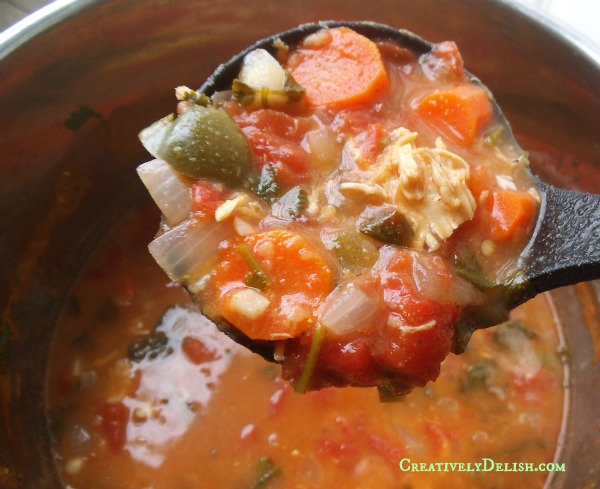 Just look at all those fresh vegetables!  This should only simmer for about 25 minutes, which is great because it keeps the veggies still a little crisp and keeps the flavors alive.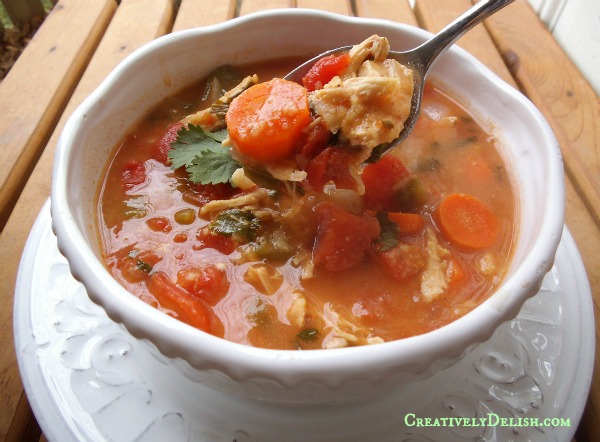 Serve this with sliced avocado, sour cream, crushed tortilla chips and shredded cheese.
Chicken Tortilla Soup
Prep time:
Cook time:
Total time:
Ingredients
2 boneless skinless chicken breasts, trimmed
2 small yellow onions, diced
2 C chopped carrots
4 lg garlic cloves, minced
2 1/2 qts low sodium chicken broth
28oz diced tomatoes with juice
3 jalepenos, diced
olive oil
salt & pepper
1 tsp cumin
1 tsp coriander
1/2 C chopped cilantro
6 corn tortillas, cut into strips
Instructions
Preheat the oven to 350. Place chicken on a sheet pan and rub with olive oil, salt and pepper. Roast for 35-40 minutes or until done, then shred with a fork and set aside.
In a large pot, heat 3 TBS olive oil and cook onions, carrots and jalepenos for 10 minutes.
Add garlic and cook another 30 seconds.
Add chicken broth, tomatoes, cumin, coriander, 1 TBS salt, 1 tsp pepper, and cilantro. Stir to combine.
Add tortilla strips and bring the soup to a boil, then lower heat and let simmer for 25 minutes.
Add shredded chicken and cook an additional 10 minutes.
Serve with sour cream, sliced avocado, shredded cheese and crushed tortilla chips.
Tastes best after sitting in the fridge overnight too!
3.2.1215