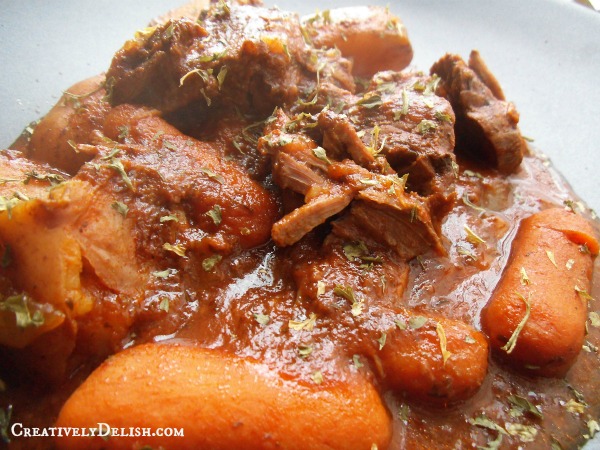 Crockpot Spicy Beef Stew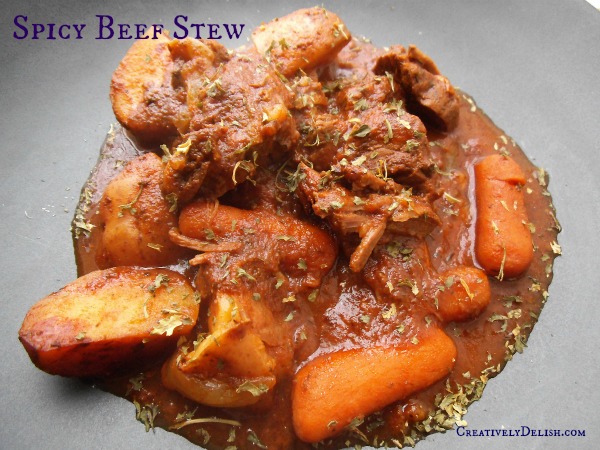 The easiest beef stew recipe I have ever used, and it's downright delicious...thanks Mom!
Now my Mom wouldn't be happy if I didn't make this part very clear...this is a DO NOT STIR, DO NOT OPEN kinda stew.  I capitalize this because the first time I made this, it turned out a little dry, and so of course my Mom said, "Well did you open it?! I told you not to open it!!"  So this time I did not, and I get it, it's much better just left alone.
What is that broth you might ask?  Why thats Spicy V-8 juice!  Never would have guessed it, huh?  Not only is that an easy broth to put together, but watching all those V-8 commercials makes me believe this will inject lots and lots of veggies into my body, so for once I'm ok with using a "juice".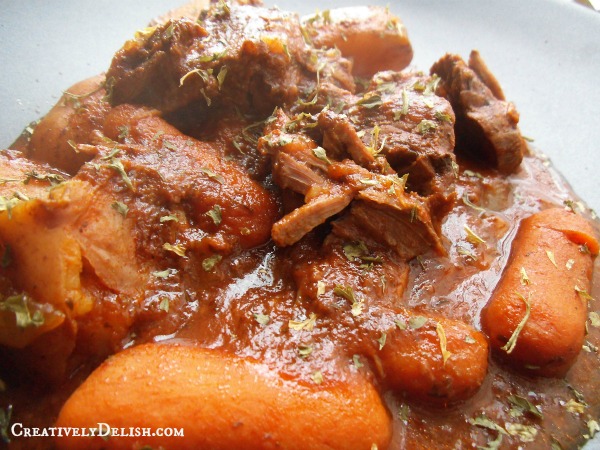 I mean really, just take a gander at the beef...it's" fall apart with the touch of a feather" tender!  Now I'm hungry!!!
Crockpots are wonderful things to have around, but if you don't have one, try using a dutch oven - just don't open it and stir!!!!!
Phew!  Ok so now that I have buried that in your brain, go ahead and throw everything in the crockpot, enjoy those wonderful beefy-stewy aromas wafting through your kitchen, and enjoy a most traditional winter stew.
Crockpot Spicy Beef Stew
Prep time:
Cook time:
Total time:
Ingredients
2 lbs cubed beef
2 lg onions, cut into wedges
1 lb small potatoes, cut into wedges
1 lb baby carrots
1.5 TBS dried italian seasoning
2 tsp salt
1 tsp pepper
8-10 cans spicy V-8 juice
Instructions
Bring all ingredients together in a crockpot and cook on high for 6-8 hours.
And remember! DO NOT OPEN, DO NOT STIR!
3.2.1215