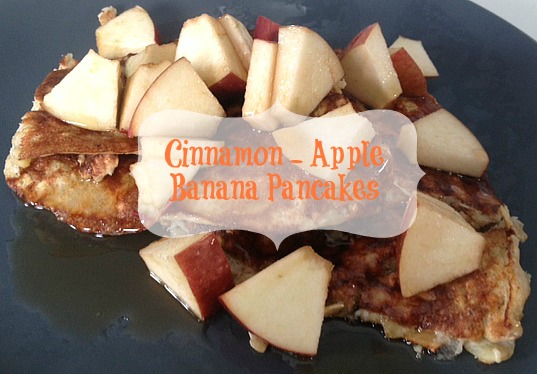 Cinnamon-Apple Banana Pancakes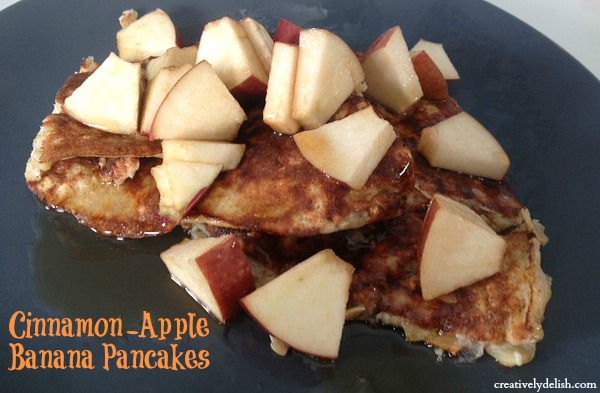 I could have made the title of these so much longer, because these pancakes aren't your typical pancake.  These are made with only mashed bananas, eggs, oats, vanilla and cinnamon - no flour!  The warm chopped apples paired with real VT maple syrup pair perfectly with these wholesome pancakes.
The greatest part of this dish is that most of the ingredients you will probably already have!  Just pick up a banana at the store for less than $1 and voila!  I make these pancakes all the time and with different toppings too.  Sometimes instead of the apple I throw in some fresh berries or chopped walnuts.  This time I chose apples because of course, 'tis the season for apples!  Just get creative and use what you have.
Similar recipes for flourless banana pancakes can be found everywhere now, so if you already know this recipe, try it with the apples!
Cinnamon-Apple Banana Pancakes
Prep time:
Cook time:
Total time:
Ingredients
1 ripe banana
1/2 C rolled oats
2 tsp vanilla
1 TBS cinnamon
1 egg
1 egg white
1-2 small macintosh apples, chopped
1/2 C warmed maple syrup
Instructions
Peel the banana, then using a fork, mash banana and place in a large mixing bowl.
Add the next 5 ingredients and stir until well blended. I usually leave a few chunks of banana in the batter.
Let the batter sit in the fridge for 5 minutes while your pan heats up. This will help set the batter.
Pour the batter into a large, heated and slightly greased pan and let cook 5 minutes or until slightly browned and easily picked up with a spatula.
Cut the batter into quarters and flip each quarter.
Cook the other side until slightly browned.
Transfer pancakes to a plate and top with apples and warmed syrup. (To warm the syrup, pour the syrup into a microwave safe measuring cup and heat for 30-45 seconds)