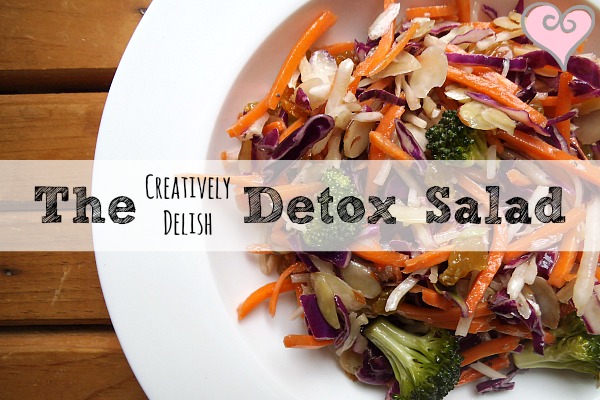 The CD Detox Salad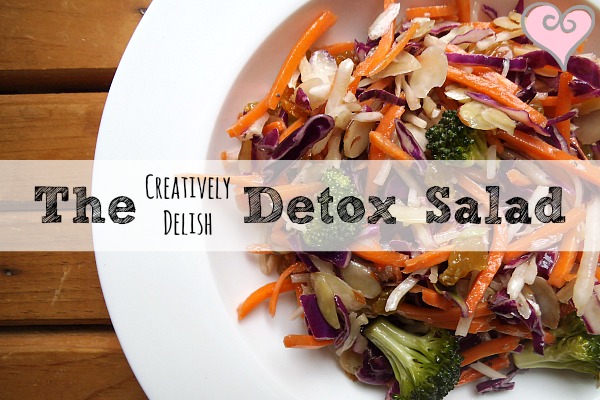 The CD Detox Salad is full of fresh ingredients and is a great way to get you back on track when you really need it.  Everything in this detox salad is 100% all-natural - including the pomegranate and ginger vinaigrette!  So delicious, so fruity and so full of vitamins and minerals, it's pure perfection.
I made this yesterday after the weekend I just endured - six cookies on Saturday...SIX.  Who does that?!
I'm not regretting my cookie consumption decision, but my body is in serious need to something nutritious, so here it is folks, the CD Detox Salad.
I personally don't believe in cleanses and truthfully they scare the *#%$ out of me.  It seems like you're going to war with your body - only giving it the absolute bare minimum by shocking it with acidic foods like lemons just to rid the body fast when in reality your body detoxifies itself all the time...normally.  This detox salad is more up my ally, and I know you'll love it too.  There's crazy good flavor in every bite, and you'll feel so good after you eat it.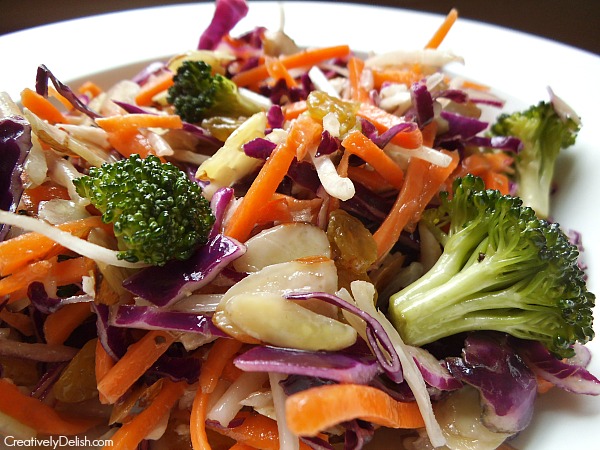 This is quick to throw together, and for under $10.00 you can make enough for four or five days!
The pomegranate and ginger vinaigrette is perfect for a detox and the red cabbage, carrots, and almonds are a no-brainer when it comes to nutrition.  The golden raisins give it a touch of sweetness and texture that just can't be missed.
Pomegranate juice is rich in antioxidants, while the ginger is an anti-inflammatory that also helps promote healthy digestion.  The olive oil gives it a healthy dose of fats and the apple cider vinegar (make sure you get the real stuff!  I like Bragg's)
The red cabbage give a healthy dose of fiber and minerals along with vitamin c, vitamin a and vitamin k.  The carrots contain a multitude of vitamins and minerals and have been known to improve eye health as well.  The broccoli is full of fiber to help promote healthy digestion and the almonds give another healthy dose of fats along with adding some extra texture.  The raisins also have their health benefits too!  Along with low amounts of calories and fat, they are also known to help in cancer and heart disease prevention, contain anti-inflammatory properties and improve brain function.  I just add them in because they're so darn good!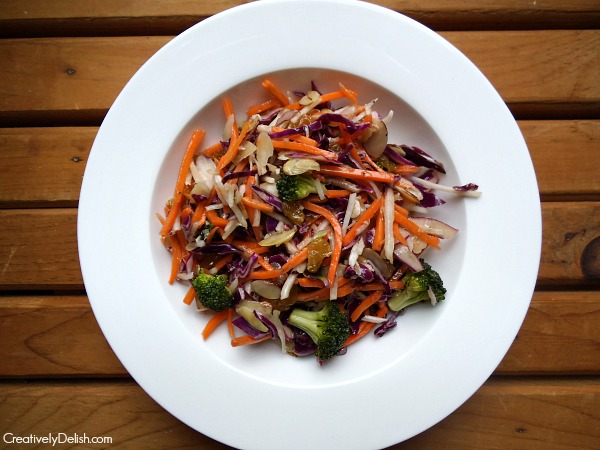 The CD Detox Salad is a perfect side dish as well!
The CD Detox Salad
Prep time:
Total time:
Ingredients
1 bag rainbow salad mix
1 bag shredded carrots
1 bag shredded red cabbage
3/4 C sliced almonds
3/4 C golden raisins
For the Vinaigrette:
1/2 C pomegranate juice
1/3 C apple cider vinegar
1 TBS grated fresh ginger
1/4 C olive oil
salt & pepper
Instructions
Combine veggies, nuts and fruit in a bowl.
Combine all vinaigrette ingredients in a separate bowl, then add to the salad mix.
Serve and enjoy! Can be stored up to 5 days in the fridge in a tightly sealed container.