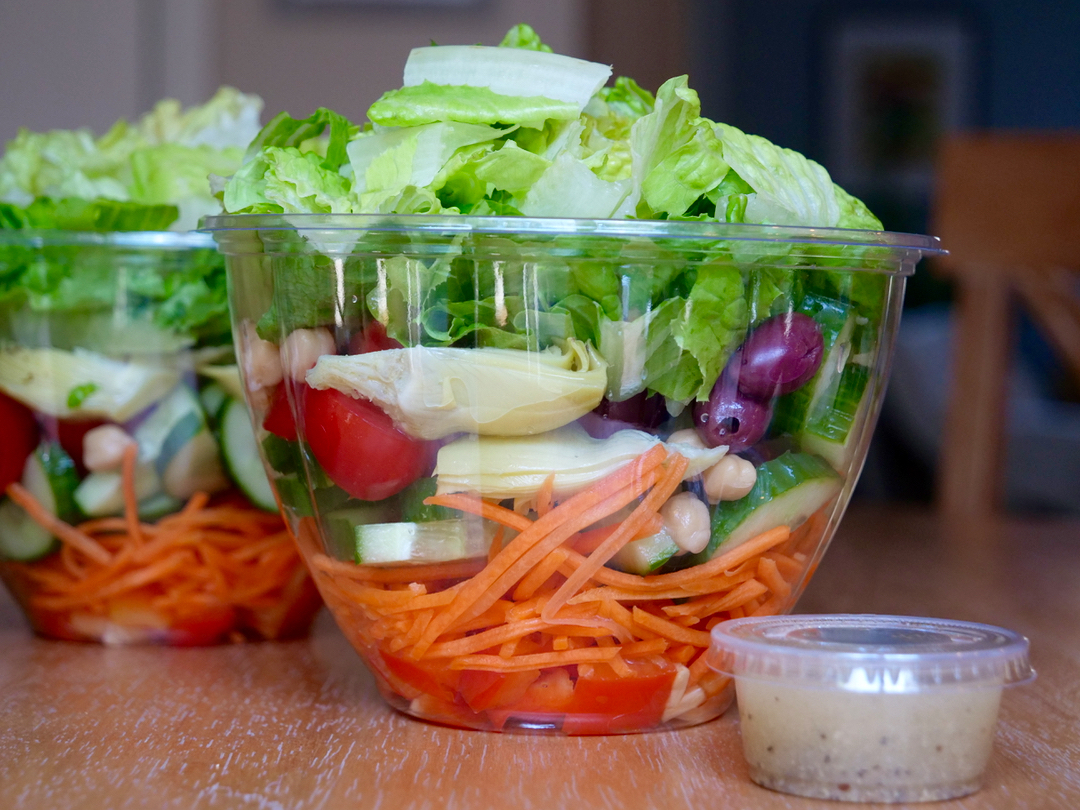 How to Meal Prep Salads + 3 Salad Recipes
A tutorial with tips, tricks and 3 different salad recipes so you can prepare fresh, crunchy salads for the whole week ahead. For a busy week of work, salads can be a great meal prep option. Load them up with lots of filling vegetables and lean proteins and get creative with what goes in your salads.
More...
These 3 salad recipes are usually my go to for meal prep salads. At the end of this post are the 3 recipes so you can build them yourself, but first I want to give you some tips and tricks on how to properly build your meal prep salads so nothing get's soggy or yucky and instead you have fresh, crunchy salads all week long.
Step 1 - Containers
For the containers, I suggest finding glass containers for a number of reasons. For starters, they're way more environmentally friendly than plastic tupperware, because let's not kid ourselves, sooner or later the plastic will start to fog up and look dirty or the plastic lid will crack, and then you have to throw them out and replace them...meaning more plastic ending up in the oceans, etc.
Another reason glass is so great is because it is visually pleasing, you can safely microwave your food if needed and they clean up like a breeze. Plastic will also eventually break down, putting those chemicals right into your food, especially when microwaving it or when it's left out of the fridge for too long.
Step 2 - Plan on one or two salads to make.
It's much easier for your time and your wallet if you choose just one or two salads to have this week. I am a creature of habit and can easily have the same thing every day, but if you can't, choose two. Regardless, once you decide what salads you're going to make, then it's time to start putting them together.
Step 3 - Assemble the salads
This should not take more than 20 minutes to do. Here is how to properly layer your salad containers:
-Choose your favorite store-bought dressing or make a quick one yourself, whatever you prefer. If you don't have little reusable dressing cups, then pour the recommended serving size of dressing in the bottom of each of your containers. If you do have the little cups, then portion out dressing into each cut and set those aside.
-Layer your watery vegetables next, like chopped cucumber or chopped tomato. This way, any liquids from these veggies will go right to the dressing, making it more flavorful anyways AND keeping everything else from getting soggy. Then add your other veggies like peppers, radish, carrots and roasted veggies.
-Next would be the lean protein. Whether it's chopped chicken or garbanzo beans, those go in next.
-On top of the protein, layer things like dried cranberries, blueberries, strawberries and/or nuts.
-Now layer the container with shredded lettuce on the very top.
-If you're putting cheese on your salad, that will go in last, on top of the lettuce. Your dressing cup can fit nicely in there on top too if you're using them.
-If you're putting fresh fruit like chopped apple or avocado, add that in last as well.
That's it! Super easy, takes almost no time at all, and now all you have to do is grab one and go in the morning.
Here are my 3 go-to meal prep salad creations:
Autumn Chicken Salad
Diced chicken
Roasted butternut squash - roast cubes of squash seasoned with olive oil, a little salt and pepper and a sprinkle of garlic powder, at 375 for 50 minutes, turning once halfway through. Let cool before adding to salad.
1/8 C dried cranberries
1/4 C candied walnuts
1/3 C blanched green beans - steam green beans for 6-8 minutes then drop them in an ice bath to keep their color and crispness.
Shredded romaine
1/4 C crumbled goat cheese
1 small gala apple, chopped
Dressing: Italian or Balsamic are best.
---
Greek Veggie Salad
Chopped red bell peppers
Shredded carrots
Sliced cucumbers
1/3 C chickpeas
5-6 quartered, marinated artichokes
6 kalamata olives
Cherry tomatoes
Shredded romaine
Also add in: sliced radish, roasted veggies, cheese and/or chicken.
Dressing: Italian or Balsamic is best.
---
Peach Chicken Salad
1/8 red onion, sliced thin
1 ripe peach, diced
1/4 C blueberries
Diced red pepper
Diced chicken
1/8 C chopped walnuts
Shredded romaine
Feta cheese
Dressings: Italian, Avocado Vinaigrette or a Pomegranate Vinaigrette are best.