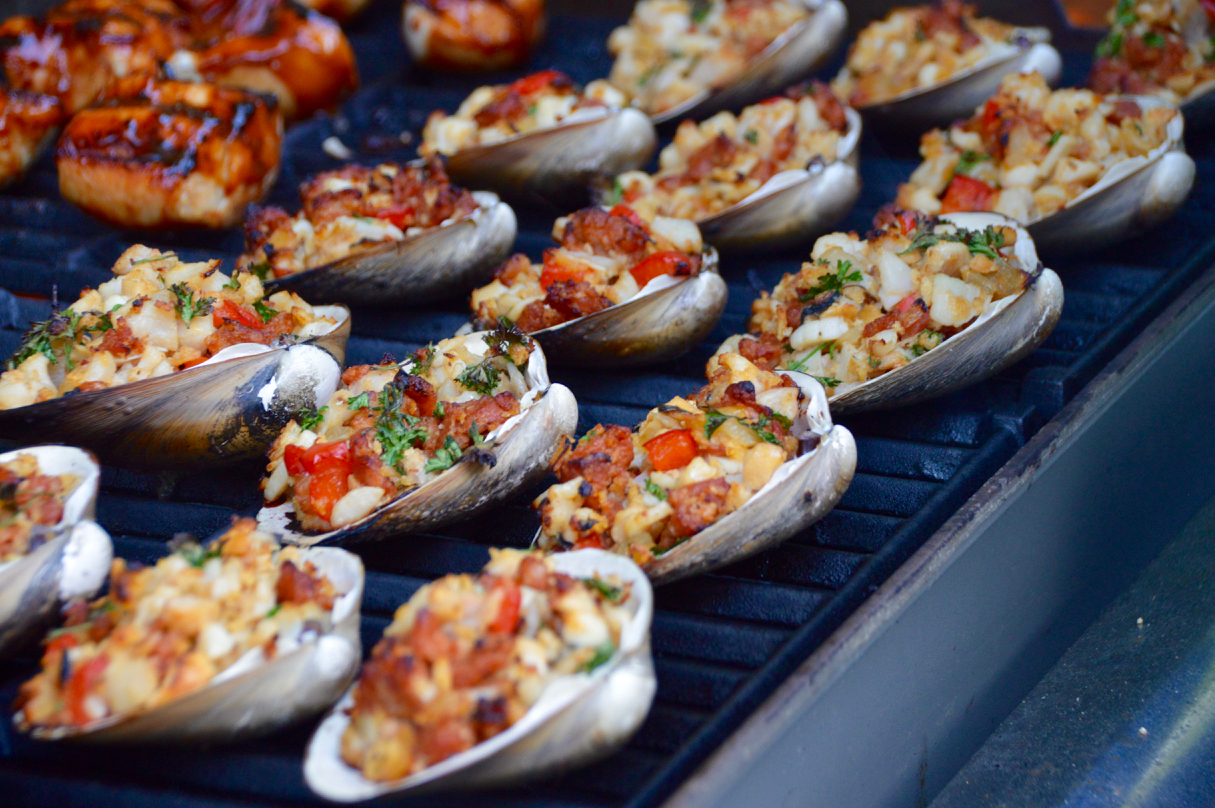 Stuffed Quahogs
If you're a New Englander like me, then you know a stuffed quahog when you see one.  You could pretty much go to an New England establishment that serves seafood and find one on the menu.
I'll stop right there and just be clear, a stuffed quahog is also known as a stuffed clam, it just sounds cooler.  If you're not from New England, you might have heard the word used in Family Guy episodes, which is where The Griffin Family lives, Quahog, Rhode Island.
But I digress...some are too dry, some don't have enough clams in them, and some are just so darn perfect, you go there specifically to have a quahog and a drink.  So for me, when I can't go to my favorite establishment, or I just want to have a nice meal at home, I do my own thing, and make homemade stuffed quahogs (that are wayyyyyyyyy healthier).
I am lucky enough to have a husband who thinks that diving for clams is a fun activity, so every now and then I get to have fresh clams straight from the beach I go to every moment I can.  It's a very cool experience, but I know there are many of you out there that don't have someone to do this for you, which is why I suggest using chopped clams and kindly asking your fish monger for some shells if they have them.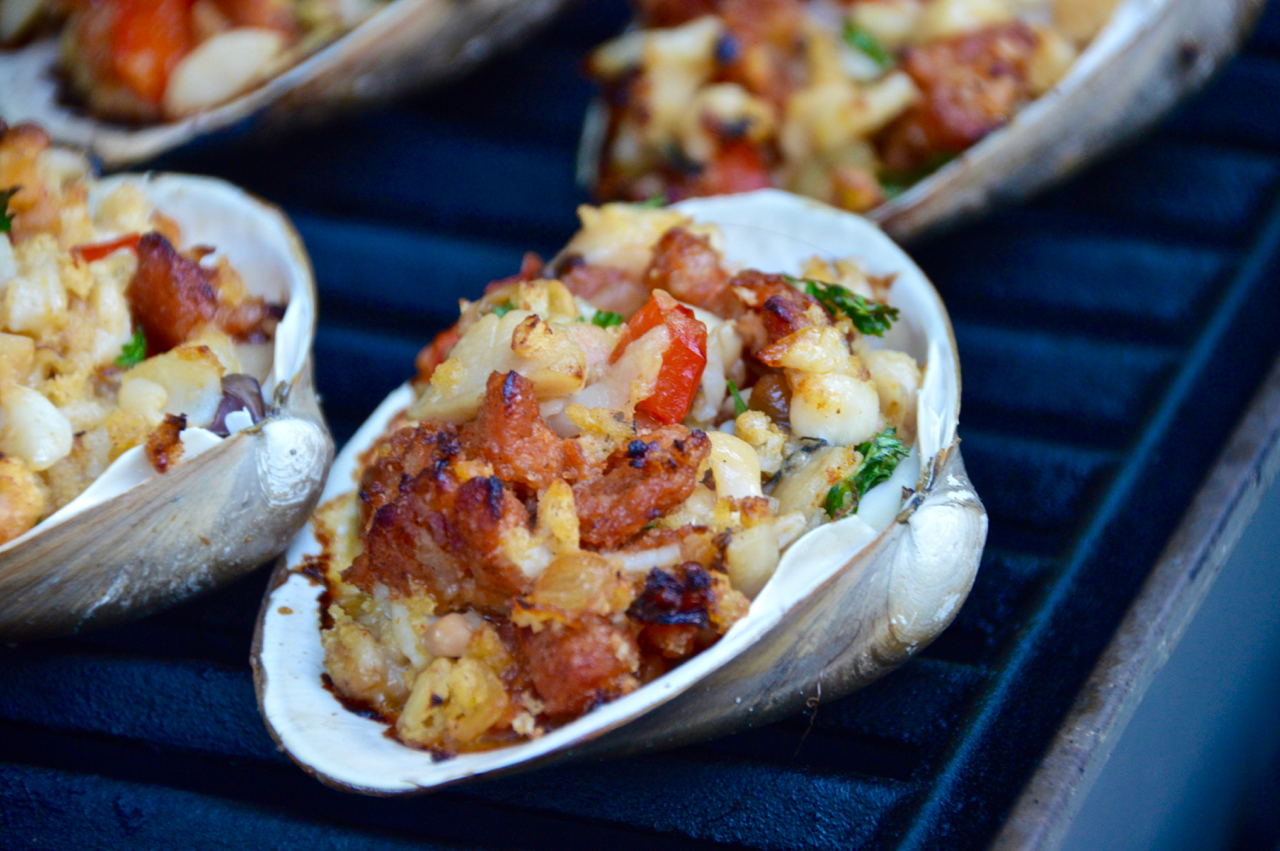 The store-bought stuffed quahogs are loaded with lots of breading and very little clams.  A lot of restaurants use butter and a lot of breading and maybe a tad more clams than the store-bought kind, but not by much.  Which is why making your own is so much better.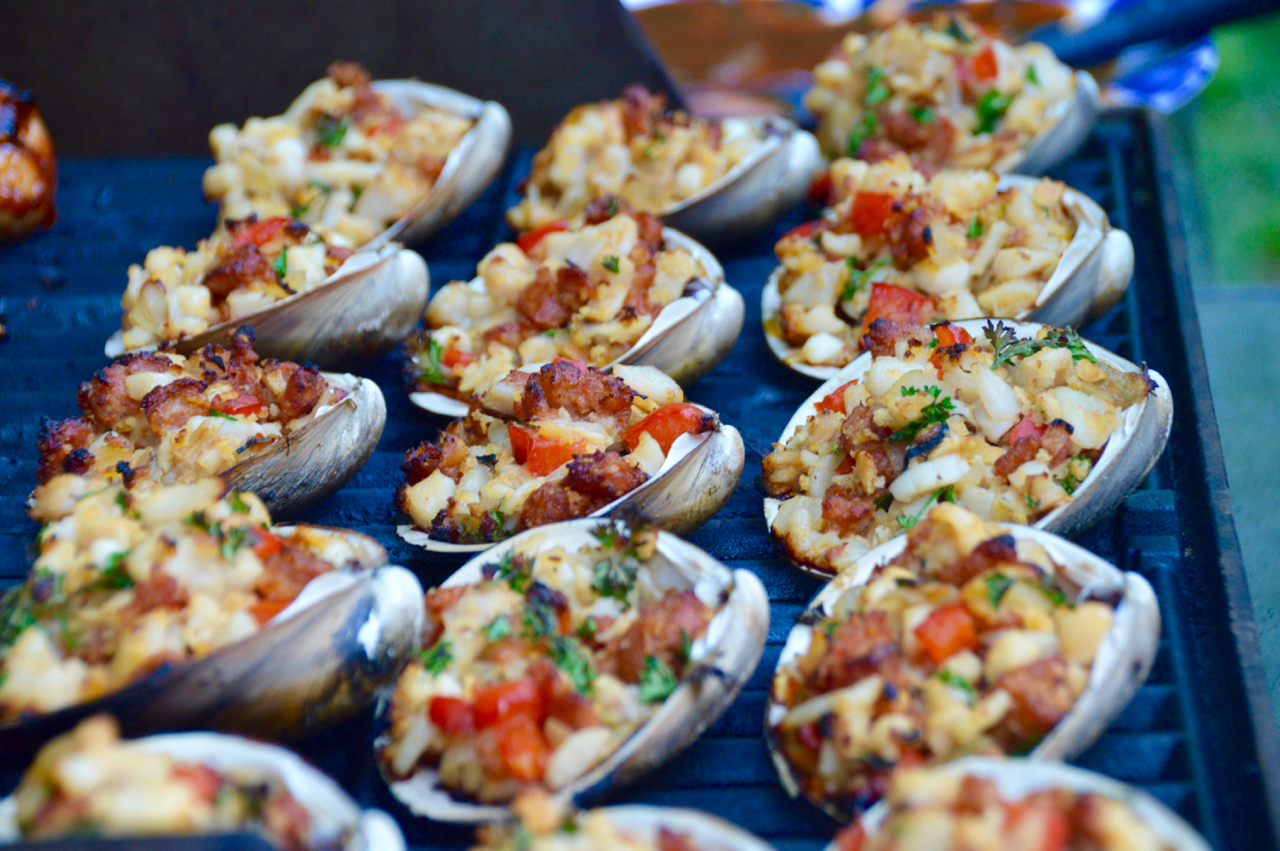 What Goes Into a Stuffed Quahog?
This answer can vary depending on where you go, but for me, I looooove a little spice, so I use crumbled chorizo, which is like a very spicy sausage.  You could also use linguisa in this as well, which is a spicy Portuguese sausage.  Either in fine though, they both add a lot of flavor!
I also of course use sautéed onions and bell pepper, and a little garlic.
Everything binds together with a little crushed Ritz cracker and some panko, then grilled to perfection with fresh parsley to garnish.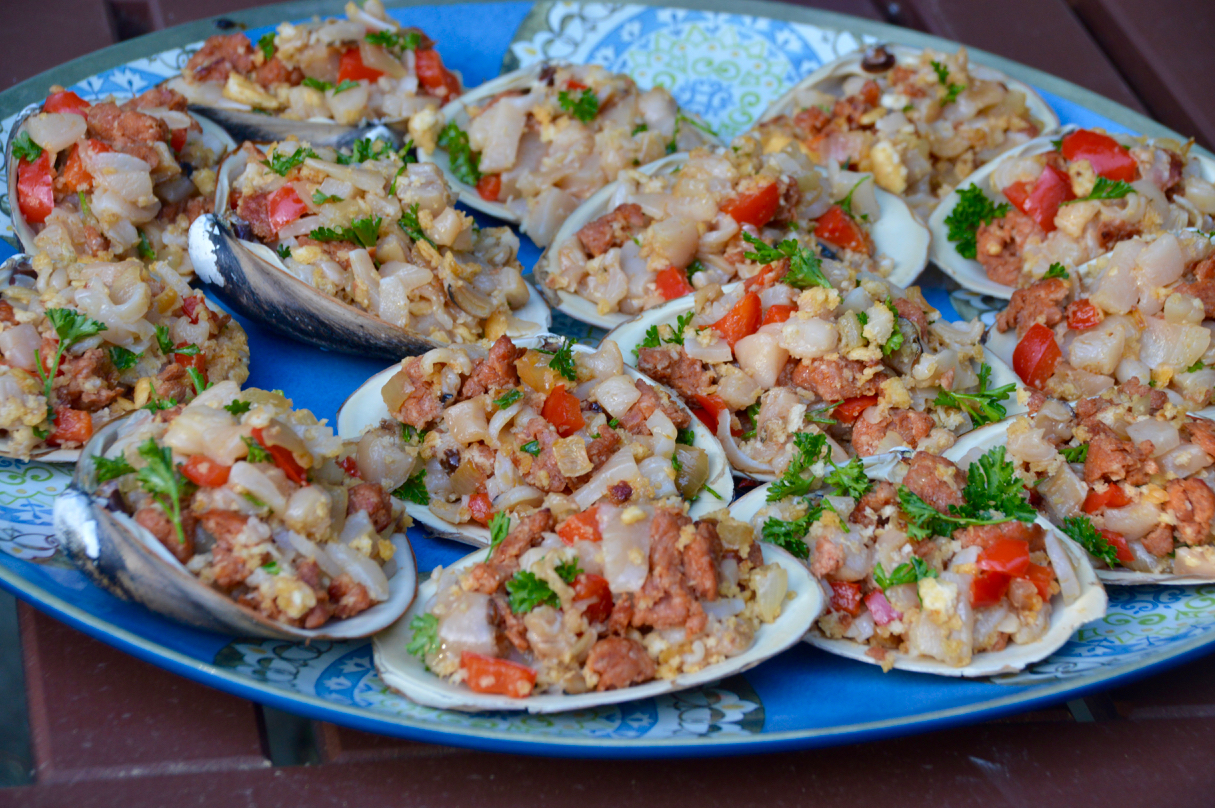 The clams are shucked from their shells (courtesy of husband), then washed in water, chopped up and mixed in with all the other ingredients.
If you're using my method, make sure to wash the shells and the clams to get rid of any sand or dirt.
I like to grill mine, but these can also be done in the oven as well - whichever you prefer!
There is no right or wrong way to make these either - use as much of each ingredient as you want - there's no messing up this simple dish 🙂
Enjoy!

Stuffed Quahogs
Ingredients
10 large clams, shucked, shells and meat cleaned then chopped into small pieces, or ask for 10 clam shells from the fish counter and 1-2 C canned chopped clams, drained and rinsed.
1 TBS cooking oil
1 small sweet onion, chopped
1 red bell pepper, chopped
1 clove garlic, minced
4 chorizo, linguisa or hot sausage links, meat taken out of their casings and crumbled into small pieces
6 ritz crackers
½ C panko
chopped fresh parsley
Instructions
Heat grill to medium high.
In a large pan, heat to medium high, add cooking oil and cook sausage until browned and cooked through.
Add in peppers, onion and garlic to pan, cook and stir occasionally until onions become transparent, about 5 minutes. Remove from heat.
In a large bowl, combine sausage mix, clams, crackers and panko together. It should bind together slightly.
Spoon clam mixture evenly among clam shells, sprinkle a small amount of parsley on top, then place shells on the grill to cook, about 8-10 minutes, or until clams are cooked through and you hear a slight sizzle.
Serve immediately and enjoy!