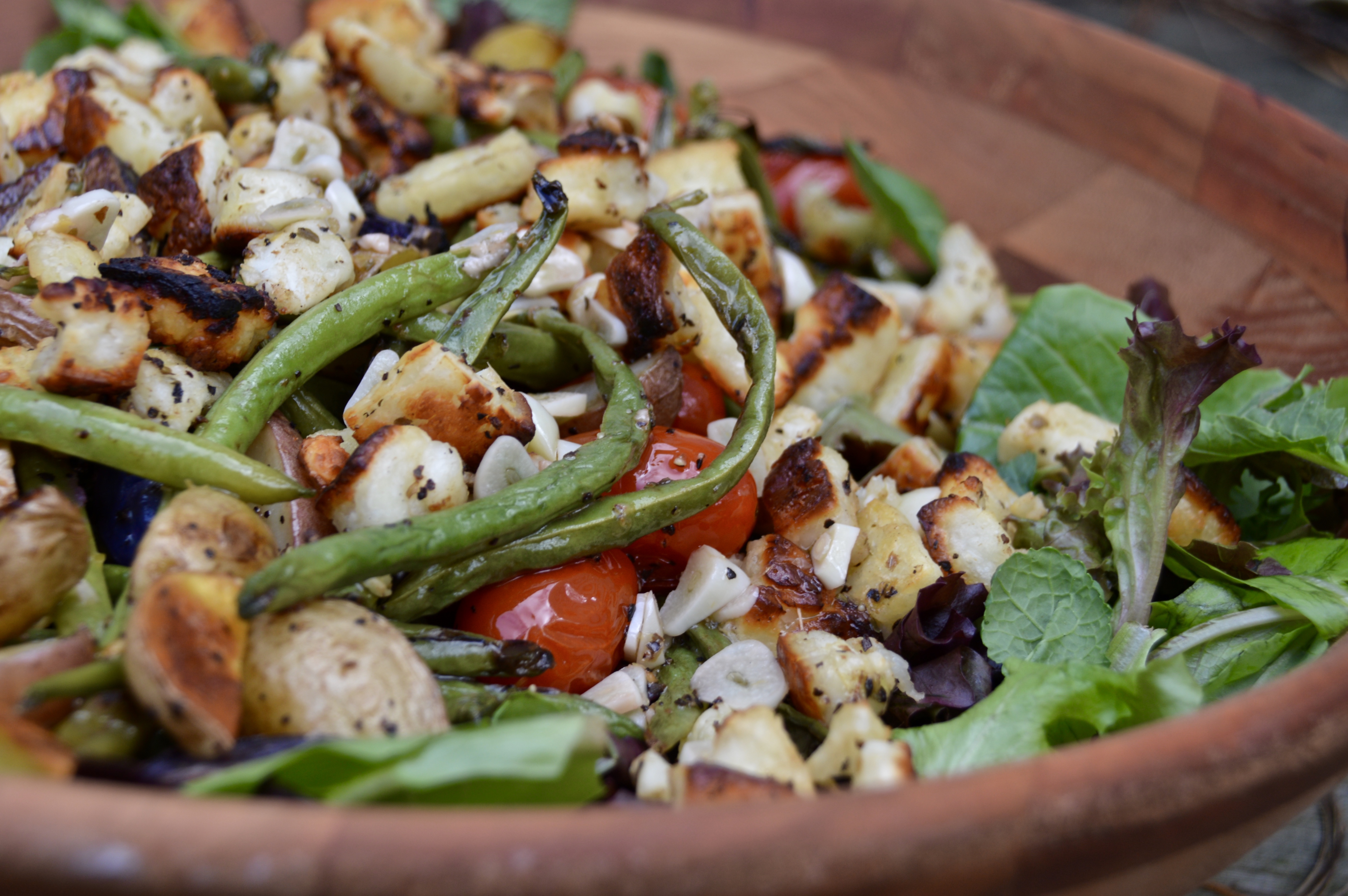 Roasted Winter Vegetable Salad with Crispy Halloumi Croutons
Winter is slowly creeping up on us in New England. When you start waking up and seeing your neighbors roofs dusted in white, you know it's beginning.
The smell of a wood burning fire wafting through crisp air, with the crunch of leaves under your boots and the grey skies looming up above, makes me just want to snuggle down on my sofa under a big blanket and not come out until spring.
More...
To an outsider, it sounds kind of sweet and cozy, but to us New Englanders, it's time to hibernate.
In the summer, I love a big salad to fill me up, and even when it get's cold out, I still crave those lighter meals that only summer brings.
It's important for me to try to eat as locally and as seasonably as possible. I like it because I know I am getting the freshest product available, and I'm supporting the businesses around me.
For this dish, I really wanted that lighter feel to my meal, but still incorporating those beautiful late fall, early winter vegetables.
The Ingredients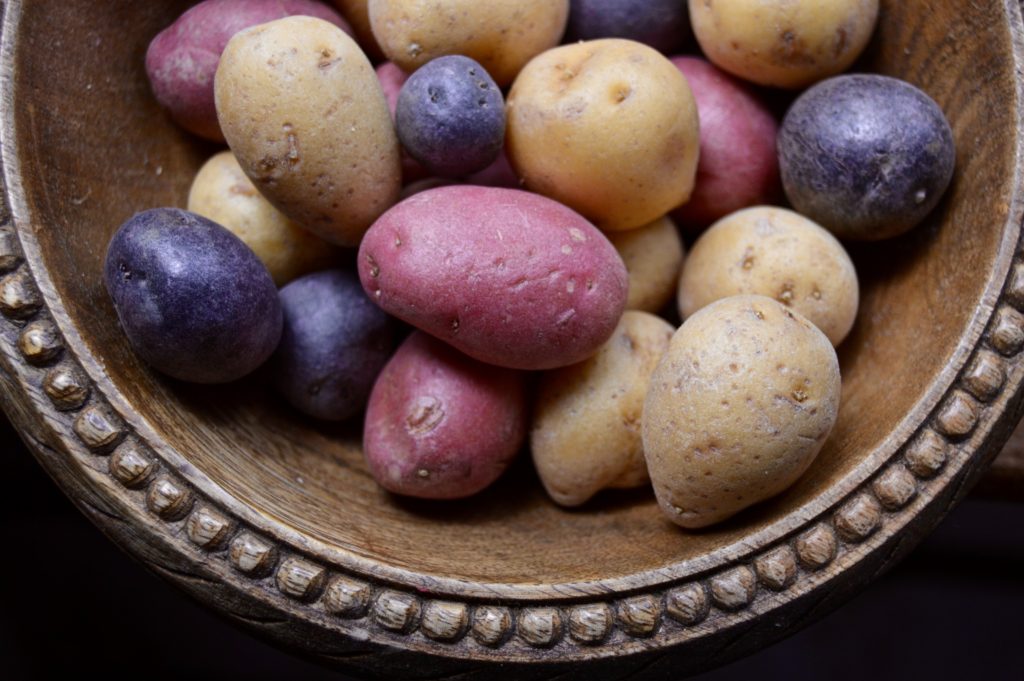 These tricolor baby potatoes were a wonderful find for me! They are grown locally and give the dish so much color. If you've never tried a purple potato, you're missing out. They taste just like regular potatoes but contain four times the amount of antioxidants found in regular russet potatoes!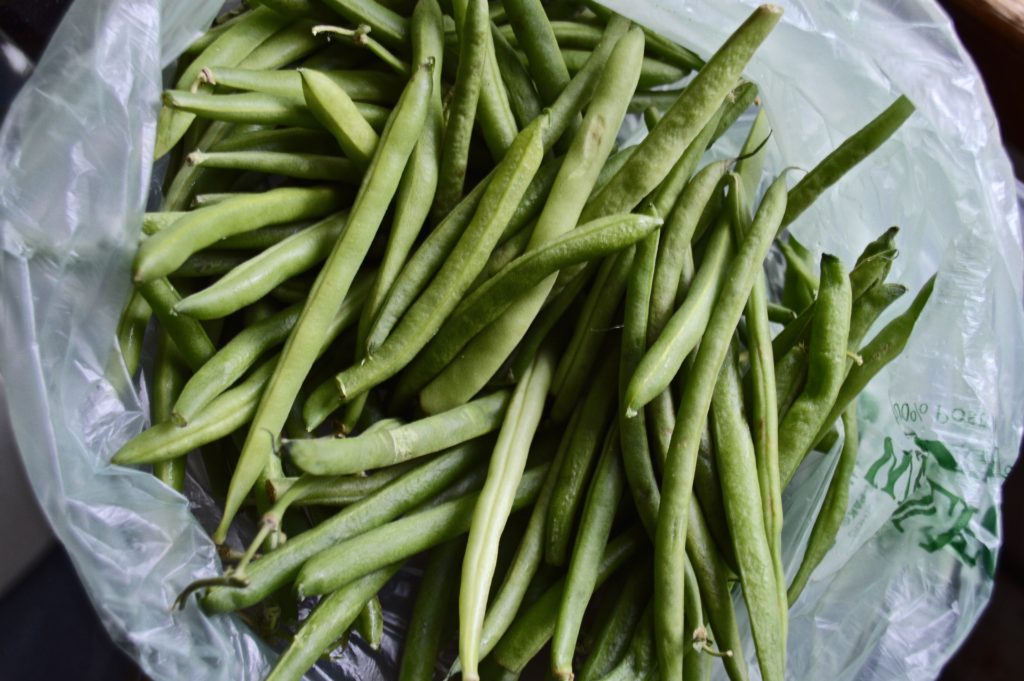 You can use regular green beans or french green beans. The only difference is the french variety are thinner and can be more tender. I like the heartiness of the regular beans, plus these were grown locally and cost $2.99 for this one pound bag versus $6.99 for the bag of french beans.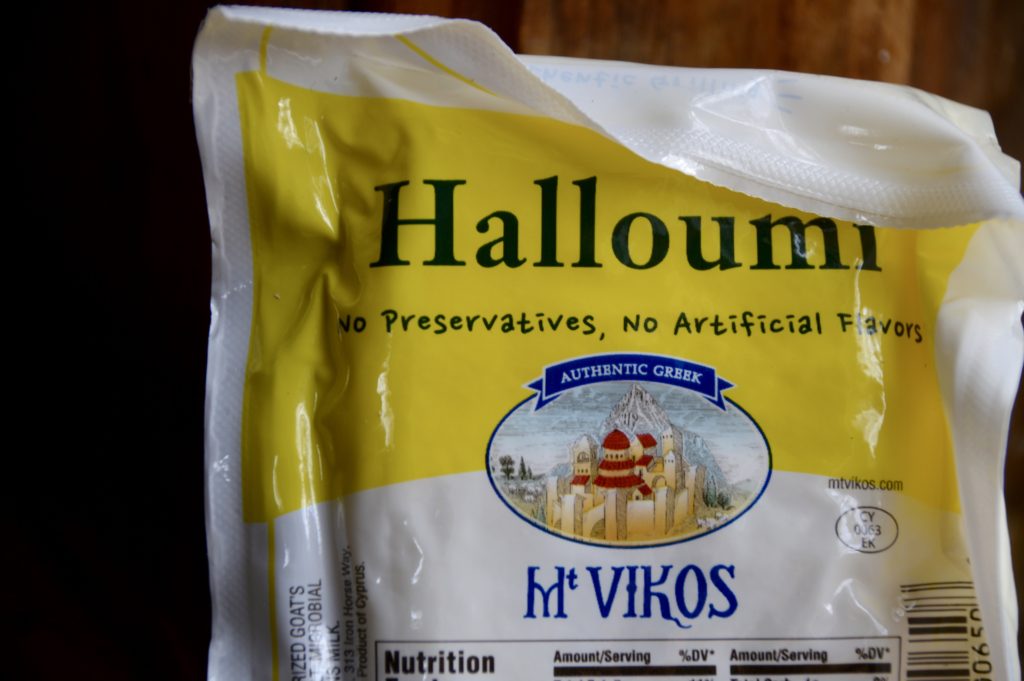 If you've never heard of halloumi cheese, then you're really missing out. I discovered this cheese only a few months ago and absolutely love it. Its a high melting point, semi-hard goat and sheets milk cheese that has a salty taste similar to feta. It's wonderful for this dish because it doesn't melt, so you can broil it after marinating, and it will become crispy on the outside but still perfectly soft on the inside. It's delicious!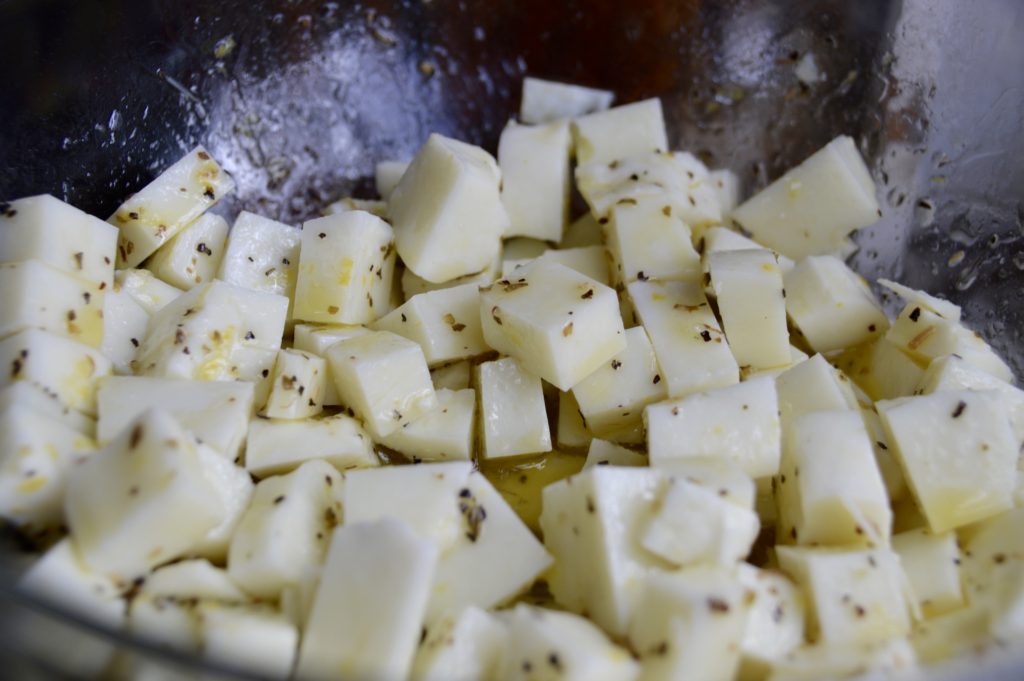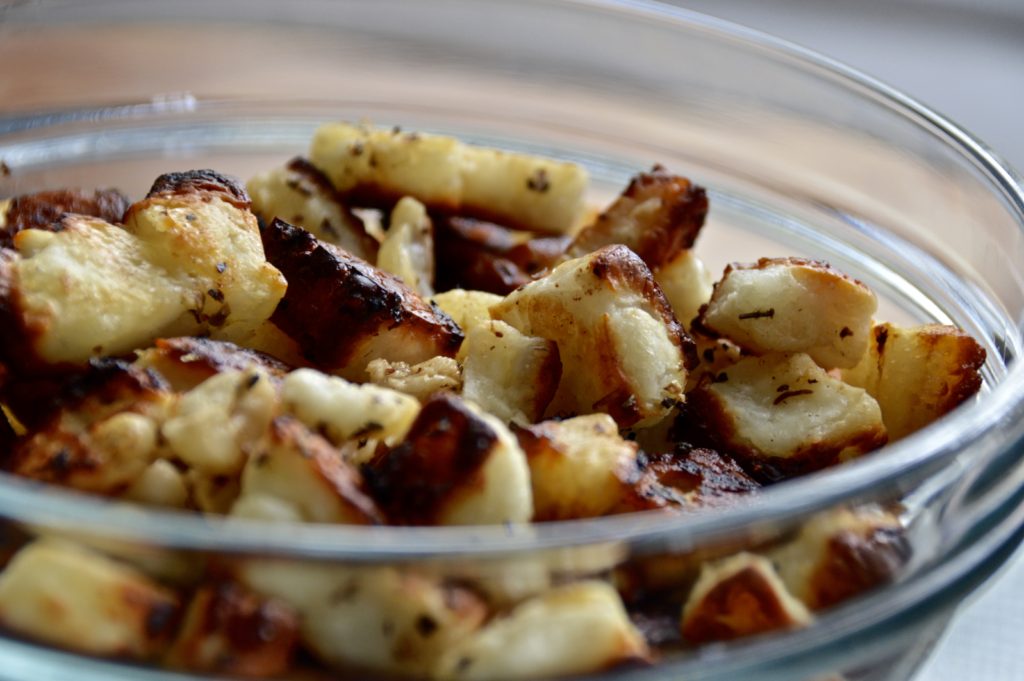 Putting it all Together
After marinating and broiling the halloumi cheese, it's time to roast the vegetables. The colors alone just put such a smile on my face.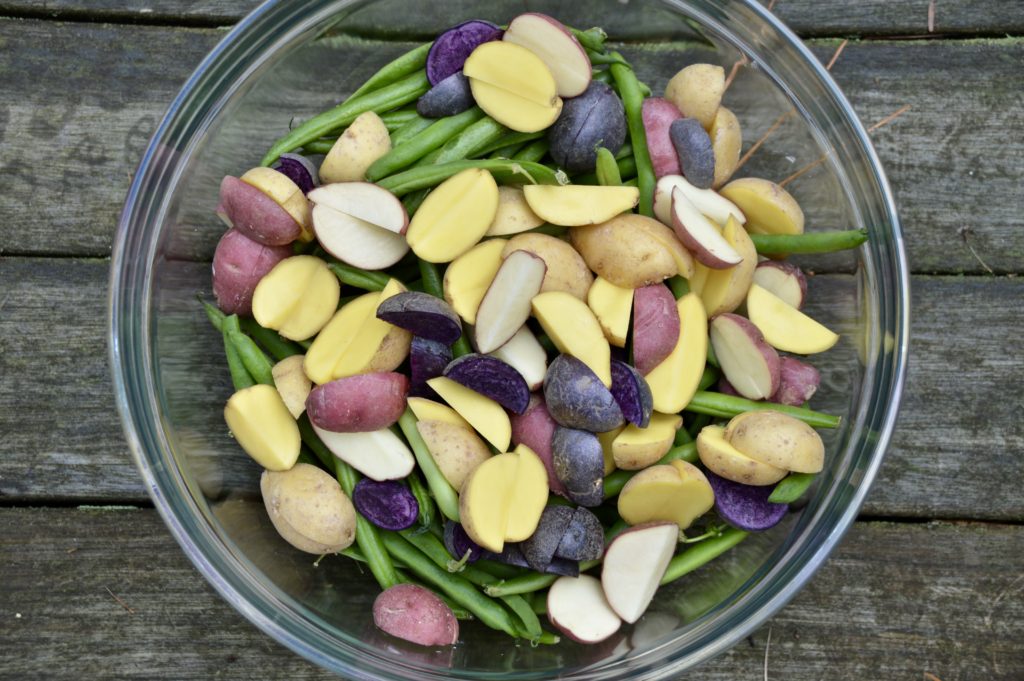 The thing about cooking is that you should find a way to enjoy the process. Recognizing the colors, smells and tastes help to make the whole experience better.
The dressing pictured below leaves the most delicious aroma in our kitchen. In fact, this entire meal left the most delicious smells wafting through the house the whole day!​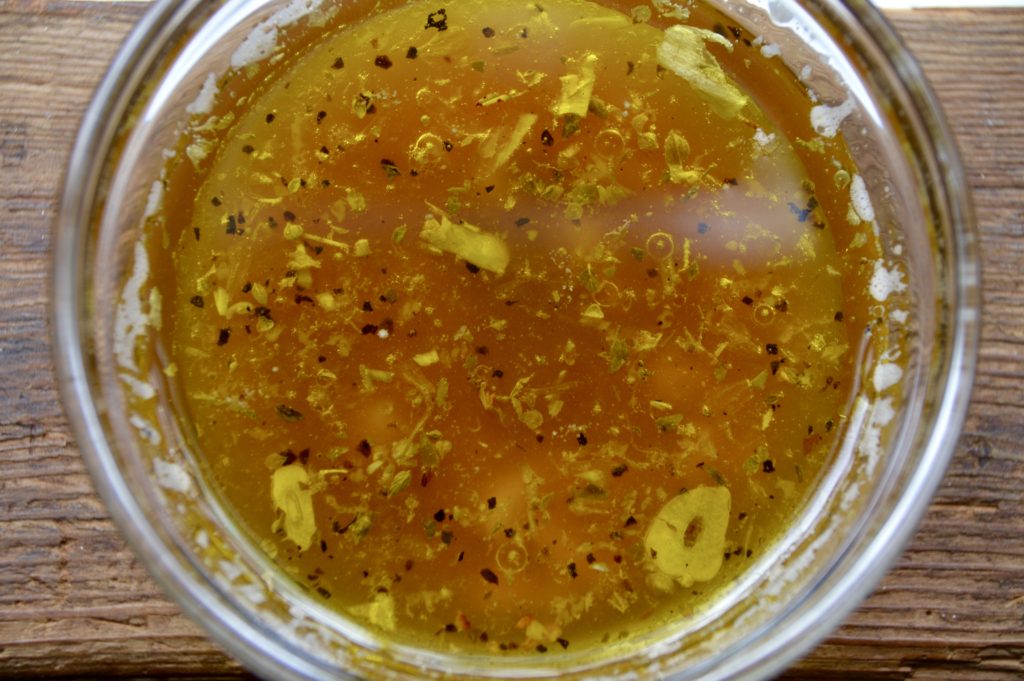 It's best to let the vegetables cool after cooking so that the lettuce doesn't wilt. Your goal is to make this a "warm" roasted winter vegetable salad.
I loved this because it wasn't just some lame salad for dinner. It was hearty, flavorful and delicious - Ryan even went back for seconds and thirds! It's great for a holiday dinner side dish, a main dinner course or divided out for lunches throughout the week.​
Just remember, when you're eating whole foods, fresh vegetables and dark leafy greens, who cares how many calories are in it? This dish will leave you feeling satisfied, light and happy (or at least I hope so!)
Enjoy this meal as much as we did!​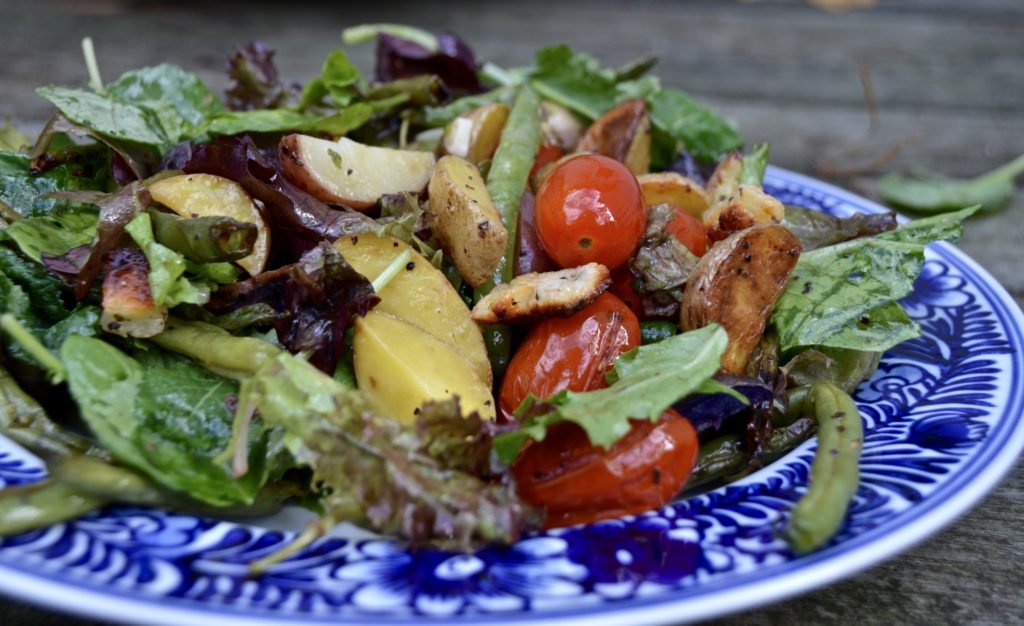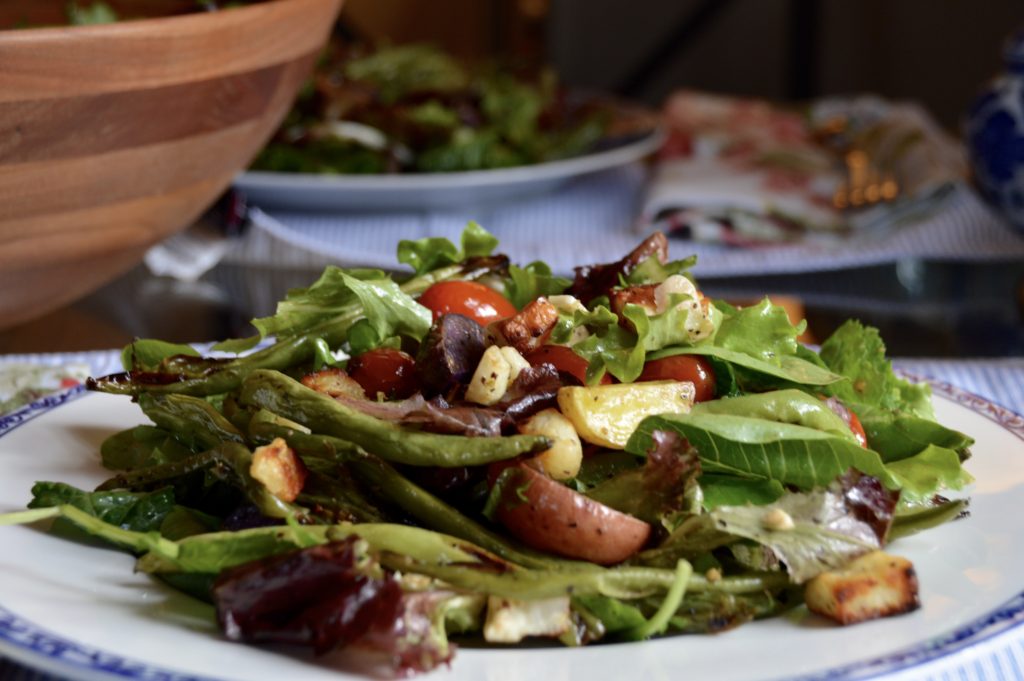 Roasted Winter Vegetable Salad with Crispy Halloumi Croutons
Prep time:
Cook time:
Total time:
Inspired by a recipe from Eating Well Magazine
Ingredients
1/2 pound bag try-color baby potatoes, quartered
1 pound green beans, washed, ends removed
1 quart cherry tomatoes
4 TBS olive oil
2 TBS red wine vinegar
zest of 1/2 a lemon
juice of 1 lemon
1 tsp oregano
1 package halloumi cheese, cut into small cubes
4 garlic cloves, sliced thin
1 large package mixed greens
optional - walnuts or hazelnuts
Instructions
Preheat the oven to 450 and line a baking sheet with tin foil.
In a large bowl, mix potatoes and green beans with 2 TBS olive oil and salt and pepper. Transfer to a baking sheet, laying everything flat. Bake for 10 minutes then stir. Add in tomatoes and continue roasting another 10 minutes. Once roasted, transfer veggies back to their bowl and set aside.
While veggies are roasting, combine 1 TBS oil, zest, juice, oregano, a little s&p and halloumi cubes. Let the cheese marinate. Once the veggies are done, use a slotted spoon to transfer the cheese to the baking sheet and save the remaining marinade. Set the broiler to high and broil cheese for 3-5 minutes or until browned on both sides, stirring occasionally.
In a small saucepan, heat 1 TBS oil and garlic until garlic sizzles. Once sizzling, remove from heat and stir in vinegar and remaining marinade.
Combine greens, veggies, halloumi, dressing and optional nuts together in a large bowl and serve!