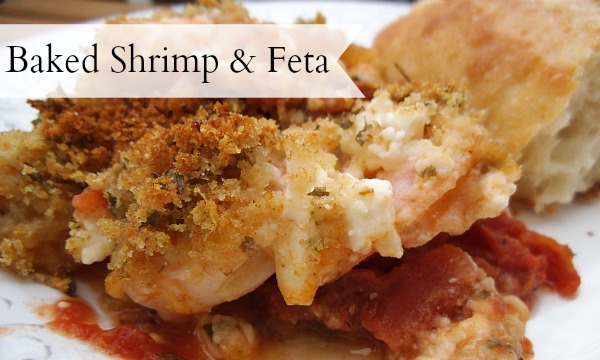 Baked Shrimp & Feta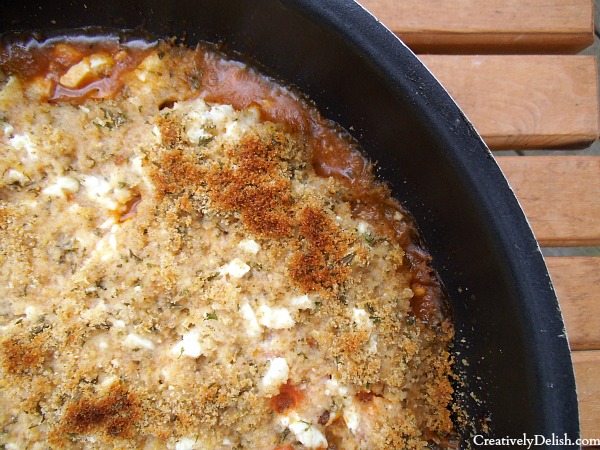 Tomatoes simmered with white wine, onions, garlic and oregano, then baked with shrimp and feta with a crispy top layer of bread crumbs, parsley and lemon zest.  The surprise of lemon zest paired with the feta gives it a fresh flavor and tones down that saltiness from the cheese.  Try it over spaghetti squash as a pasta alternative or just plain with a big hunk of french bread for sopping up all of that good tomato sauce.
A few years ago, most weekend nights consisted of running home from work, taking a 5 minute shower, spending over an hour trying to pick out something to wear then trying to huddle in a group together at some jam-packed bar or restaurant all while trying to keep my hair perfectly bouncy....yeah not so much anymore.  These days I look forward to cooking a nice meal with music playing in the background, pouring a big glass of white wine, and enjoying a relaxing Friday night.
My how things have changed.
Am I considered a grandma now?!  Yikes...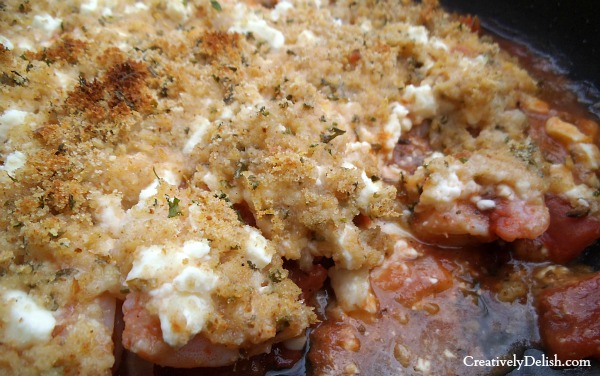 Speaking of tomato sauce, this is very good on it's own, with a different flavor in the red sauce thanks to the white wine.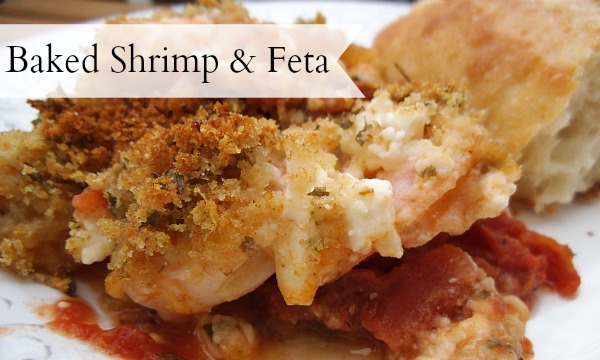 An easy, quick and flavorful dish that's gauranteed to wow!
Enjoy!
Baked Shrimp & Feta
Prep time:
Cook time:
Total time:
Ingredients
2 TBS olive oil
1/2 sweet onion, diced
1 TBS minced garlic
1/2 C white wine (dry not sweet)
2 cans (14.5oz each) fire roasted tomatoes
2 tsp tomato paste
1 tsp oregano
1 tsp sea salt
1/2 tsp ground black pepper
1 1/4 lbs peeled uncooked shrimp
1/2 C crumbled feta cheese
1 C panko or fresh breadcrumbs
2 TBS fresh minced parsley
1 TBS lemon zest
2 lemons
Instructions
Preheat oven to 400.
In an ovenproof, heavy skillet, heat olive oil over medium low heat, then add onion and garlic. Sautee until onions turn clear, then add wine.
Simmer wine until liquid is reduced by half.
Add tomatoes, tomato paste and seasonings. Simmer for 10 minutes, stirring occasionally.
Line skillet with shrimp, tails up, on top of the tomato sauce.
Sprinkle with feta cheese.
In a small bowl, combine lemon zest, parsley and bread crumbs, then sprinkle over shrimp and feta.
Bake in the oven for 15 minutes, or until the shrimp is cooked through and the bread crumbs are golden brown.
Squeeze lemon juice over pan, then serve hot over pasta or with garlic bread.