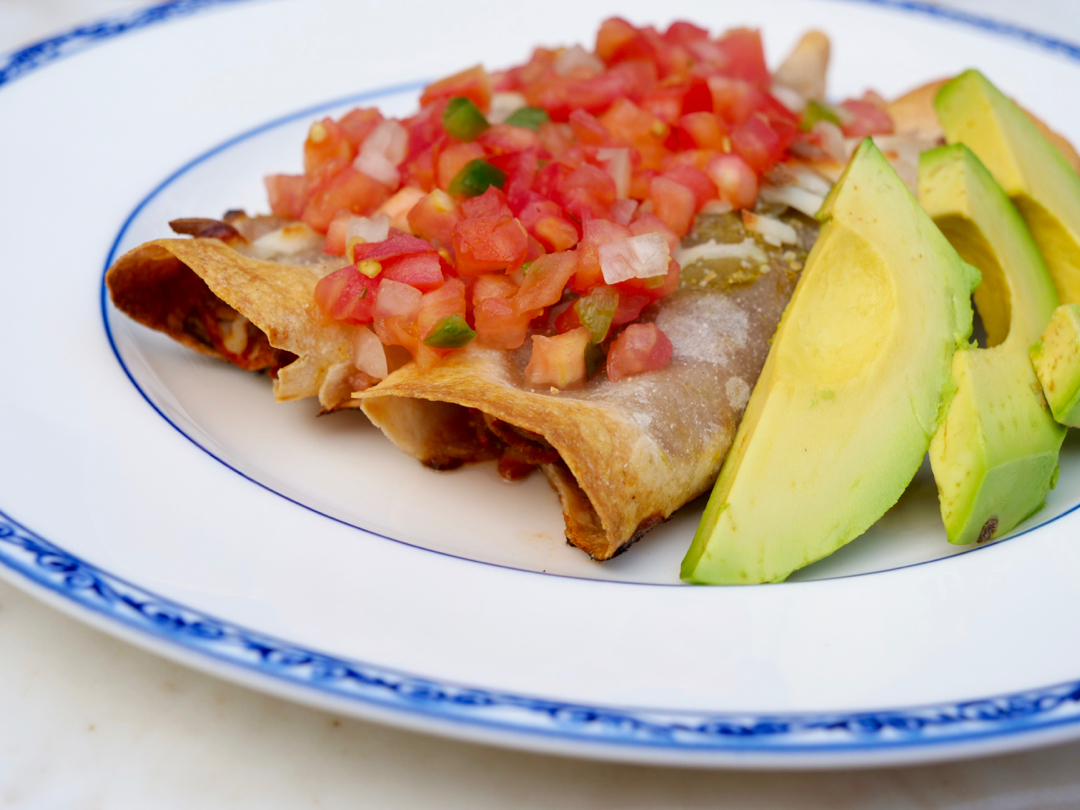 Jackfruit & Green Chile Enchiladas – (V, GF, Corn Free)
Vegan, gluten-free, corn-free and totally satisfying - they even got the animated nod of approval from Ryan! Light yet filling and super easy to put together, these bean, green chile and jackfruit enchiladas are the perfect meatless-Monday meal or perfect for any day of the week!
More...
Starting in a few days I will be taking the Arbonne 30 Days to Healthy Living Challenge, which eliminates gluten, corn, soy, dairy, caffeine, sugar and other inflammatory foods, to bring my body to a more alkaline level. These Vegan GF Jackfruit & Green Chile Enchiladas were one of the guinea pig recipes I tried in preparation, and it won huge points with the hubby and me.
If you are interested in joining me for a 30 day challenge, click here to learn more.

This meal doesn't leave you feeling stuffed, and the serving size of two burritos was perfect for me (Ryan had 4!).
What is Jackfruit?
Jackfruit is a fruit that grows in tropical regions in Central and South America that when cooked and shredded, resembles the look and texture of shredded meat. You can purchase jackfruit canned like I did from Trader Joes, or purchase it pre-shredded and mixed typically with a BBQ sauce or something similar.
Unlike most fruit, this is very low in sugar and a terrific source of fiber and non-starchy carbs, making this a great alternative to meat and great for the Arbonne 30 Days challenge.
How Do You Prepare Jackfruit?

I have prepared jackfruit two ways, either in a pan with some oil or spread on a baking sheet and baked for 15-18 minutes at 400. I personally prefer method number two, baking it in the oven. The reason for this is because when you saute the jackfruit in oil, more moisture stays into the jackfruit, making for a texture I don't enjoy. By baking the jackfruit, it pulls some of the moisture out of the jackfruit, while also giving it a little crispiness to the edges (my favorite!).
The Ingredients
Cassava Flour Tortillas
Cassava, otherwise known as yuca, is native to Central and South America and is a root vegetable. It is a high carbohydrate vegetable that also is rich in Vitamin C and manganese and a great vegan, gluten free, corn free substitute in baking. The brand Siete makes a deliciously mild tasting cassava flour tortilla that works very well in this recipe. However just like corn tortillas, they do break apart unless you warm them first before handling.
Wrap the tortillas in a damp paper towel and microwave for 20-30 seconds so they become pliable, then gently spoon the filling in and fold them into burritos.
Non-Dairy Cheese
Probably the hardest part of a vegan diet is finding a good cheese substitute. Cheese is very important to me, so finding a cheese that would work in this dish was a must.
For the Arbonne 30 Days challenge, not only is dairy eliminated, but so is soy, meaning a lot of non-dairy cheeses were out of the question too. Many non-dairy cheeses contain soy products, however I happily found an almond milk shredded "mozzarella" from Trader Joes that we love! It has a mild taste, melts perfectly and still gives me the satisfying feeling that I'm eating cheese.
Vegan GF Baked Jackfruit Burritos: The Recipe
I am so pumped for these enchiladas - we've had them 3 times in the last week! Mainly because every time I made them I was trying to get photos of them, but let's just say we can't get enough of them 😉
I hope you enjoy these super clean, plant-based, incredibly delicious enchiladas!! You can click here to print the recipe or check it out below!