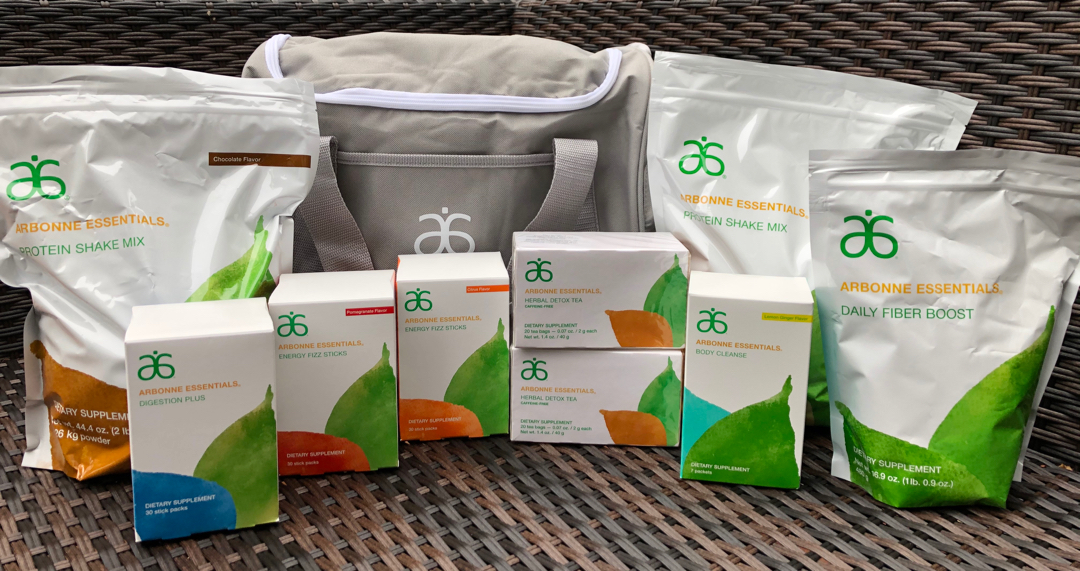 Arbonne 30 Days – Getting Started
If you are researching the Arbonne 30 Day Detox and looking for information on how it works, what a typical day would look like and some real life results, you've come to the right place!
More...
I completed my first 30 day cleanse shortly after the holidays this past year and have since then incorporated the products into my every day life. For reference, I am in a weight range that I am comfortable with and is healthy. That being said, I still had some excess water weight and pounds to lose (about 5-8lbs). Here are the results I had even during week 1:
Obviously results will be different for everyone, but this is total honesty and I am pumped to have discovered this. As a health & wellness coach, I have a high standard for nutritional products and the foods I bring into my house, and Arbonne sets the bar very high.
This is not a quick fix though and you have to really want it. I also need to stress one very important point here...THIS IS NOT A STARVATION DIET! I've heard and read other people say they tried the cleanse but the shakes didn't taste good and they were starving. This should absolutely not be the case.
You will get a lot of information on how to do this cleanse and it can sound more complicated than it looks. But no, it's so simple! The takeaway is this: cut out the inflammatory foods like dairy, gluten, refined sugars and processed foods, and replace them with fruits, vegetables, plant-based butter and milk, healthy fats, whole grains and lean proteins. If you're hungry..eat!
What a Sample Day Looks Like
In the morning, I like to begin with a digestion plus (probiotic) mixed with water. After this, have a detox tea with almond milk and a protein shake for breakfast. The protein shake should have a good balance of greens like either kale or spinach, a healthy carb like half a banana, a healthy fat such as half an avocado or a tablespoon of almond butter, a handful of berries, 1-2 scoops of protein powder and a scoop of coconut milk vanilla yogurt (optional to make it creamier).
For lunch you can either have another protein shake or a meal of lean protein, non-starchy carbs and a healthy fat. The same goes for dinner - some choose to have their second shake at dinner and a full meal at lunch, or visa versa, or others will have a shake as a snack and a full lunch and dinner. This is based on preference as well as how much weight you want to lose and what your activity level is.
I personally have a shake at breakfast, a regular lunch, a healthy snack like green apples and nut butter and a regular dinner. I am very active and work out 1-2 hours per day, so if that isn't you, you might be ok with having a second shake at lunch and a small snack in the afternoon.
The important thing here is to listen to your bodies needs - not what someone else tells you. If you're hungry, have a snack, just make it a good one!
So now let's jump into what each product is and how to use it.
Protein Powder
Made of pea protein, the Arbonne protein powder is 100% vegan and gluten free and is available in vanilla and chocolate. You will get your choice of two, so you can try one of each or 2 bags of the same flavor, whatever you prefer.
I really like the flavor and texture/consistency of this protein powder. It isn't grainy or have a weird aftertaste, which I find in a lot of vegan protein powders.
You get two 2-pound bags of the protein powder, for a 30+ day supply (It usually takes me 2 months to go through a bag)
Energy Fizz Sticks
These are your replacement for coffee in the morning and/or afternoon, and I'll be honest, it's definitely not anything close to being the same as coffee! They are very good though, and the flavor really packs a punch. You get your choice of either citrus, pomegranate or strawberry (not pictured). There are 60 sticks in total, giving you enough for two servings per day for 30 days.
You can mix these in a 12-16oz glass of water for a healthy boost of energy. These are best consumed before 4pm, otherwise you may have trouble falling asleep that night!
If you're a Starbucks girl like me, try this order: Venti passion fruit iced tea, unsweetened and with coconut milk instead of water, with a pomegranate fizz stick added in. It's a game changer when you're craving a trip to 'bucks.
Herbal Detox Tea
I love these teas for their mild flavor. They support the liver and kidneys and taste wonderful with a little unsweetened almond milk mixed in.
I like to have one in the evening with almond milk, a dash of cinnamon and a dash of nutmeg.
Digestion Plus
This flavorless powder provides pre and probiotics along with digestive enzymes to help support optimal overall gut health. It can be added to shakes or mixed with water.
Avoid adding this to hot liquids however, because it can kill off the active cultures.
7 Day Body Cleanse
This one will probably scare people the most, but I promise you, the rumors behind "cleanses" aren't the same across the board. This gentle body cleanse is designed to flush out toxins in the liver and kidneys and tastes like lemonade.
You can either do this every 4th day or all at once through the 3rd week of the detox.
Meal Ideas
The following are just a few examples of meals you can have in this cleanse. You can refer to my recipe page for more ideas. I can help you find delicious alternatives to your favorite products, so it doesn't feel so depriving...because it shouldn't be!
I hope this helps paint a better picture of what life is like in the Arbonne 30 Days to Healthy Living Detox!
Are you looking for a coach to help you through the 30 days?
If you are looking to work with an experienced health coach to help give you the support you need, I'm your girl! You don't have to use your Arbonne rep as your coach if you don't want to. Reach out to me via email to discuss what I can do for you, and you can click here to learn more about my program.
If you have any other questions or want to sign up and have me as your coach, you can either leave a comment below or send me an email at lauren@creativelydelish.com.
Cheers to a healthy future ahead!