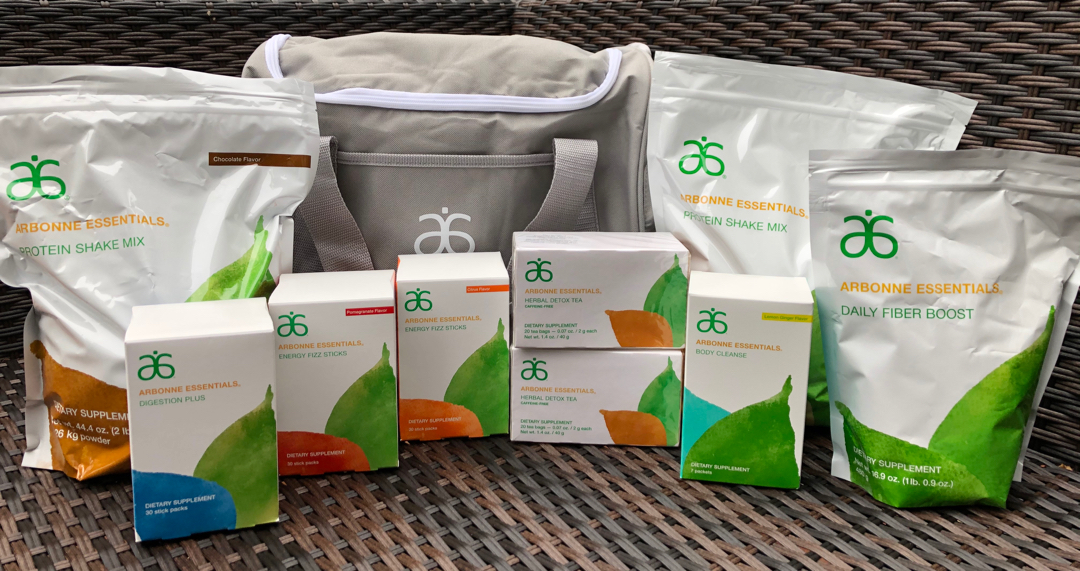 Arbonne 30 Days – Getting Started
As soon as I hit the complete payment button on my Arbonne 30 Days order, I constantly kept checking the shipping to know when it would arrive. Now that it's here I am so excited to get started! The package came with all the necessary products to use over the next 30 days, and I am going to break it all down and go through what each product is and how and when to use it, as well as some recipes I plan to put into rotation during the detox that are vegan/vegetarian centered.
More...
It;s important to note that I have not personally done this detox before, however I am a certified health coach with an understanding of these products already. I am completing this detox myself so I can better coach others through it. If you are interested in participating in this 30 day challenge, I'd love to coach you through it! My coaching is completely free when you purchase the Arbonne 30 Day kit. You can email me at lauren.collins86@outlook.com for more information, or click here to learn more.
Ingredients
One of the key factors in my decision to use Arbonne products are for the high standards the company holds towards their ingredients. They are plant-powered, certified vegan, non GMO and formulated without soy, nuts, artificial colors, flavors or sweeteners. Even better is the packaging, which is 100% recyclable!
What a Sample Day Looks Like
Arbonne suggests using their products are specific times throughout the day to get the most benefit. It says to start the day with a detox tea and a fizz stick, which replaces the coffee. Then for breakfast, have a protein shake with either 1/2 to 1 scoop fiber and 1/2 to 1 scoop digestion plus.
I would highly recommend starting with the half scoop and working your way up to a full scoop for at least the first week.
​For lunch they suggest another protein shake or a meal of lean protein, non-starchy carbs and a healthy fat. The same goes for dinner - some choose to have their second shake at dinner and a full meal at lunch, or visa versa, or others will have a shake as a snack and a full lunch and dinner.
I will be opting for a shake at breakfast, a regular lunch, a shake as a snack and a regular dinner. I am very active and work out 1-2 hours per day, so if that isn't you, you might be ok with having a shake at lunch and a small snack in the afternoon.
The important thing here is to listen to your bodies needs - not what someone else tells you. If you're hungry, have a snack, just make it a good one!
So now let's jump into what each product is and how to use it.
Protein Powder
Made of pea protein, the Arbonne protein powder is 100% vegan and gluten free and is available in vanilla and chocolate. They do offer seasonal flavors like cinnamon roll and marble cake, but it is only the chocolate or vanilla that is available in the Arbonne 30 Days set. You get to choose what flavors you want, and I opted for both flavors.
I have had this protein powder in the past and really like the flavor and texture/consistency of it. It isn't grainy or have a weird aftertaste, which I find in a lot of vegan protein powders. I like to mix the Arbonne protein powders with either water or unsweetened almond milk, a handful of spinach and a handful of frozen berries.
You get two 2-pound bags of the protein powder, enough for two servings per day for 30 days.
Energy Fizz Sticks
These are your replacement for coffee in the morning and/or afternoon, and I'll be honest, it's definitely not anything close to being the same as coffee! They are really good though, and the flavor really packs a punch.
You get your choice of either citrus or pomegranate, and I chose both. There are 60 sticks in total, giving you enough for two servings per day for 30 days.
You can mix these on a 12-16oz glass of water, and it gives you a healthy boost of energy as well as helps control hunger and appetite. These are best consumed before 4pm, otherwise you may have trouble falling asleep that night!
If you're a Starbucks girl like me, try this order: Venti passion fruit iced tea, unsweetened and with coconut milk instead of water, with a pomegranate fizz stick added in. It's a game changer when you're craving a trip to 'bucks.
Herbal Detox Tea
I love these teas for their mild flavor. They support the liver and kidneys and taste wonderful with a little unsweetened almond milk mixed in.
I plan to have one in the morning as well as in the evening.
Digestion Plus
This flavorless powder provides probiotics and probiotics along with enzymes to help support optimal digestive health and overall gut health. It can be added to shakes or mixed with water. You can also eat it like a pixie stick and just pour it on your tongue and drink water as you go, for those that don't like the process of drinking it.
You don't want to add this to hot liquids however, because it can kill off the active cultures.
I plan to add this to my regular shake once per day in the morning.
Fiber Boost
This was an extra option I chose instead of the Green's powder, which to me tastes like algae or a fish tank. The fiber boost is exactly what you think it is, a boost of fiber.
During the Arbonne 30 Days program, I'll be eating a healthy amount of fiber-rich vegetables and other foods, so I only plan to add 1/2 a scoop to my morning shake each day. Too much fiber will make you feel bloated and backed up, and absolutely no one wants to feel that way. I'll of course be journaling my progress as I go, and I will make notes of how I feel with the fiber boost.
There is enough for 1-2 months of servings, depending on whether you use 1 scoop of 1/2 a scoop.
Body Cleanse
This one will probably scare people the most, but I promise you, the rumors behind "cleanses" aren't the same across the board. Arbonne's body cleanse is a gentle cleanse that is designed to flush out toxins in the liver and kidneys.
You can either do this every 4th day or all at once through the 3rd week of the detox. Because I am a master at forgetting things and I want to know how this body cleanse affects the body all at once, I'll do it every day during the 3rd week, mixing with 32 ounces of water and drinking it throughout the day.
Recipes
The countdown is on to starting the Arbonne 30 days, and I am very excited! Over the past few weeks I have been putting together some recipe ideas centered around lean proteins like fish and are vegan or vegetarian whenever possible. Here are a few recipe ideas I have so far, which I will soon put into actual recipe posts as I go:
I'll have more as I go but those are my recipe ideas for now!
Check back later this week for recipe posts and more!