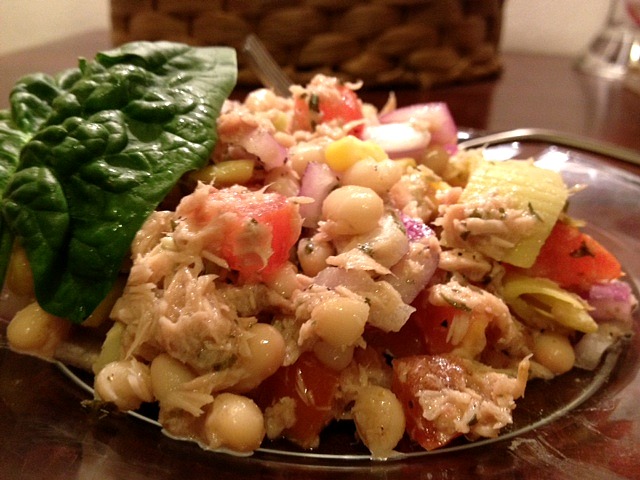 Tuscan Tuna Salad
I have to admit I'm getting pretty bored of plain salads and plain tuna and plain everything for lunch.  I'm excited about this one because I can eat it so many different ways - in a wrap, sandwich, salad, on crackers, etc etc.  You could also use a light italian vinaigrette or red wine vinegar.  It was so flavorful and kept me full all day long, which is important for me since I have a fairly active job.  Enjoy!

Tuscan Tuna Salad
Prep time:
Total time:
Ingredients
1 can light tuna in water, drained
1/3 C small white beans, rinsed and drained
1/4 C red onion, chopped
2 artichoke hearts, chopped
1 small tomato, chopped
1/4 C sweet corn
Salt & Pepper to taste
1 TBS fresh parsley, minced
2 TBS olive oil
juice of 1/2 a lemon
Instructions
Combine all ingredients in a bowl and voila!
Serve in a large lettuce leaf, on whole wheat crackers or a wrap, in a sandwich or topped on a salad.