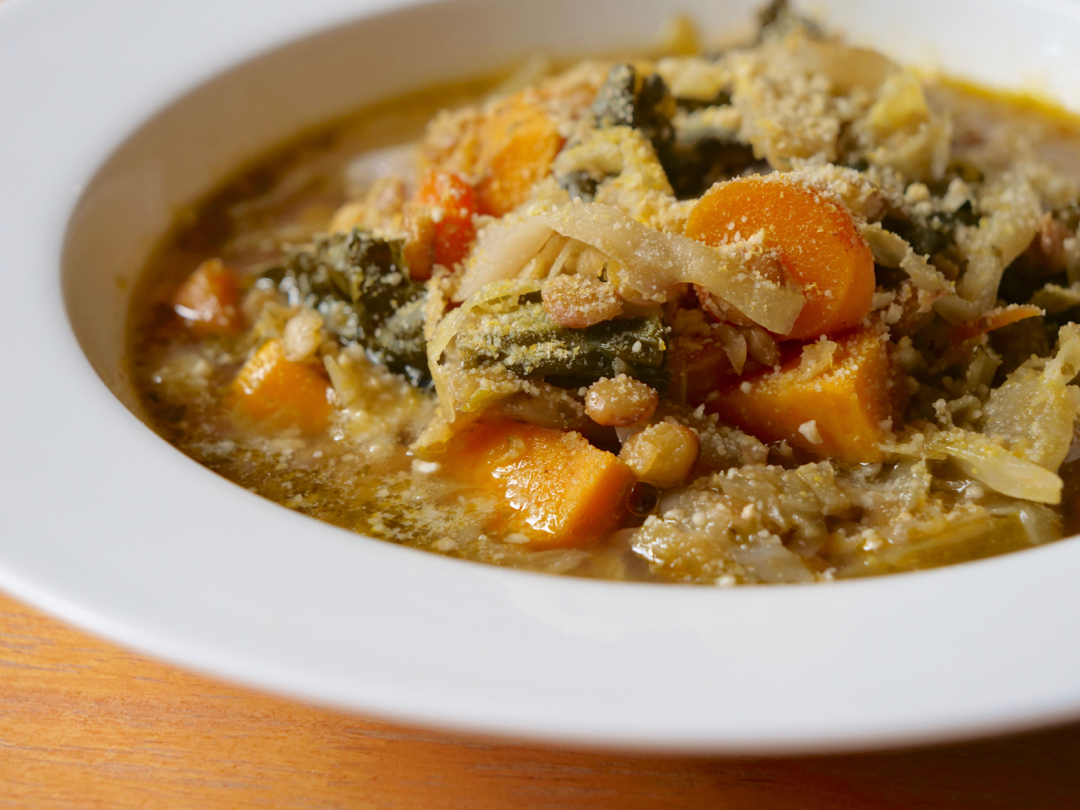 Detoxing Lentil & Cabbage Soup (GF, V)
A warm, hearty bowl of cabbage, kale, sweet potatoes and buttery lentils make for the perfect detoxing soup with nourishing ingredients and tons of flavor. Flavored with my Nourishing Green Sauce and garnished with the easiest Vegan Parmesan, this is sure to be a hit and could easily fool the meat eaters at your table.
More...
This soup was basically made by accident, on a random Sunday when I was quite literally cleaning out the fridge and throwing everything I had into this soup. The flavors worked so well together, and with so many greens, cabbages, hearty vegetables, vibrant herby flavors and a hint of lemon, it quickly became the perfect detoxing soup!
I am currently on the Arbonne 30 Days to Healthy Living Detox, which eliminates inflammatory foods like dairy, gluten, soy, corn, sugar and caffeine. It makes me have to get really creative in the kitchen, and this is definitely one of those creations! Arbonne approved, dairy free, gluten free and full of plant-based protein.
Vegan Parmesan Recipe
The nutritional yeast gives it the cheesy flavor I need, and the crumbled cashews give it the texture you'd normally look for in parmesan cheese. That, combined with a little salt and garlic, create a delicious non-dairy alternative to parmesan cheese.
I've also used this in my Broccoli Rabe recipe, and sprinkle it on salads, soups and pasta dishes whenever I want a little cheesy bite.
To make the Vegan Parmesan:
Blend 3/4 cups raw unsalted cashews with 2 tablespoons nutritional yeast, 1/2 tsp garlic powder and 1/4 tsp salt. Blend until it creates a course ground texture, and store in an airtight container in the fridge.
The Nourishing Green Sauce
To make the Nourishing Green Sauce that will be stirred into this soup, you can click here for the recipe. It also works well as a salad dressing or tossed with steamed green beans or other veggies.
Why is this a Detoxing Soup?
Maybe you're wondering why I'm calling this a detoxing soup? The ingredients speak for themselves.
Cabbage
Cabbage is packed with vitamin C, iron, folate, fiber and is loaded with antioxidants, even after being cooked. Cabbage is also great at decreasing inflammation, and has been linked to maintaining good digestion and heart health.
Kale
Kale is known to be one of the most nutrient-dense foods on the planet. It's a great source of calcium, fiber, powerful antioxidants and an excellent source of vitamin C. Much like cabbage, kale is also very high in water content, which means you fill up quicker than you would with other foods.
Sweet Potatoes
An excellent source of fiber, anti-inflammatory immune boosters, vitamins and minerals. Studies have linked sweet potatoes to help fight cancers, diabetes, heart disease, diabetes and obesity.
Herbs
Herbs found in this soup include basil, cilantro and mint. Cilantro and basil are known to be rich in immune boosting antioxidants, while mint helps promote good digestion.
These nourishing ingredients, along with carrots, lemon juice, fiber-rich lentils and healthy fats make this a truly healing, nourishing soup.
You can grab the recipe by clicking here, or check it out below!